Black Friday Galaxy deals 2022 recap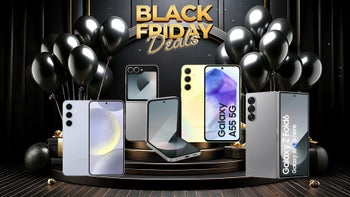 Black Friday 2022 came and went, and if you were a
Samsung
fan looking for a new Galaxy smartphone - this was
your
shopping event! Best Buy, followed by Samsung.com itself launched some incredible early deals on Samsung phones that just got better when Black Friday arrived, and remained active well past it!
Worry not, though - if you missed last Black Friday, you can always look forward to Black Friday 2023! This is where we'll have the best deals on Samsung phones for you, so feel free to bookmark this page, and stay tuned for Friday November 14, 2023!
In the meantime, let's recap what last Black Friday brought us in terms of Samsung Galaxy phone deals.
What were the best Black Friday Samsung phone deals last time?
Being a Samsung fan during Black Friday 2022 was basically heaven, and we can expect the same for 2023 - awesome Galaxy deals. The 128 GB Galaxy S22 Ultra was as low as $374.99 if you had something to trade-in at Samsung.com. Amazon offered it for $300 off with no strings attached, while Best Buy - for $200 off!
The rest of the S22 series was subject to massive price cuts for Black Friday too. The S22 Plus got a huge $650 price cut at Samsung (with a trade-in), and so did the base Galaxy S22. On other stores such as Best Buy, the Galaxy S22 at $100 off at Best Buy with carrier activation, and in some cases - with no strings attached.
Samsung's incredible, cutting-edge foldable phones such as the book-like Galaxy Z Fold 4, and the trendy clamshell Z Flip 4 were also discounted nicely. The Z Fold 4 received a massive $1350 discount at Samsung (with a trade-in), and up to a clean $400 off at other retailers.
As for the Galaxy Z Flip 4 - similar stuff! The Z Flip 4 was down to just $309.99 at Samsung (with trade-in again). That's right, arguably the world's trendiest phone could be yours for much less, if you had an eligible trade-in device! This particular Black Friday offer from Samsung was for the 256GB Z Flip 4, dropping the price by up to a whopping $750! Basically, you could get up to $600 off with an enhanced trade-in. Samsung also guaranteed $150 off trade-in credit for any condition Samsung Galaxy devices.
Of course, you didn't have to aim high to get a good deal. Samsung's mid-rangers received a lot of Black Friday love too, in the form of deals and discounts.
Samsung had a Black Friday offer on the Galaxy S21 FE (Fan Edition) 5G, bringing its price down by $450! This was for the unlocked version with 128GB of storage. A great phone for its usual price, an even better one if you had a trade-in device. Basically, you got $100 off instantly and up to $350 enhanced trade-in credit with Samsung's offer. Other stores were giving it away for $100 or more too, and with no strings attached.
The Galaxy A53 5G was also discounted at several stores for Black Friday. You could easily get a unit for $100 off on this budget super star, and best of all - without even trading in a device, or any other conditions.
Where to find the best deals on Samsung phones during Black Friday?
You're there already - right here! Bookmark this page and stay tuned for the Black Friday 2023 shopping event, when we'll find all the best Samsung phone deals for you and put them right here! The particular retail stores we expect to offer the best Samsung phone deals on Black Friday are Amazon, Best Buy and Walmart, but perhaps most notably - Samsung's own online store too!

In addition, as on every Black Friday, all the major phone carriers will certainly be offering some solid discounts and deals on Samsung phones too. We're talking just a few dollars per month with a contract, among other offers. Stay tuned!
When do Samsung phone deals start on Black Friday?
Knowing what we know from the previous Black Friday shopping event, Samsung itself is likely to start offering smartphone deals about two weeks before Black Friday. This means we might have a selection of great early Samsung phone deals for you right here in early November, so stay tuned!
Of course, the exact date of the Black Friday event is November 24, and that'll be when the real show starts! Any major retailer or carrier that didn't have early Black Friday Samsung phone deals is going to jump in on that day, so bookmark this page and be sure not to miss it!
Are Black Friday Samsung phone deals worth it?
Yes, the expected Black Friday deals on Samsung phones are certainly worth it! And knowing that Samsung itself is likely to launch its own discounts and offers when Black Friday closes in is a good sign - there are going to be more than enough great deals to take advantage of, even if you're too early or too late.
On top of Samsung's own offers, all the major retailers like Best Buy, Amazon and Walmart are likely to offer worthy Samsung phone deals when the shopping event starts. In addition, we'll have the best Samsung phone deals for you from all the major carriers too, since those are certainly also going join in on all the Black Friday fun, with their own attractive offers!
The Black Friday Samsung phone deals are not only worth it, but Black Friday is arguably the best time to buy a Samsung phone if you're looking to spend less money!