Unlocked Google Pixel 3 goes half off with no strings attached in black
1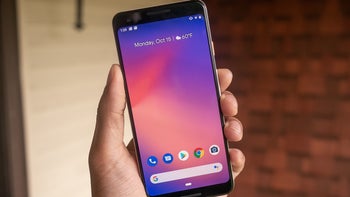 If the
latest news
on the
religiously leaked Pixel 4
has got you down, it might not be such a bad idea to give
last year's pure Google phones
a chance. No, the
Pixel 3
doesn't come in a flashy
"Oh So Orange" color
and there's only one camera slapped to its back, but if you hurry, you can get the Snapdragon 845-powered 5.5-incher in "Just Black" at a massive 50 percent discount.
Of course, we've seen this well-reviewed handset and its 6.3-inch sibling marked down by as much as
$600 and $700 respectively a little while ago
, but this time around, you're looking at an unlocked variant sold with absolutely no strings attached for 400 bucks less than usual. We're talking no monthly installment plans, no obligatory upfront activation on any specific carrier, and obviously, no trade-in involved.
You just cough up $399.99 on Rakuten and get a device that's arguably worth a lot more with support for all major US networks and no restrictions whatsoever. Technically, the 64GB Google Pixel 3 is listed at a price of $459.99, but if you remember to apply the "SAVE15" coupon code before checking out and after logging into your Rakuten account, you will see that dropped to $399.99, no questions asked.
It's also worth pointing out that the stock Android 10-running phones available at a hefty price cut here are sold and shipped by Daily Steals, a very reputable third-party vendor that you can probably trust for things like after-sales support. Unfortunately, the "Clearly White" version shows up as "sold out" at the time of this writing, which also means you should probably hurry up and order the black model while you can.
Normally priced at a full 800 bucks, the Pixel 3 is still one of the world's best cameraphones, despite sporting a single 12MP rear-facing imaging sensor. Its 5.5-inch P-OLED display is surrounded by relatively thick bezels, which are nonetheless preferable to the ghastly notch of the 6.3-inch Pixel 3 XL. Apart from the camera, the silky smooth software is undoubtedly the Pixel 3's key selling point, not to mention that the handset is guaranteed to receive another two major updates after Android 10.