Leaked Pixel 4/XL promo images show Pixel 3/3a comparison, Motion Sense, colors, more
65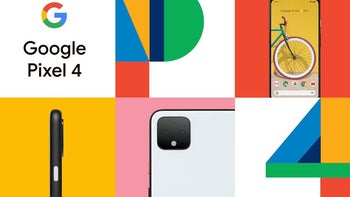 UPDATE
: More Google Pixel 4 promo images have leaked. One of these, which can be viewed above, arrives courtesy of
Evan Blass
. The others have been published by
Ishan Agarwal
. Additionally,
Best Buy Canada
has activated a Pixel 4 promotional page that features a Pixel 4 vs Pixel 3 specs comparison and Agarwal has
tweeted
a separate image which compares Google's 2019 flagships to the Pixel 3a series.
Last year's Pixel 3 series leaks were so bad people started calling them the most leaked phones ever. And now that the flagships are about to be replaced, their respective successors seems to be competing for the same title.
Since the beginning of summer, Google's Pixel 4 has been the subject of numerous
hands-on leaks
, multiple camera comparisons, some software news, and a bunch of official teasers. Now, with less than one week to go until its official introduction, the official press renders courtesy of
Evan Blass
just don't stop leaking.
A funky new wallpaper will accompany Android 10
The images below show the smaller Pixel 4 in Google's '
Just Black
' finish and the Pixel 4 XL in the '
Clearly White
' and '
Oh So Orange
' colors. The former boasts an accented white power key which is faintly visible while the second options feature contrasting black frames coupled with orange and pink power keys respectively.

In all cases, the setup's paired with a funky new wallpaper that makes the phone's generation clear by displaying a large and colorful 'P' and '4' on a black background. This is accompanied by a weather widget above which displays the Tuesday, October 15 announcement date, a Google search bar towards the bottom, and the Gmail, Google Maps, Google Photos, Chrome, and YouTube apps.
These press renders don't reveal anything else but they do provide another clear glimpse at the design. On the rear the Pixel 4 features a square-shaped camera module while up front it uses slim side bezels, a marginally thicker chin, and a huge forehead that's roughly the same size as the Pixel 3's top bezel. The latter is justified by an array of sensors which includes a 3D face unlock system, a front-facing camera that'll reportedly arrive paired with an ultra-wide-angle lens, and Google's Project Soli radar chip which enables a wide range of gestures.
Next-gen Google Assistant, Live Caption, and Dark Mode
Accompanying everything will, of course, be stock Android 10. New features include a native Dark Mode, support for a gesture-based navigation system that's similar to the iPhone 11's, improved location sharing controls, and seamless background updates. Also part of the package is Google's
next-generation Assistant
which should be able to effortlessly jump from task to task without stopping to think or process. It'll initially land as a Pixel 4 exclusive but will eventually make its way to other smartphones over time.
Sitting alongside the Assistant will be support for Motion Gestures and a new 3D face unlock system, both of which can be viewed in the
marketing images
above. The usefulness of Google's air gestures is still up for debate but the company, nevertheless, seems to be focusing quite heavily on the Project Soli-backed feature.
Google Pixel 4 series announcement and release date
The Google Pixel 4 and Pixel 4 XL will be announced at an event in New York on
Tuesday, October 15
. A new Nest Mini that'll replace the Google Home Mini may also make an appearance alongside a few other Nest-branded products and the Pixelbook Go.
Pre-orders for the Pixel 4 series should commence immediately after the event but it may take quite a bit longer for shipments to start. That's because Pixel devices are usually released on Fridays but Google has already confirmed the Pixel 4 series
won't ship before Friday, October 18
. Therefore, Friday, October 25 seems like the earliest possible release date.