SoundCloud goes after Apple Music and Spotify with its very own Go+ student discount
1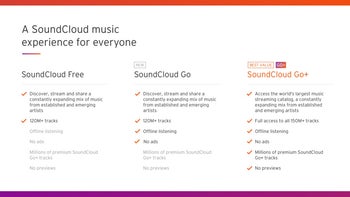 While not a lot of people think of SoundCloud as a direct rival for the likes of
Apple Music
and
Spotify
, the company behind the popular online audio distribution platform actually released its very own
subscription-based music streaming service back in 2016
. Until today, subscribers could choose a standard SoundCloud Go plan at $5 a month or pay double that amount for a SoundCloud Go+ service tier.
Available on iOS and Android devices, as well as directly on the web, SoundCloud Go+ comes with high-quality audio support, no ads, unlimited on-demand streaming capabilities, offline listening functionality, and an expanded catalog of over 150 million tracks. The non-Plus service tier actually doesn't cut as many corners as you might expect, but it lacks roughly 30 million "premium" songs and comes with a preview "feature" that's largely useless (not to mention annoying), offering 30-second samples of off-limits tracks.
Fortunately, students don't need to live with those compromises anymore, and SoundCloud seems to be taking the booming music streaming market seriously at last. Of course, Apple Music and Spotify also do
discounts for families
, which SoundCloud may want to consider implementing sooner rather than later. In the meantime, if you haven't tried out this platform yet, you could
give it a whirl
for 30 days at no charge and with no strings attached.