Samsung's Wireless Charger Duo comes bundled with a free Gear 360 camera at Best Buy right now
1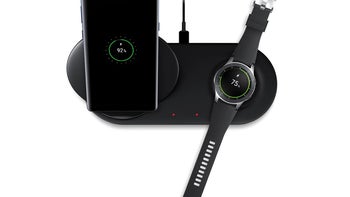 Not that we're complaining, but it's getting a little hard to keep track of all of
Best Buy's current
and
impending Black Friday deals
on some of the world's most popular smartphones, tablets, smartwatches, fitness bands, smart speakers, and digital media players.
We're talking about the 2017 edition of the Samsung Gear 360 camera, which normally costs $149.99 by itself. Of course, both the
Gear 360 (2017)
and
Wireless Charger Duo
have been offered free of charge recently for early adopters of other hot new Samsung gadgets.

But if you didn't take advantage of those special offers, now's the time to pull the trigger and score two sweet accessories at the price of one, with no strings attached, promo codes needed, or other key terms and conditions you should consider.

The Samsung Wireless Charger Duo can be a very convenient tool to simultaneously juice up two phones or a phone and a smartwatch without worrying about positioning them at the perfect angle in the perfect spot. Handsets like the Galaxy S9 and Note 9 get up to 7.5 watts of wireless power from this Qi-certified product, which is obviously also compatible with devices from other brands, including recent iPhones.

As for the Gear 360, while you might struggle to understand its utility, you'll quickly see how cool it can be to shoot 360-degree photos and videos in 4K quality. At the worst, this is a fun toy you can play around with during your obligatory family visits this holiday season. It is after all completely free of charge.
Recommended Stories