Samsung's cool new Wireless Charger Duo will charge a Galaxy phone and a watch at the same time
6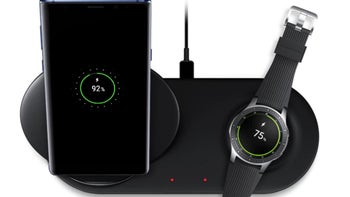 Samsung has just officially taken the wraps off its new Wireless Charger Duo, a cool 2-in-1 wireless charger that allows you to top up your phone and smartwatch at the same time. What's cooler is that this is a universal Qi standard charger, so if you don't have a smartwatch, you can also use it to charge two phones at the same time. And no, they don't need to be Samsung Galaxy phones as long as they have support for
wireless charging
, all phones should work.
The price of this luxury, however, is quite high: the charger retails for $120 and is currently only available in black.
This buys you two wireless fast charging lanes (up to 7.5 watts each) for your device: the first, a stand, similar to the standard, one-piece Samsung wireless charger, while the second device has to lay flat in order to charge. The Wireless Charger Duo is made of plastic and it itself takes power via a USB-C port. The charger comes with built-in fans and vents, so it stays properly chill.
One more thing: yes, this will also work with the latest iPhones, the X, the 8 Plus and the 8, in case you were wondering. After all, it's been a year since Apple unveiled its own three-piece wireless charger and it's still not managed to release it, so you might just get this one.