Get a free $125 e-gift card from Samsung with the feature-packed Gear Fit2 Pro wearable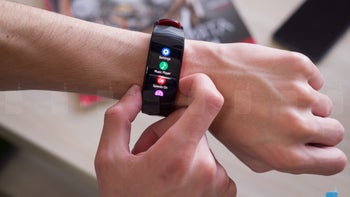 It's probably safe to say the
Gear Fit2 Pro
is not the most powerful or popular wearable device released by Samsung over the past few years, but even though the "fitness smartwatch", aka activity tracker, is now pretty old as well, the right discount can essentially make it more appealing than ever.
Typically priced at an arguably excessive $199.99, the curvy fitness band dropped to an irresistible
$80 at Best Buy not long ago
. That totally insane deal obviously expired fairly quickly, but a similar sale is live at the time of this writing through Samsung's official US e-store. The main difference is you still need to cough up the full 200 bucks here off the bat, with a whopping $125 coming straight back at you in the form of a Samsung.com Reward eCertificate.
While we could definitely debate for quite a long time whether or not a $125 e-gift card beats an outright $120 discount, what's important to remember is the previous deal has gone away and there are no guarantees it will ever return. So, yeah, if you're in the market for a relatively stylish and decidedly feature-packed fitness band at this very moment, purchasing the Gear Fit2 Pro from Samsung seems like a smart move.
There's really no comparing this bad boy with the entry-level new
Galaxy Fit-e
, for instance, as the Gear Fit2 Pro comes with a surprisingly large and sharp 1.5-inch curved full-color AMOLED display, built-in GPS functionality, water resistance up to a full 50 meters (aka a swim-proof design), continuous heart rate monitoring capabilities, and even a standalone music player allowing you, among others, to download and listen to your Spotify playlists offline.
In a nutshell, this is pretty much a smartwatch in activity tracker's clothing, only lacking the ability to pay for stuff directly from your wrist and, naturally, voice calling functionality.