Samsung's Gear Fit2 Pro 'fitness smartwatch' is on sale at an insanely low $80 ($120 off)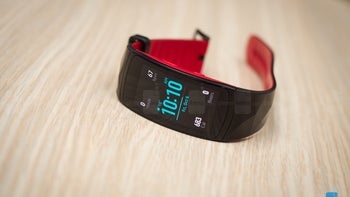 Wearable devices are generally divided in two categories, but before unveiling the low-cost
Galaxy Fit
and
Galaxy Fit-e
, Samsung tried to strike a balance between basic activity trackers and fancy smartwatches with the Gear Fit family. The latest member saw daylight
back in the summer of 2017
with a fairly lengthy list of features, an unusually sleek design (for a non-smartwatch), and a hard to swallow $200 price tag.
Interestingly, while the Gear S3, Galaxy Watch, and even the all-new Galaxy Watch Active are currently
on sale at decent discounts directly from Samsung
, the Gear Fit2 Pro continues to fetch that full 200 bucks. That makes it costlier than the arguably better-looking
Galaxy Watch Active
right now, but not if you purchase it at Best Buy. The third-party retailer has the "fitness smartwatch" marked all the way down to $79.99, which trudges deep into entry-level Fitbit territory.
You're looking at spending just 10 bucks more and $20 less than the recently released
Inspire and Inspire HR
respectively, neither of which can hold a candle to the Samsung Gear Fit2 Pro in terms of design or convenience.
Praised in our in-depth review
for its comfortable fit, stylish looks, easy to use interface, and out-of-the-box swim tracking functionality, the surprisingly curvy and impressively affordable 2017 gadget comes with... almost everything a full-fledged smartwatch typically has to offer in this day and age.
While you can't make payments from your wrist, it is possible to continuously monitor your heart rate and map your every run with built-in GPS connectivity. The Gear Fit2 Pro also features top-notch Spotify integration for downloading your favorite tunes directly on your watch and listening while not connected to the internet. Last but not least, you get call, text, and other app notifications from both iPhones and Android handsets on a sharp 1.5-inch Super AMOLED display with 432 x 216 resolution.
Best of all, the heavily discounted $79.99 wearable device is available from Best Buy at the time of this writing in both small and large sizes, at least in black, with the snazzy red version already listed as out of stock for smaller wrists and up for grabs for physical store pickup only in large. Any "fitness smartwatch" fans in the market for a great bargain?
Check out the deal here