Samsung Galaxy Tab S5e goes official with incredibly thin body, decent specs, low price
48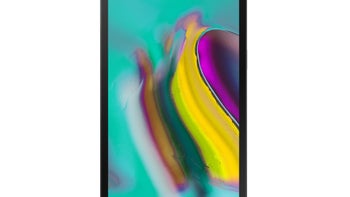 UPDATE
: Well, that was fast. Mere hours after Evan Blass revealed the first leaked renders of a mysterious Galaxy Tab S5e, Samsung shattered the mystery,
officially unveiling the new 10.5-inch slate
with minimal fanfare. We're still five days away from the big Galaxy S10 announcement event, mind you, and we have no idea if a "regular" Galaxy Tab S5 is also in the pipeline, although nothing should be ruled out right now.
Believe it or not, the Tab S5e is significantly thinner than the 7.1mm Tab S4, at a (record-breaking?) 5.5mm. Its screen bezels are also smaller, resulting in a shorter and narrower slab with the same Super AMOLED display real estate and even the same 2560 x 1600 resolution. At only 400 grams, this bad boy is not just lighter than the Galaxy Tab S4, but also Apple's latest 9.7-inch iPad and the 11-inch iPad Pro.
Lightweight but not a featherweight
Despite all that, Samsung is promising a respectable battery life of up to 14.5 hours, which actually seems doable with 7,040 mAh cell capacity in tow and an unnamed but no doubt frugal octa-core processor clocked at up to 2.0 GHz speed (Snapdragon 670?). That doesn't exactly make the Galaxy Tab S5e the world's most powerful tablet, but in combination with up to 6GB RAM, it should get the job done adequately as far as web browsing, light gaming, and especially multimedia content consumption is concerned.
To "enhance" your entertainment, the 10.5-incher comes with four speakers designed to perfectly adapt to both portrait and landscape mode usage, as well as premium AKG sound technology and Dolby Atmos enhancements. But the Galaxy Tab S5e can also be seamlessly transformed into a decent workhorse using a separately sold keyboard and Samsung DeX support.
Galaxy Tab S5e price and release date
The best thing about this metal-backed Galaxy Tab S4
sequel
spin-off is its $399.99 starting price. That only includes 4 gigs of memory and 64GB internal storage, but it's a lot cheaper than the Tab S4, not to mention Apple's entry-level iPad Pro (2018) configuration. Of course, the Galaxy Tab S5e is squeezed somewhere between the 9.7-inch iPad and 11-inch iPad Pro in terms of design and capabilities, which still makes that price point appealing. After all, a 32GB non-Pro iPad (2018) variant is only 70 bucks cheaper.
Too bad Samsung is only planning to commercially release the Tab S5e sometime in Q2, i.e. no sooner than April.
The initial leak
Android tablets are certainly not the most exciting devices sold by Samsung nowadays, but after releasing
one high-end
and
one mid-range model
just around six months ago, the world's number one smartphone vendor is seemingly preparing yet another slate dubbed somewhat confusingly Galaxy Tab S5e.
Rendered in top-notch quality by none other than
Evan Blass, aka @evleaks
, the super-slim device strongly resembles the Galaxy Tab S4 from the front, but not the back. Instead of a shiny rear cover made from glass, the Samsung Galaxy Tab S5e appears to adopt a metal build with rounded corners and what looks like antenna lines, possibly indicating built-in cellular connectivity.
The single rear-facing camera is moved from a centered position on the Tab S4 to the top left corner, with a Samsung logo relocated smack-dab in the middle of the unreleased slate's back, and a "sound by AKG" label at the bottom replacing the "tuned by AKG" text on last year's
high-end 10.5-incher
. There could be a side-mounted fingerprint sensor in tow as well, which brings us back to that name.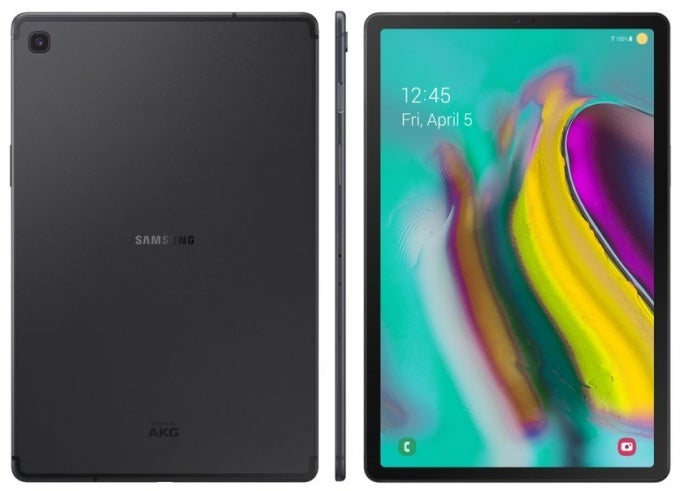 This is the third Samsung device rumored to attach the letter "e" at the end of its moniker, following the
Galaxy S10e
handset and
Galaxy Fit e
activity tracker. While it's not entirely clear what the letter might stand for (if anything), it looks like the company wants to make it easier for buyers to distinguish lower-end models from their full-featured siblings. That means a "regular" Galaxy Tab S5 should be in the works too, perhaps with a Galaxy S10-inspired design, in-display fingerprint recognition, and the same snazzy glass construction of its predecessor.
That's just an educated guess, mind you, and on a similar note, we don't expect the Galaxy Tab S5 and Tab S5e to break cover alongside the
Galaxy S10 family
,
Galaxy Fold
, and
Galaxy Watch Active
next week. April is a far more realistic launch timeline, as suggested by the date on today's leaked press render.