The mother of all leaks: Samsung spills the Galaxy Note 9 beans on YouTube
27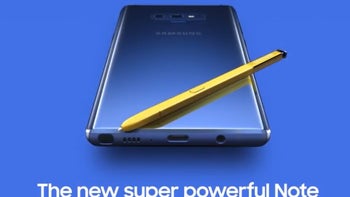 Welp, that just happened. What was already the mobile tech world's worst kept secret is completely out of the bag now, thanks to Samsung's negligent New Zealand branch. After confirming the rear design of the
Galaxy Note 9
and offering yet another glimpse of an all-new
S Pen
companion in an
official render no doubt published by mistake
, the company's "Kiwi" division strikes again today.

This time, we're looking at a full-on promotional video of the as-yet-unreleased flagship phone, uploaded to Samsung New Zealand's official YouTube channel. Not for long, of course, but rest assured, the 30-second clip has been mirrored and saved by many YouTubers for posterity.
The very title of the video suggests this wasn't supposed to go live this early, revealing (or rather confirming) multiple key selling points, starting with a more powerful stylus than previous generations. The
Galaxy Note 9
will obviously be advertised as offering "all day" battery, which may not turn out to be such an inflated claim, as we expect the jumbo-sized phone to
pack a fittingly large 4,000 mAh cell
.
In addition to a colossal 512GB internal storage, the Note 9 will apparently support expansion with a maximum of 512 gigs, exceeding a whopping 1 terabyte of total digital hoarding space with the right microSD card. No wonder Samsung insisted on
berating Apple
for the lack of a card slot on existing and future iPhones.
Aesthetically, there are no surprises here, and once again, we see a blue-coated Galaxy Note 9 model promoted alongside a gold (yellow?) S Pen, producing an interesting contrast that you couldn't get from past members of the Note family. But doesn't this kill all the excitement for
next week's formal announcement event
?