Samsung insists the Galaxy Home isn't dead, but does anyone care anymore?
6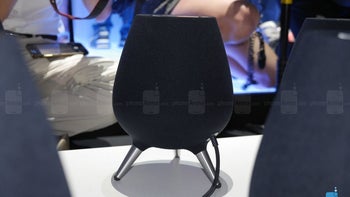 In addition to the beloved
headphone jack
and sometimes useful microSD card slot (the latter on the smaller
Galaxy Note 10
variant only), Samsung notably got rid of the universally despised dedicated
Bixby button
with the introduction of the company's
newest high-end handset duo
(trio if we also count the
5G-enabled Note 10+
).
Of course, the virtual assistant is still there, but after two and a half years of aggressive efforts to challenge the likes of Siri, Alexa, and Google Assistant, Samsung appears to be toning things down all of a sudden, presumably working in a more discreet fashion on improving something
that's not all that bad
... if you give it a chance. Oddly enough, the Bixby-powered Galaxy Home never got a chance of its own to prove it can take on the likes of the Google Home, Amazon Echo, and Apple HomePod.
What's taking so long, you ask? Well, apparently, Samsung is in the process of "refining and enhancing the Galaxy Home prior to launch"... a full 12 months after initially announcing the gadget. There's essentially nothing else to share at the moment, apart from a generic statement about the company "looking forward" to bring Galaxy fans more news "soon", so basically, we know
just as much as we did
back when the Note 9 was the new kid on the Android block.
Hopefully, we won't be in the exact same position after the Galaxy S11 is unveiled, but right now, anything seems possible. Including a Galaxy Home release before the holidays. After all, if Samsung can pull off a functional
foldable smartphone design
(allegedly), how hard could it be to roll out a "premium" smart speaker with Bixby assistance, AKG sound, and smart home controls?