Bixby Routines on the Samsung Galaxy S10 series is secretly a great feature
3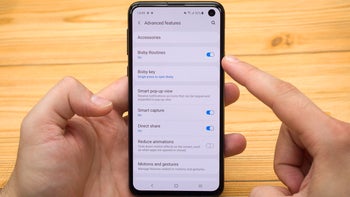 Samsung's One UI rolled out to a large portion of Samsung former flagships and upper mid-range devices, but there's one super-useful feature that remained a Galaxy S10 series exclusive. Don't be surprised, but this one is Bixby Routines.
What's Bixby Routines?
This new feature lets you take control of your phone by automating certain settings and phone functionalities based on your location, phone status, or even the Wi-Fi network you're connected to. Mighty handy!
It goes without saying that this is a new feature for Samsung phones, but other phone makers have implemented similar functionalities before, not to mention the bespoke Android apps that have done the same for years. IFTTT and Tasker are two quite popular automation apps that have been the darlings of the hardcore Android community for a rather long times. While it's true that Tasker in particular is a much more powerful app than Bixby Routines, Galaxy S10 Plus, S10, and S10e shouldn't overlook the latter, as it's a perfectly-capable automation app, especially for beginners.
So, what can you do with Bixby Routines?
Well, there's quite a lot of options available within this handy feature, and as one picture is worth a thousand words.
Here are all the triggers: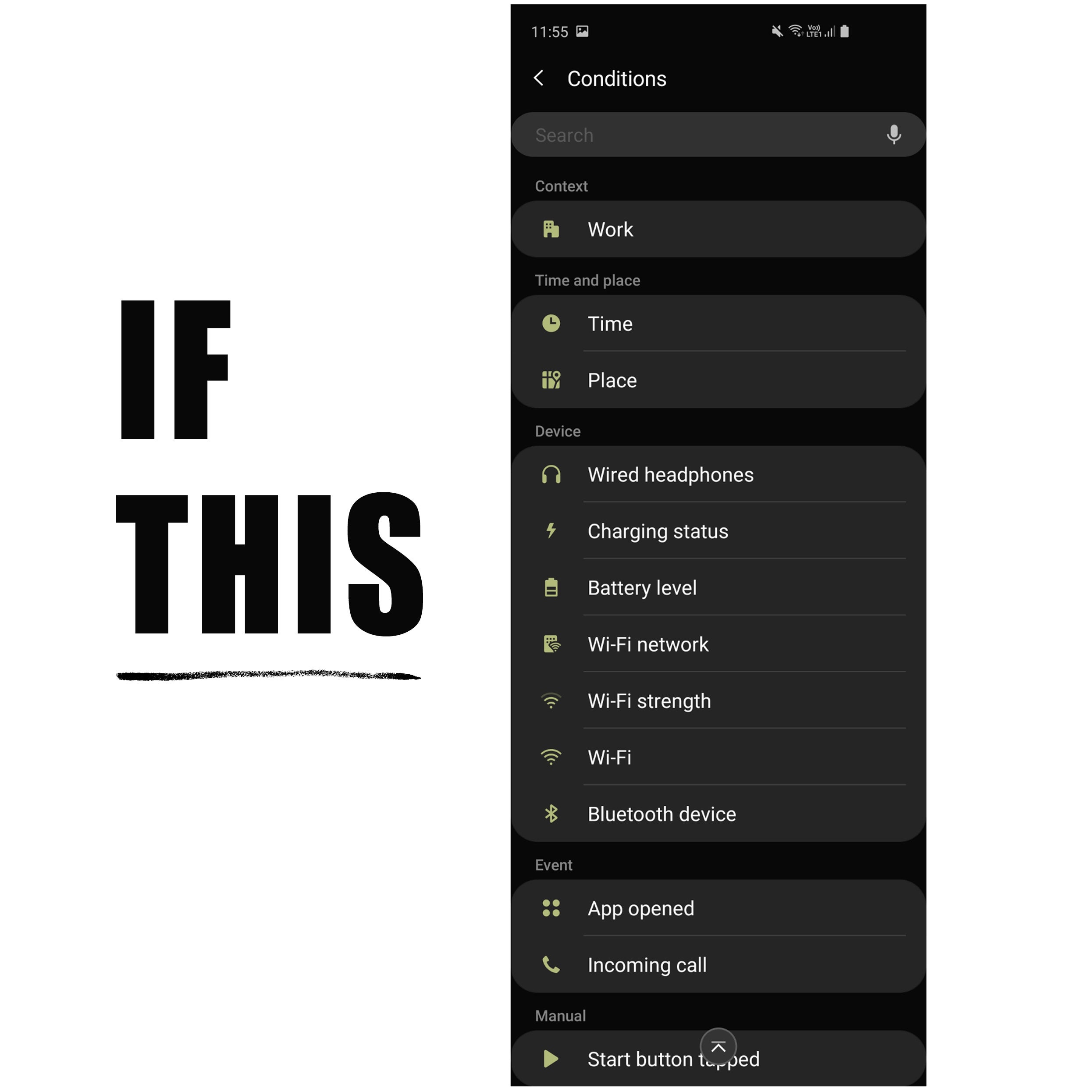 ... and here are all the available effects so far: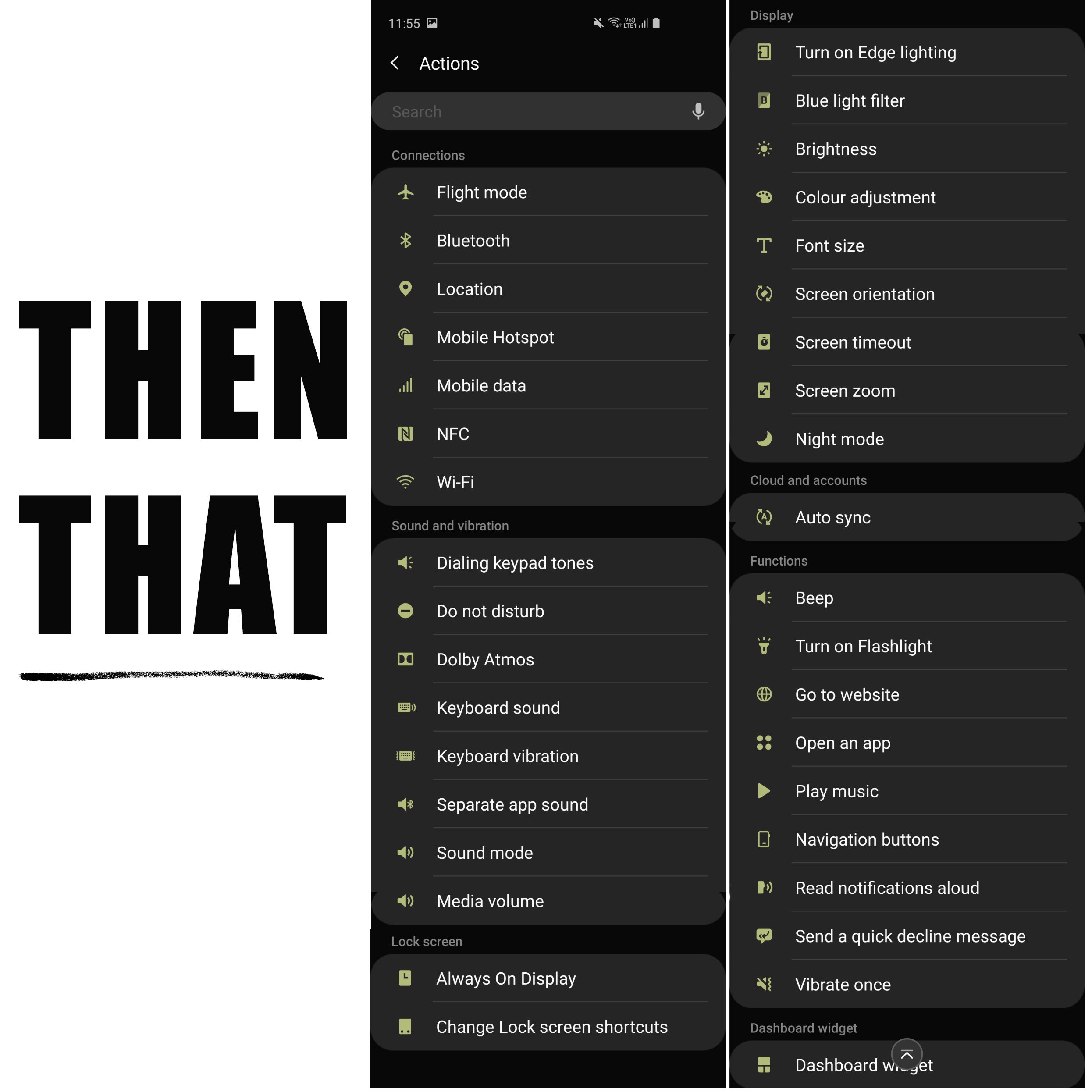 Just like you might imagine, Bixby Routines are very logical recipes that put a predefined effect into action should the necessary prerequisite gets met. For example, you can set your phone to automatically enable auto-rotation of the display when you open YouTube, or have your phone automatically mute itself as soon as you walk into the office and connect to the office Wi-Fi network.
The beauty of it all? You can get really creative and assign
multiple
triggers and effects to each and every scenario! That's the real beauty of the feature - you can get really creative and set up some oddly specific and granular routines that reflect your unique day-to-day needs. You can, for example:
disable navigation buttons in favor of full-screen gestures when you're at home and open Instagram;
increase the screen timeout to 2, 5, or 10 minutes when your phone is charging;
automatically launch Android Auto/Spotify, disable all screen locks, and have notifications read aloud to you once you connect to your car's Bluetooth;
enable night mode & blue light filter as well as set the brightness at a certain level when you're at home after at night;
turn sync on when you're connected to a Wi-Fi network and your phone's on the charger;
turn Dolby Atmos on and launch one of your most recent Spotify top artists/open your GPM library when you connect wired headphones to the phone;
set volume and brightness to maximum when you open the Netflix app (please don't do this in public);
enable mobile data if the Wi-Fi network's strength drops below 20%;
enable keyboard vibration and sound when you're out and about for that sweet extra feedback;
change the lockscreen app shortcuts when connected to a specific Bluetooth device;
etc.

As you can see, you can really get creative with Routines, which are a terribly useful addition to the stock Samsung Galaxy user experience. Of course, nothing's stopping you from using one of the aforementioned automation apps, but Bixby Routines will function better on a system-wide level and wouldn't incur an extra toll on your phone's battery, as most of its triggers are enabled by specific power-hungry sensors.
How to set a Bixby routine?
Quite easy, fellow automators. Let's create a simple and terribly useful automation shortcut together!




Step #1
To access Bixby Routines, go to Settings > Advanced features, where Bixby Routines will be the second listing in the menu. Alternatively, you can long-press the Bixby Routines quick toggle in your notification shade.

Once you find the Bixby Routines menu, make sure the toggle is enabled, and then tap on it to access the automation wizard.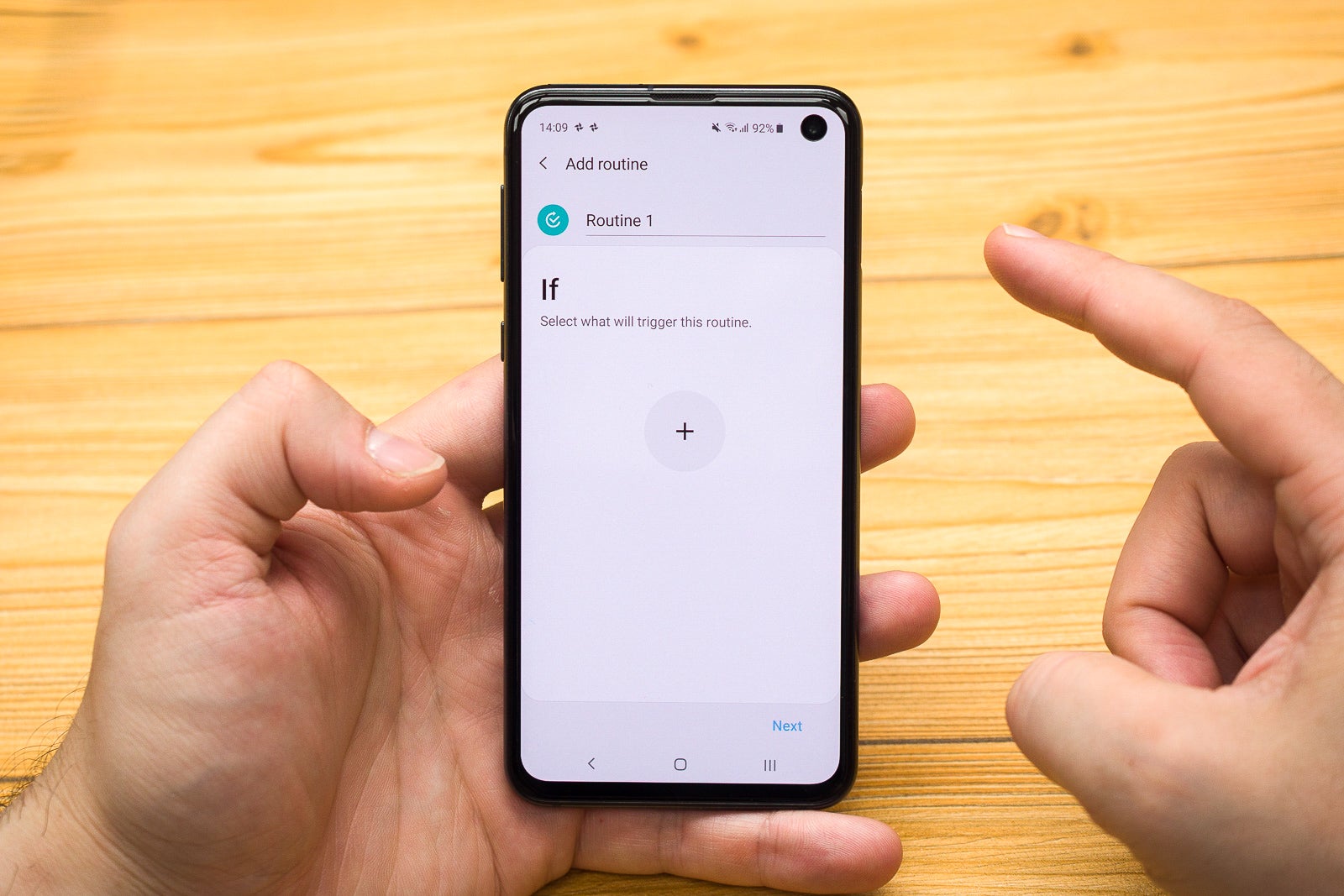 Step #2
Oh boy, here we go! The menu beneath will be guiding you through the routines creation, and it's a pretty straightforward and intuitive one, so you probably wouldn't have any trouble getting around. Samsung has a slew of very useful routine presets, but for the more advanced ones, you will have to create your own routine. To do that, tap on the "My Routines" tab.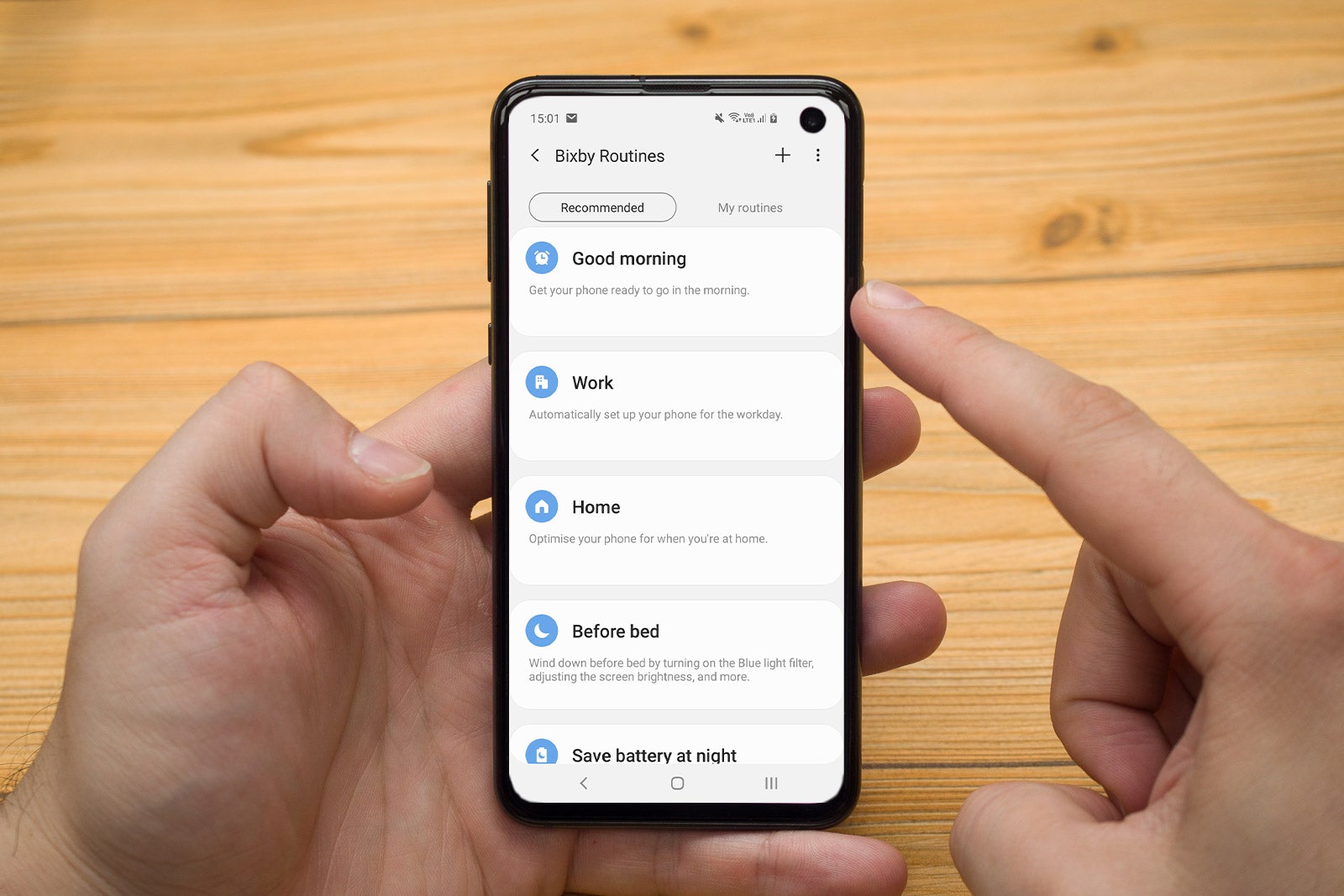 The Bixby Routines main menu is rather straightforward
Step #3
This menu will be populated with your own routines as soon as you make some. Tap the "+" button to start making a routine.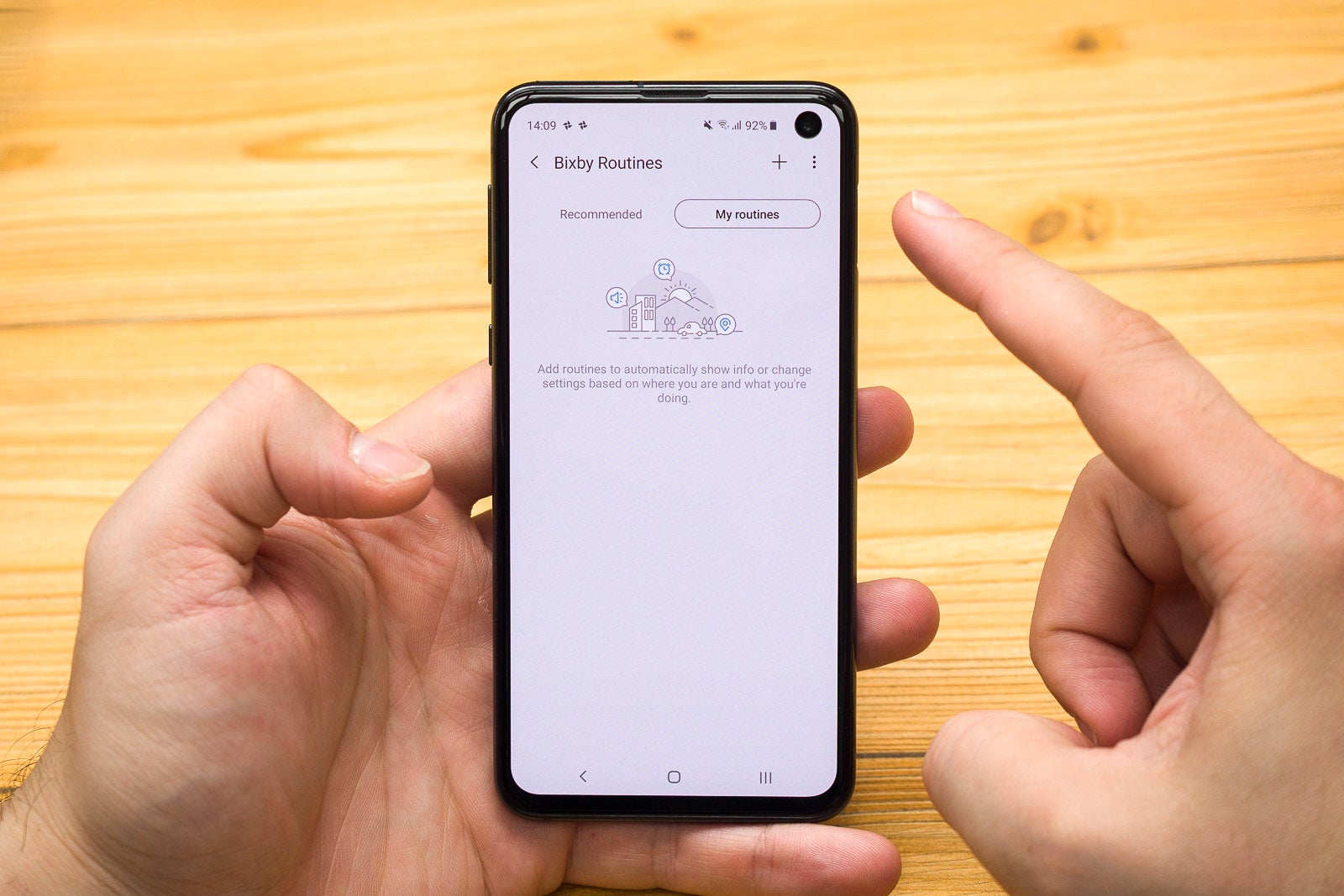 Step #4
Give your routine a name, then it's time to select a few triggers. Tap the big plus button in the middle of the screen.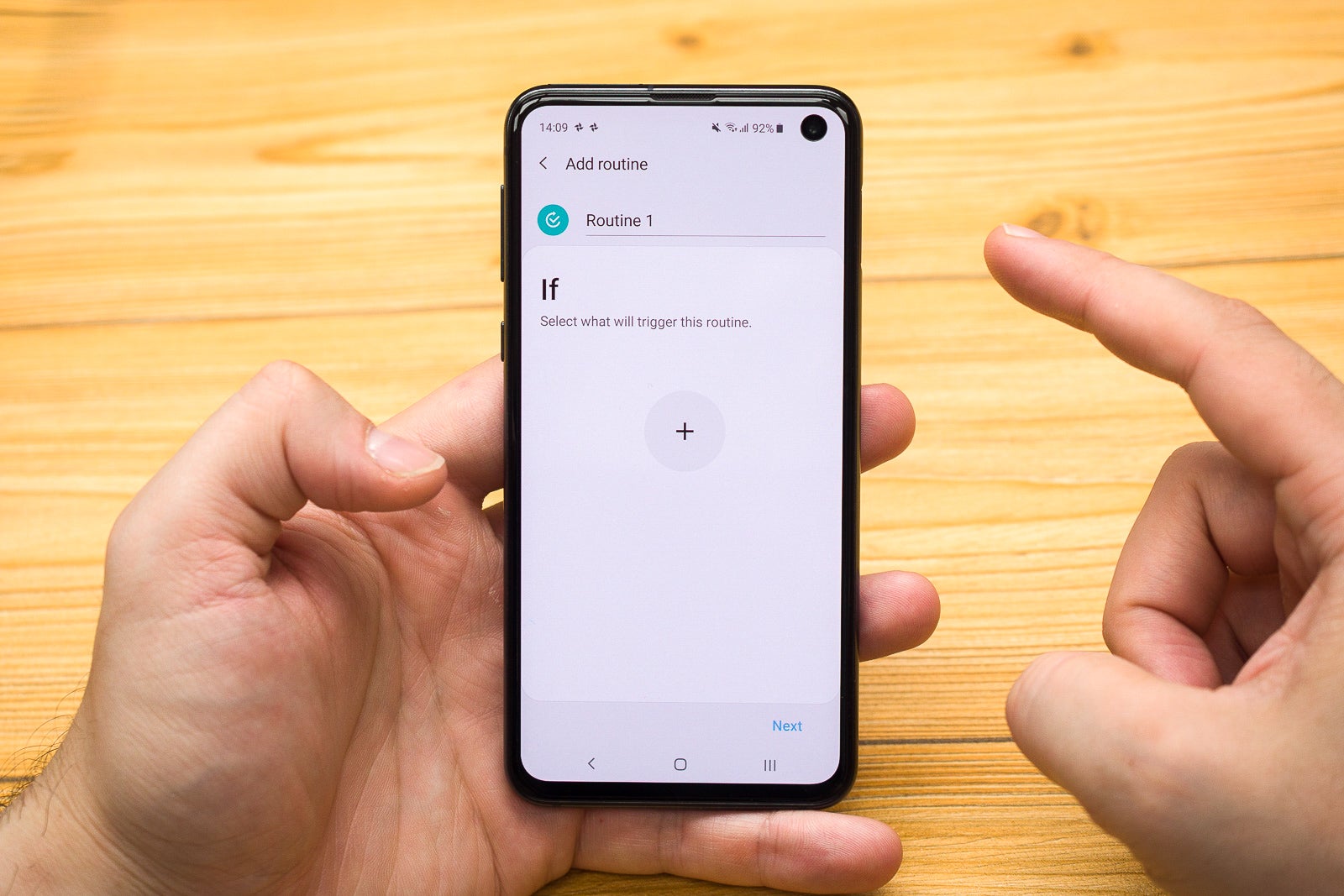 Step #5
Select a trigger. In our case, it'd be "App Opened"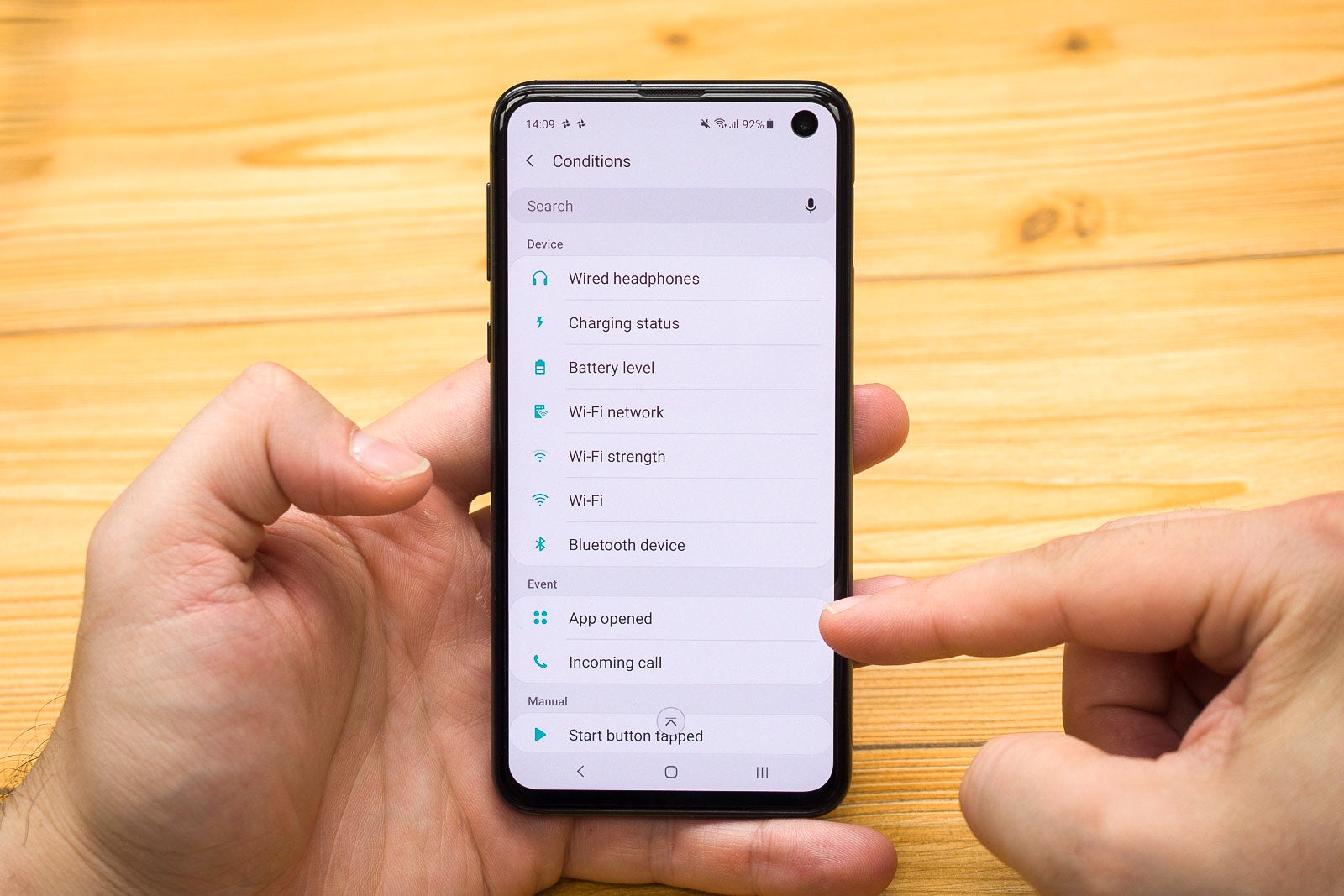 Step #6
We're looking for YouTube here.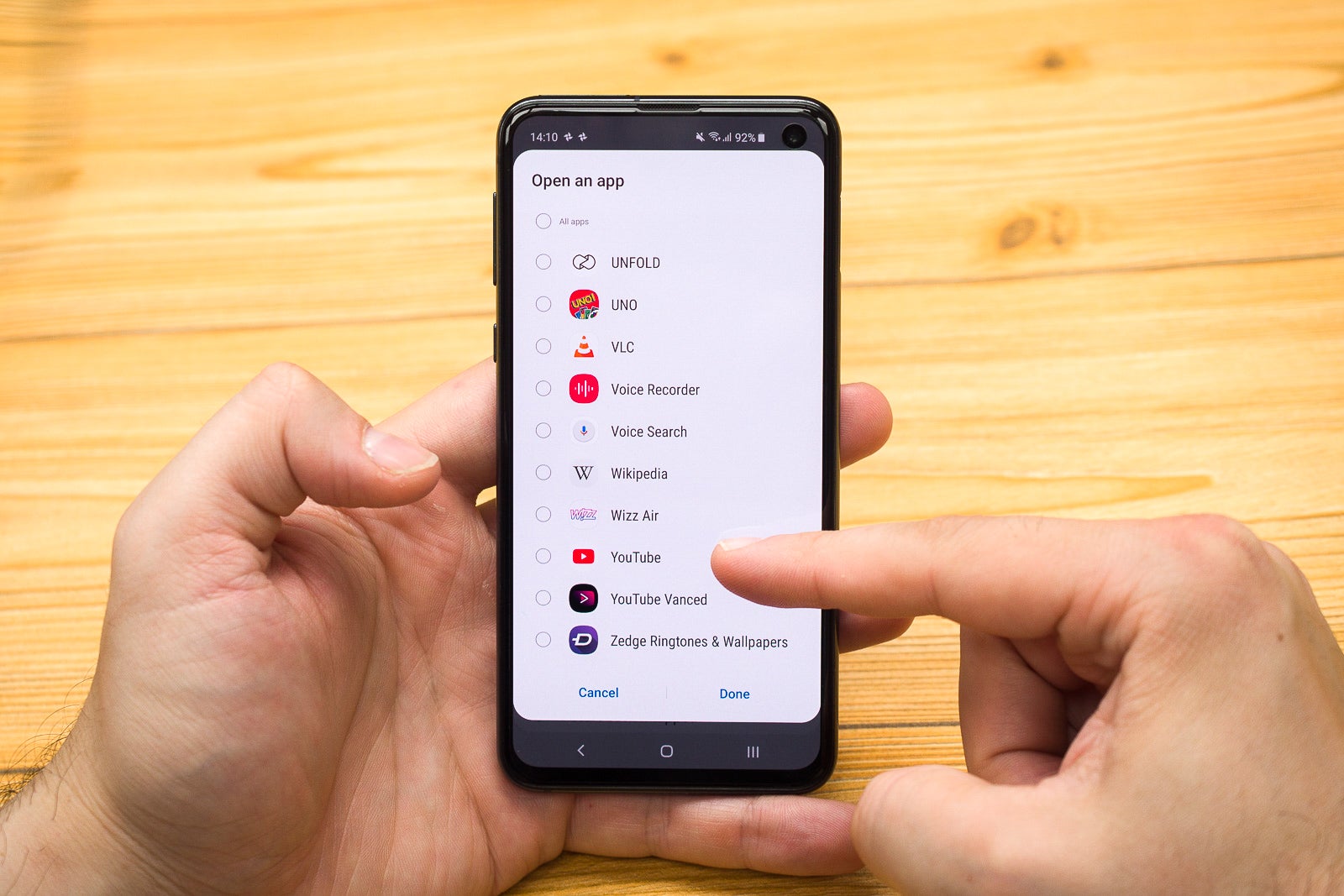 Step #7
Back on the triggers screen, you can select more triggers for your routine, but for the simpler ones a single tirgger would do just fine. Tap Next to continue.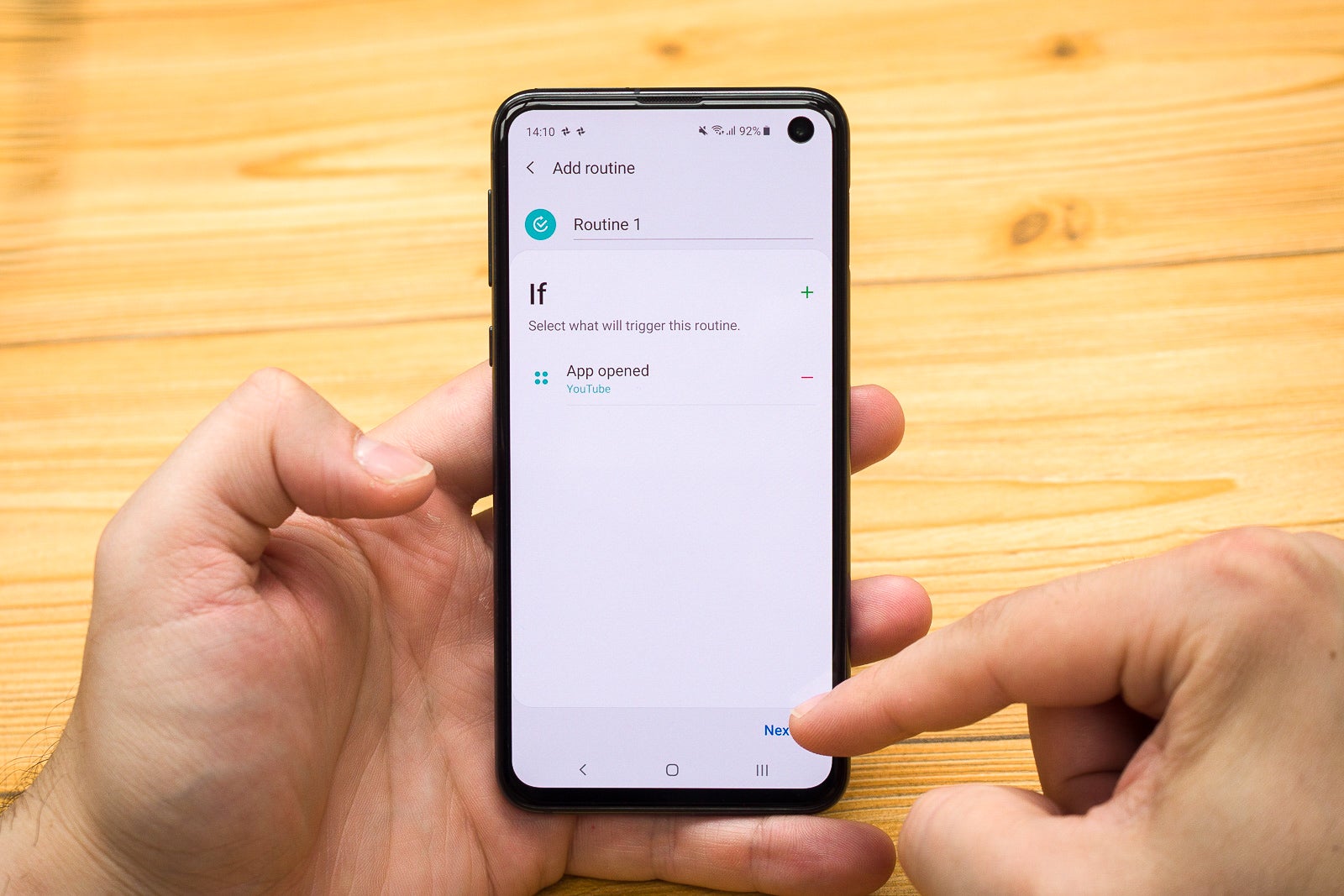 Step #8
We're now in the "Then" section of Bixby Routines, which allows us to select what effects to apply. Tap the big "+" sign when you're ready to choose what to happen when the prerequisites are met.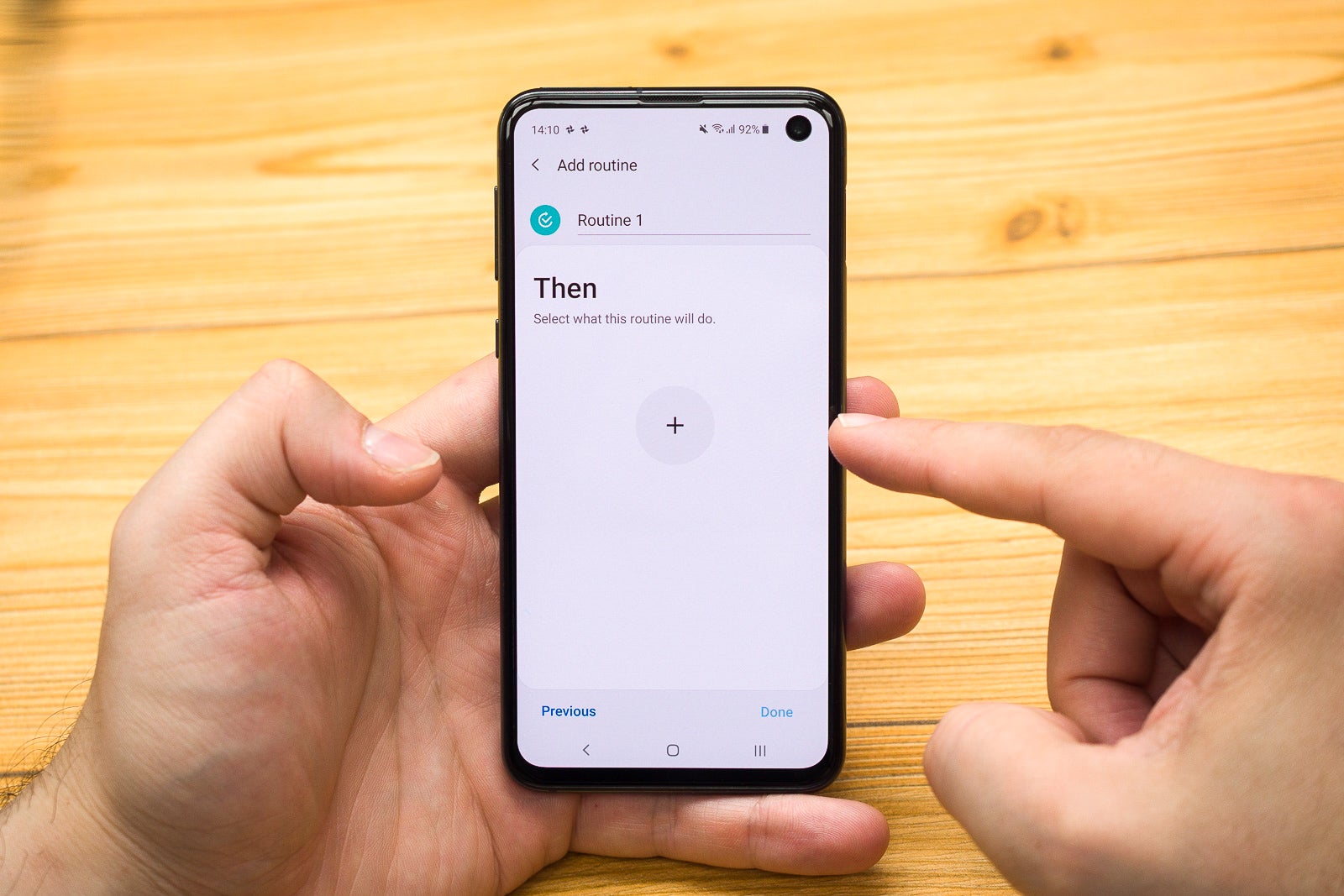 Step #9
Okay, we want our phone to be able to only rotate automatically when we open YouTube, so we have to look for the screen orientation option.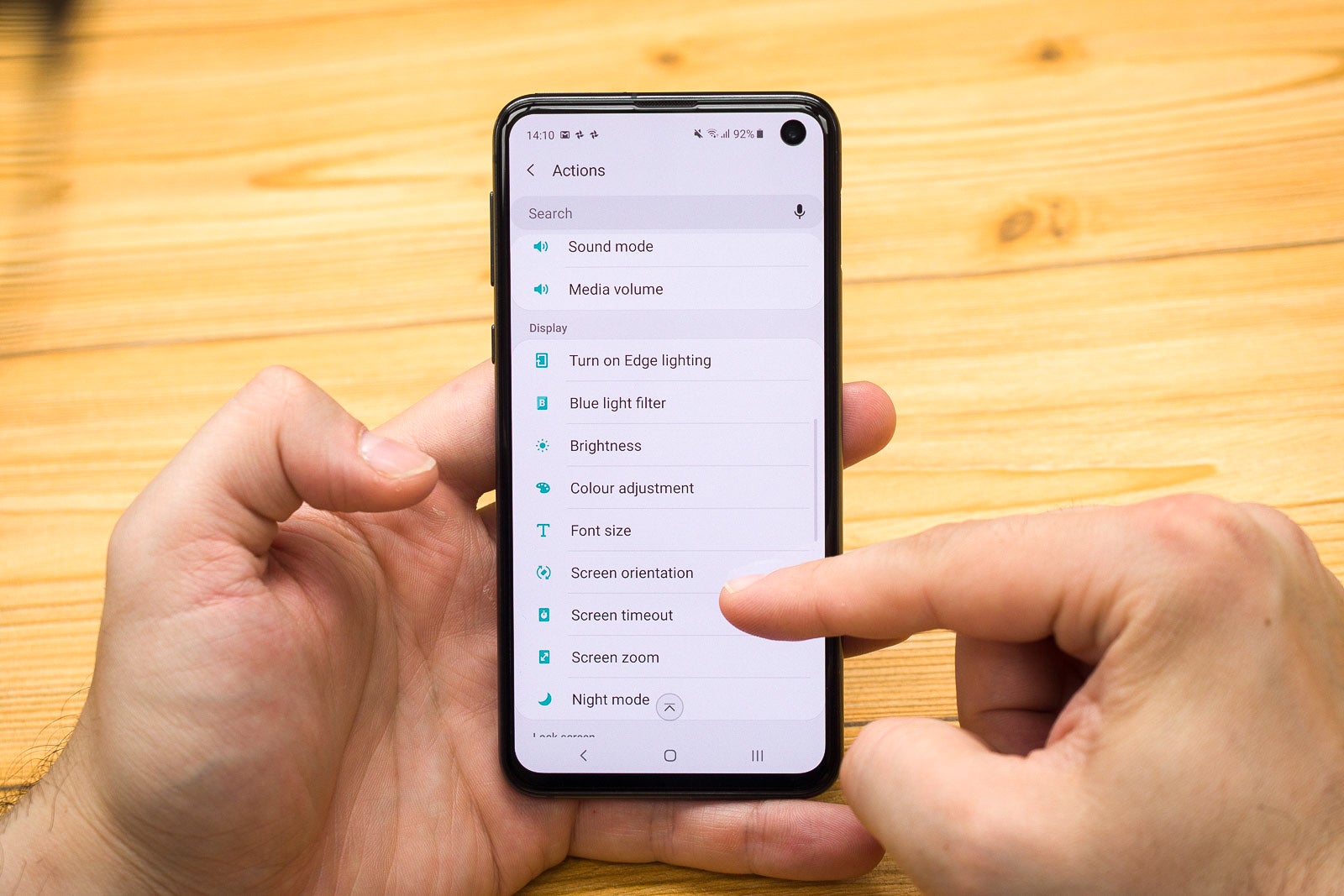 Step #10
Choose auto-rotate or landscape here. You can use either, but I prefer auto-rotate because I want the device to still make use of its attitude sensor and rotate the interface according to the phone's stance.
Step #11
Once you're ready, tap done.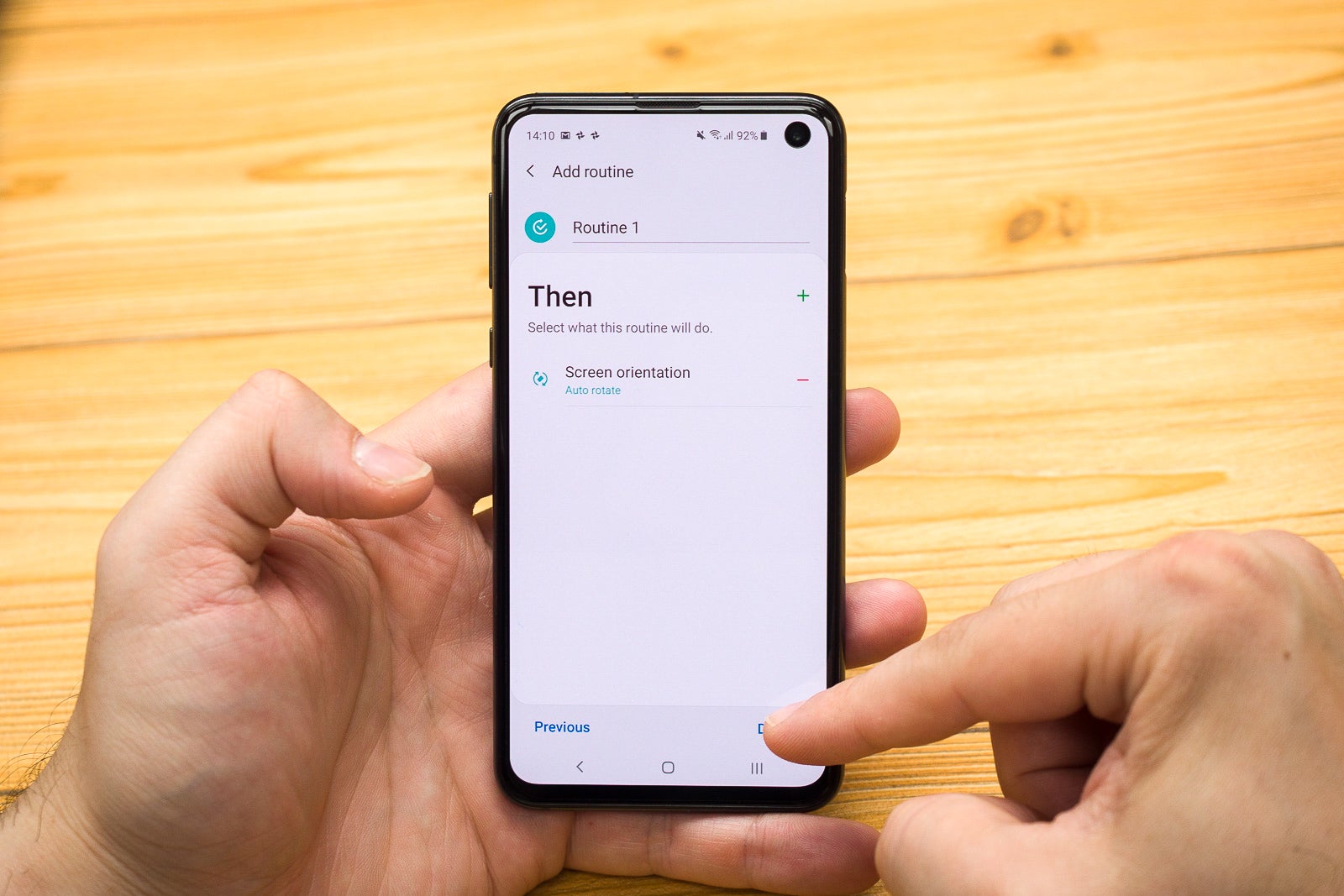 Step #12
Here's what the finished routine looks like. If you wish, you can disable the ongoing notification that the Bixby routine is running. You're good to go!