Refurbished Apple Watch Series 4 available from the company, but not for long
1
Hardcore Apple fans know better than to expect the Cupertino-based tech giant to directly sell its smartphones, tablets, or smartwatches at a discount... unless we're talking older models like the iPhone 7, various
trade-in deals
on new devices like the iPhone XR, XS, and XS Max, as well as certified refurbished units.
While the Apple Watch Series 3 has obviously been available as a refurb from the official US Apple Store for quite some time and in quite a few versions,
the Series 4 is now up for grabs
as well for a lower than usual price with a number of asterisks. Apple's refurbished products are basically as good as new, but they're naturally not
entirely
new, completing a rigorous testing process after being returned by their original owners.
This ensures you're getting a 100 percent functional device, thoroughly cleaned and inspected, with genuine Apple replacement parts included (if needed) and the same one-year limited warranty as a brand-new product. Unfortunately, because it's still early days for the fall 2018-released
Apple Watch Series 4
, initial inventory for several refurbished models that were made available today has been depleted before we could publish this piece.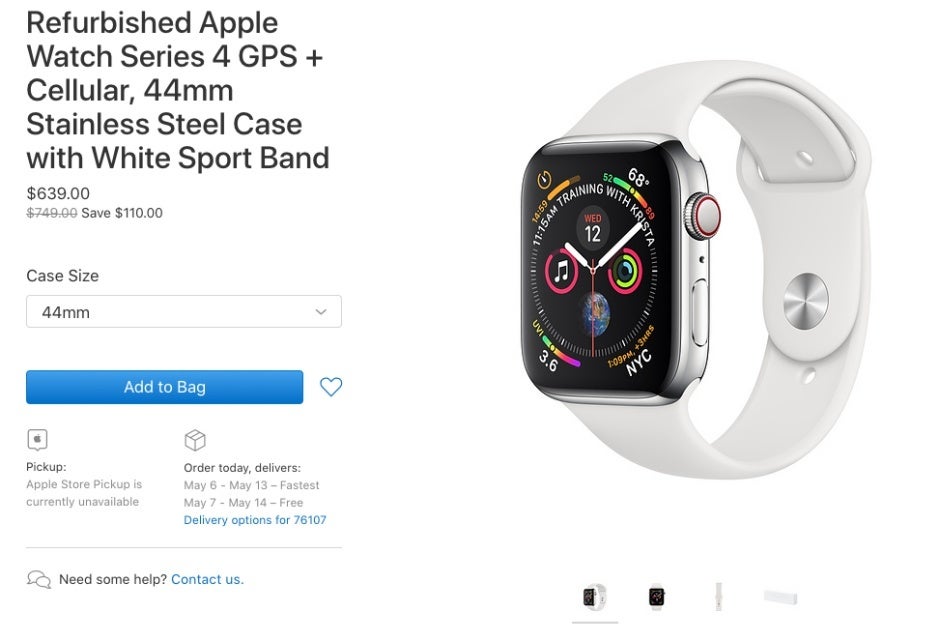 At the time of publication, a single cellular-enabled 44 mm version with a
stainless steel case and white sport band is up for grabs
, priced at $639, compared to the $749 you'd typically have to pay for the same smartwatch in brand-new condition.
According to 9To5Toys
, a handful of other aluminum and stainless steel models went up for sale earlier today as refurbs, starting at $339 and $589 respectively.
If you're looking to save a few bucks on
the world's most popular
(and well-reviewed) wearable device, it couldn't hurt to keep an eye on Apple's refurbished storefront for the next few days. Or you could head over to Best Buy or Walmart's websites right now and choose from a wider selection of refurbished models available at bigger discounts... with shorter warranty periods.