OnePlus Bullets Wireless will soon come in red, black model already back in stock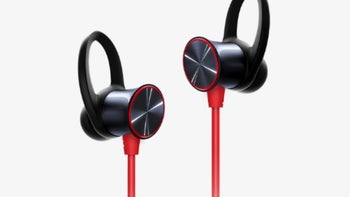 The newly unveiled
OnePlus 6T
aims to prove this ambitious startup is
all grown up
and ready to
take America by storm
, but although pretty impressive on paper, the company's latest Snapdragon 845 flagship is hardly perfect.
The absence of a headphone jack has to be its most infuriating flaw, but for what it's worth, you can buy affordable USB Type-C
and
wireless earphones straight from the 6T's manufacturer. Technically, the Type-C Bullets unveiled
just last month
are
still unavailable
, "coming soon" at $19.95, while the June-released
Bullets Wireless
are yet again
back in stock
.
Not only that, but a second cable-free model is on the way, having been discreetly announced alongside the
OnePlus 6T
handset yesterday. This doesn't seem to be any different from the original version in terms of specification and features, fetching the exact same $69 price.

The only thing that's new is the color... of the wire keeping the two earbuds together. Basically, the red OnePlus Bullets Wireless offer a nice two-tone design where the red elements snazzily complement the black, while the all-black variant is slightly more understated and meant to attract less attention.

At $69 a pop, these headphones are certainly hard to resist, with their premium aluminum alloy construction, convenient magnetic controls, Google Assistant support, rapid charging capabilities, and excellent 8-hour battery life. Still, it'd have been nice to keep good old jack around as well.