Silk White OnePlus 6 and Bullets wireless earphones now available in the US
1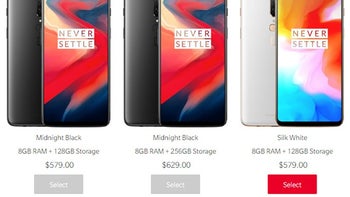 After introducing both its standard and
Marvel Avengers Limited Edition OnePus 6
versions, the Chinese company announced that a so-called Silk White color model will be available in select markets starting early June.

In the United States, the
Silk White OnePlus 6
will be available for purchase on June 5, starting at 2am PT or 5am ET. Along with the new color version, OnePlus confirmed its new Bullets wireless earphones will go on sale as well. The OnePlus Bullets buds can be had for just $69.
Just like the Mirror Black and Midnight Black
OnePlus 6
models, the Silk White version costs $579, but there's only one variant available based on the amount of memory: 8GB RAM and 128GB internal memory.
If you plan to purchase the Silk White OnePlus 6, here are all the bands and carriers supported by the flagship, as confirmed by the handset maker:
AT&T: 2/4/5/12/14/17/29/30/46/48/6;
T-Mobile: 2/4/5/12/46/48/66/71;
U.S. Cellular: 2/4/5/12/17/71.
However, even if the smartphone supports some or all of the required frequencies for a specific carrier, it will not be able to connect unless the device is approved for this network, so you may want to check with your favorite network provider.