There might still be hope for a Nokia 9 PureView launch this year
18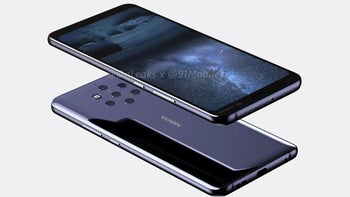 Hardcore Nokia brand enthusiasts have been waiting for a new flagship phone pretty much since HMD Global came into existence back in December 2016, taking over a business Microsoft left for dead.
But even though the exclusive global brand licensee managed to quickly revive Nokia mobile device sales, its strategy largely revolves around low to
mid-end smartphones
(and
dumb phones
) offered at aggressive prices.
That obviously didn't slow down the
Nokia 9 rumor mill
, which has been constantly churning for more than a year now, with copious evidence pointing to an impending materialization at long last.

After all, who unveils ultra-high-end smartphones with avant-garde camera arrangements mere weeks before the holidays? December and even November mobile product announcements are highly unusual, but perhaps the aim here is to beat CES and MWC 2019 standouts to the punch.

"Active" production of the Nokia 9 (PureView) is purportedly underway already, with certain issues that emerged in the early stages of the process ironed out before they could mess up the release schedule.

Details like price points and whether or not HMD plans to sell this photography powerhouse in the US remain up in the air, although we may not have long to wait until finding them all out.

Existing rumors are certainly painting a promising picture, including a 5.9-inch no-notch screen, Snapdragon 845 processor, in-display fingerprint reader, and most importantly, a grand total of five rear-facing shooters with a dual-tone LED flash and a seventh sensor at their side.