The Nokia 9 launch has allegedly been delayed by HMD Global until February 2019
49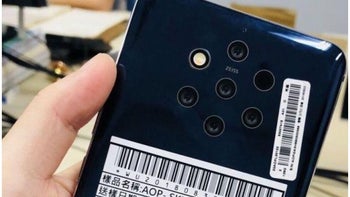 Alleged live image of the Nokia 9
The
Nokia 9 flagship
was shaping up to be a rather impressive device thanks to the Snapdragon 845 on the inside and a whopping five cameras on the rear. But according to one reputable source, the planned 2018 release for the smartphone has now been canceled.
Allegedly, it's a case of history repeating itself. See, according to the source, the
Nokia 8 Sirocco
that was announced earlier this year at MWC 2018 was initially intended to be Nokia's 2017 flagship smartphone. But as the planned September 2017 release neared, Chief Product Officer Juho Sarvikas decided that the device was "not quite ready for announcement," forcing HMD Global to delay the unveiling until MWC 2018. Fast forward to today, and it seems a similar timeline is playing out.
According to sources, the Penta-lens
Nokia 9
has been under development for months with the intention of being Nokia's true 2018 flagship. At this point in time, though, it's understood that Sarvikas still doesn't deem the device as "perfect," despite reports of an amazing camera. Because of this, he once again wants the brand's flagship launch to take place in February 2019 at MWC, rather than in the Fall of 2018 as initially planned. Seemingly, this has upset various employees within HMD Global and it's now being claimed that the
recently-leaked live images
of the flagship smartphone were actually an act of revenge intended to show disapproval of the delay.
Ultimately, only time will tell if HMD Global has indeed delayed the smartphone. But with there yet to be any kind of info relating to an announcement timeframe, the news of a delay certainly isn't surprising.