Nokia 9 PureView looks more and more likely to be announced this month
12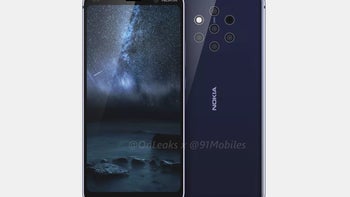 The world's first smartphone with five rear-facing cameras is most likely right around the corner. It has to be, seeing as how Nokia 9 rumors have been floating around for almost two years now. Yes,
really
.

While it's still too early to be certain of anything, the odds of seeing the Nokia 9 PureView showcased to the public this month are definitely improving. Fresh inside information points to Dubai as a possible venue for the oft-rumored phone's global announcement, followed by a commercial release sometime in February in India.
Early availability across other major markets is obviously not to be ruled out, although we're afraid related gossip is currently nonexistent. To avoid disappointment, it's probably wise not to hold your breath for an official US launch. Right now, the
$349 Nokia 7.1
is the brand's costliest and most advanced handset stateside.