Boost Mobile's Black Friday deal on iPhone XR is back until the end of 2018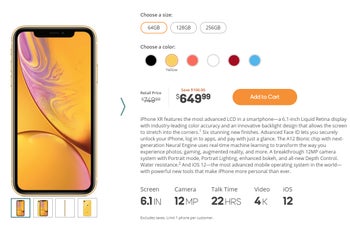 Boost Mobile is bringing back its
iPhone XR deal
that was available during Black Friday, so if you've missed the offer last month, you have one more chance to take advantage of it. Unlike other deals that require trade-in or long-term contract, Boost Mobile's promotional offer requires neither.
If you don't know, Apple sells the
iPhone XR
for prices starting a $750 outright. Of course, you can get the phone cheaper if you trade-in another iPhone model, but if you don't have one, Boost Mobile's deal is a decent alternative.
Starting today,
Boost Mobile has the iPhone XR on sale
for $650, exactly $100 than Apple's catalog price. The price is for the 64GB model, but the 128GB and 256GB variants are on sale as well, so you can get either one for $100 less.
There are no strings attached to the deal, so you can order the
iPhone XR
and when it arrives, you can pick a plan and activate it online. Keep in mind that there's a one phone per customer limit and that the price doesn't include taxes.