Apple iPad Black Friday deals to expect in 2023
We may earn a commission if you make a purchase from the links on this page.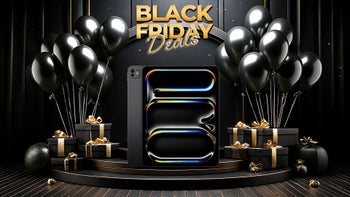 Black Friday is that time of the year when you can get some of the most exciting items at dirt-cheap prices. While Apple's iPads rarely get discounted at other times of the year, they do receive some love during the big shopping spree.
If you've made up your mind about upgrading your
Apple
tablet soon, we suggest you bookmark this page and check it regularly. Here, you can find everything you need to know about the upcoming sales event and get an idea of what discounts you can expect. We update the article regularly to help you make an informed decision when Black Friday finally comes.
Of course, you might not have to wait a few months to take advantage of exciting Apple iPad deals – below, you can find the top three offers that are live right now.
If you don't find any of these offers appealing, keep reading on to get an idea of what discounts you can expect on your favorite Apple tablets during the upcoming holiday shopping spree. As always, we'll base our predictions on the offers we came across last Black Friday.
Black Friday deals: iPad Pro 11-inch and 12.9-inch
Last Black Friday, we came across epic offers on both sizes of the iPad Pro. For example, Best Buy slashed $400 off the price tag of the bigger slate. Amazon also joined the fun, offering shoppers tempting discounts on the most powerful Apple tablets.
Next Black Friday, we can expect discounts to get even more exciting, especially given that the
iPad Pro (2022)
has been around for almost a year now.
Black Friday iPad deals: Apple iPad Air
The previous holiday shopping spree didn't offer shoppers substantial discounts on the
iPad Air
. That said, you could still score 9% off on a cellular model or get the 256GB storage variant at $70 off. Most deals were available at Amazon. We suggest paying close attention to the retailer when Black Friday 2023 approaches to find exciting deals on the iPad Air.
This slate has the M1 chip. Plus, it features a USB C port and supports the same Magic Keyboard and Apple Pencil 2 as the 11-inch iPad Pro. If you don't mind a 60Hz refresh rate and a dual speaker setup, you can get a lot of value for your money. Especially during a sales event!
Black Friday iPad deals: 10.2-inch Apple iPad
During Black Friday 2022, we saw an 18% discount on the 2021 Apple iPad. We believe that the upcoming shopping event will see the newer model at a discount, with discounts hovering around the $50-$70 mark.
If discounts on the 10th Gen iPad don't meet your expectations, you can always shop around for the 2021 model. We believe it'll get much more substantial price cuts next Black Friday.
Black Friday iPad deals: Apple iPad mini 6
The
iPad mini 6
is presently the latest compact-sized Apple tablet. It's arguably the best premium
tablet for reading
and note-taking. Last Black Friday, the slate was discounted by $100 at Amazon, and we believe that this year will be no different.
Where to find the best iPad deals during Black Friday?
Traditionally, some of the best discounts on Apple iPads are available at retailers like Amazon and Best Buy. Last Black Friday, the latter offered many doorbuster deals on several iPad models. As you might expect, those didn't last very long. In any case, we suggest pulling the trigger on any Apple tablet deal you like as quickly as possible. After all, isn't only on Best Buy where supplies tend to run out pretty quickly at other retailers as well.
Does Apple have discounts on iPads during Black Friday?

Apple is unlikely to slash the price of its own devices for the sake of participating in the Black Friday deals craze. Usually, the official store just sweetens the pot with bundle deals that force you to buy another Apple product, or gives some App Store gift cards, and that's about it. With that in mind, surprises happen sometimes, meaning a tempting iPad deal at the Apple store isn't completely out of the question.



Should I wait for Black Friday to buy an iPad?

In short, yes. Black Friday is the year's biggest shopping event. With it come countless of exciting and epic deals on various tech items. As you might expect, those include iPads as well. While Prime Day is another big event that brings about cool offers, those rarely are as irresistible as the ones we see on Black Friday. That's why we suggest waiting for Black Friday and Cyber Monday if you want to maximize your savings.
Recommended Stories