Apple iPad Black Friday deals
We may earn a commission if you make a purchase from the links on this page.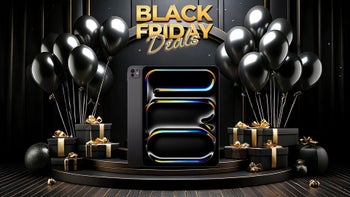 Black Friday is the biggest shopping event of the year and it brought with it some unexpectedly large markdowns on the latest Apple iPad Pro models that almost never get discounted otherwise. We saw the
iPad Pro 2022
go down the whopping $400 over at Best Buy, as well as some nice gift card offers with it on Walmart.
Our other favorite deal was on the $330 iPad that came out fairly recently, yet dipped down below $300 during Black Friday with the help of Amazon and the like.
Regardless of whether you pick up a cheap or expensive modern iPad, it'll likely crush all the tasks you'd want to do with it effortlessly - from school work, through things like drawing and video editing, so Black Friday is the way to go if you can wait for a good deal on an Apple iPad.
Best iPad deals right now
Black Friday deals: iPad Pro 11" and 12.9"
What's a better way to score on an Apple device like the iPad that gets directly discounted so rarely than grab on during the Black Friday iPad deals bonanza. You could get up to 30% off the iPad Pro at Best Buy during the last Black Friday sales event, amounting to $400 off the newest 2022 12.9-inch edition, for instance.
Black Friday iPad deals: Apple iPad Air
The newest
iPad Air
is basically an iPad Pro 11" killer — it has the M1 chip, it has almost the same form factor, it has a USB C port, and supports the same Magic Keyboard and Apple Pencil 2. If you don't mind a 60 Hz refresh rate and a dual speaker setup (instead of quad speakers), you can get a lot of tablet for your money. Especially during a sales event!
Black Friday iPad deals: Apple iPad 10.2"
The base iPad 10.2-inch got an upgrade upping its base storage tier. Now, it starts at 64 GB for $330, which is still not amazing, but one can make do with that type of storage, if they do some housekeeping once in a while.
Black Friday iPad deals: Apple iPad mini 6
The
iPad mini 6
is a new addition to the iPad lineup. It is one of the best compact tablets right now. With its redesigned, lightweight build, perfect for one-handed use, the 2021 iPad mini is arguably the best premium tablet for reading and note-taking.
Where to find the best iPad deals during Black Friday?
Traditionally, some of the best discounts on Apple iPads have been the ones from retailers like Amazon or Target which gives you gift cards with every purchase that are way in excess of the discounts others offer.
Still,
Best Buy has been giving great iPad deals during Black Friday
, with the caveat that these were mainly doorbusters and stock quickly ran out if you couldn't queue for a significant time and early outside a store. It did have an amazing online deal on the iPad Pro during the last Black Friday session, though, which restored our faith in Apple product discounts.
Does Apple have discounts on iPads during Black Friday?

Apple is unlikely to slash the price of its own devices for the sake of participating in the Black Friday deals craze. It usually just sweetens the pot with bundle deals that force you to buy another Apple product, or gives some App Store gift cards, and that's that.

Given the looming recession and sales slowdown that forced it to slash the component orders for its newest iPhone 14 series, it may be tempted to directly lower the price of an iPad or two so as not to miss out on direct holiday sales through its main channel.



Should I wait for Black Friday to buy an iPad?
Since Black Friday is the year's biggest shopping event with some significant savings to be had, unlike some other self-proclaimed deal bonanzas in the ranks of Amazon Prime Day, one can reasonably expect Black Friday deals on the iPad as well.
Whether because merchants are often using coveted Apple products as lure to attract customers to their online or offline stores, like Target or Best Buy do, or simply because Black Friday is the best chance for a price cut on a top-selling product, we'd recommend you wait and see what Black Friday deals on iPads would anyone have in store in November.