Apple iPad Black Friday deals
0
We may earn a commission if you make a purchase from the links on this page.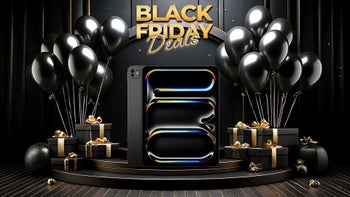 Note: We're updating this with live deals all throughout Cyber Monday, to make sure you don't miss a thing—because we've got surprises for you,
even with Black Friday over!
Right after the Thanksgiving dinner of turkey and endorphins, the bravest souls get up from the table, and line in front of Best Buy to grab one of those 10
iPad Pro
2021 units that are advertised at 30% off in the circular.
We kid, as nobody does that anymore, and we will guide you through the wonderful world of the best iPad Black Friday deals for 2021, right from the comfort of your mouse or fingertip, while Black Friday is in full swing. If you're in the market for a new iPad or just want to see what kind of price drops there are, here are the best prices at the moment. Right, that's enough for the intro, let's dive into our list of Black Friday iPad deals.
Black Friday iPad deals: Apple iPad Pro 2021
Apple's popular line of tablets recently got overhauled with the first iPad Pro with a miniLED display, at a cost, so retailers like Best Buy and Amazon naturally have put up some discounts on the iPad Pro 2021 and other models for this Black Friday shopping spree.

The discounts that are out right now are far from striking, ranging from $50 to $100 so far. Nevertheless, there is nothing bad in saving a few bucks if you have set your mind on buying any of the 2021 iPad Pros.
Here are the Black Friday deals we currently have on the iPad Pro 2021:
Black Friday iPad deals: Apple iPad Air 2020
Unfortunately, there isn't much in the way of iPad Air deals during this Black Friday. Still, you can grab the lovely slate in its Verizon form for $580 at BestBuy, so that's a sweet 20% discount off the usual price.
Black Friday iPad deals: Apple iPad 10.2"
The base
iPad 10.2-inch
got an upgrade this year, but despite that, the slightly older model from 2020 is still a good choice if you want a more affordable iPad. That's all well and good, but sadly, we're still waiting for any deals featuring Apple's budget iPads this year.
Black Friday iPad deals: Apple iPad mini 6
The iPad mini 6 is a new addition to the iPad lineup. It is one of the best compact tablets right now. With its redesigned, lightweight build, perfect for one-handed use, the 2021 iPad mini is arguably the best premium tablet for reading and note-taking. Deals-wise, the situation is pretty bleak - no active deals right now.

Black Friday Apple iPad deals: iPad Pro 2020, iPad Pro 2018, iPad mini 2019
The old iPad mini from 2019 was briefly discounted at Best Buy, but is no longer available. Don't worry, though, you haven't missed much - it was a tiny $40 discount. Apart from that, you can at least get some of the other models with a $100 to $200 discount.