Black Friday 2022 deals at Best Buy: recap
6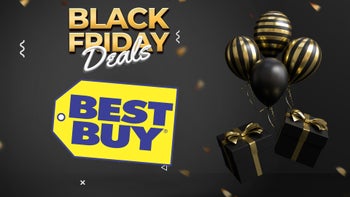 Black Friday
is now officially behind our backs. Well, we do have next year to look forward to! In the meantime though, let's talk about what happened during this year's sale event. This article is a recap of what deals we saw when the shopping bonanza was going on. You were able to get almost any tech gadget with a discount at Best Buy during the sales: we saw smartphones, tablets, smartwatches, earbuds, MacBooks... and what have you discounted. The sales were epic, to stay the least. Now, let's talk about the details a bit more.
Best Buy phone deals: recap

Best Buy's deals on phones this year were epic! Especially when it comes to Android phones (iPhones didn't see much of discount love, but that's to be expected). Samsung's latest and greatest handsets, including the Galaxy S22 and Z-series were generously discounted during the event. For example, the powerful
Galaxy S22 Ultra
saw a discount of $300 off with no trade-in or carrier contract required!
The Ultra's smaller siblings, the
Galaxy S22 Plus
and the
Galaxy S22
were also discounted, by $250 and $100 respectively. The foldable phones from Samsung also saw similarly aggressive price slashing: $400 off on the
Z Fold 4
and $200 off on the
Z Flip 4
. And we are talking about clean discounts with no requirements like contracts or trade-ins!
Android phones from other brands were also discounted. The newest Pixels got $100-$150 off, again fully unlocked models that is. The slightly-older
Pixel 6 Pro
was even more discounted and retailed at $300 off during the sales.
Sony Xperia fans were also quite pleased during the shopping spree: the ultra-expensive camera phone the
Sony Xperia PRO-I
was $700 off! Other models by Sony also saw discounts.
OnePlus phones were available at Best Buy with massive discounts during Black Friday too. The
OnePlus 10 Pro
was $250 off, and the
OnePlus 9 Pro
was $350 off. Basically, stunning offers - and yet again, no strings attached!
If you were looking for a budget-friendly phone during the shopping event, you were also in luck. Plenty of Motorola phones, models from 2021 and 2022 were discounted at Best Buy. And the deals were quite good here as well. For example, popular models like the
Moto G Stylus
was available for half its usual price, the
Moto G Power from 2022
was $80 off, meaning it started at $169. All in all, discounts across almost the entire Motorola portfolio ranged between 30-50% off, while a stunning 57% off was available for the
Motorola Edge from 2021
.
Best Buy Samsung tablets and iPad deals: recap

Things were great for tablet and iPad buyers this Black Friday as well. Basically, the retailer had generous discounts on hot and premium models from Samsung, like the
Galaxy Tab S8 Ultra
. This tablet got $300 off during the event, no strings attached. But that's not all – the other Tab S8 models were also discounted.
And the surprise of the year - an iPad Pro model got discounted. And no, not by $20. By $300! We are talking about the
12.9" iPad Pro
from last year. Given the fact that iPads, and especially Pro-branded iPads, get rarely discounted, we are tempted to crown this deal with a
Best deal of the season
award.
For the folks looking for more affordable tablets Best Buy had big sales on the Galaxy Tab S7 FE and multiple Surface Pro tablets.

Best Buy smartwatch deals: recap

We also saw great deals in the smartwatch department. The cool thing was that many models were discounted, and again, we saw some models on sale which we wouldn't expect to see discounted. Like the
Apple Watch Ultra
for example. Yeah, it didn't get a big discount per se, but $50 off on a hot-out-of-the-oven Apple device is definitely something!
Discounts in the range of $50-$70 graced the Galaxy Watch 5 series. We saw $110 off on the Galaxy Watch 4, easily one of the best deals on smartwatches we saw during the Black Friday shopping weekend.

Some Garmin and Fitbit smartwatches were also among the discounted products. All in all, Black Friday was your time and Best Buy your place to get a new timepiece on a bargain!

Best Buy deals on headphones and earbuds: recap

Deals on headphones and earbuds were going very strong during the sale event. Very sought-after models from Apple and Samsung were discounted. Some Galaxy Buds models were around 40% off, while AirPods and Beats by Dr. Dre models had around 20% discounts. We also saw $100-$120 off on some Sony models (yep, the Sony WH-1000XM4 headphones were $120 off!).
Best Buy deals on laptops recap: a MacBook discount? You don't say!

Well, as you can already tell by the title of this section, we did saw MacBooks discounted during Black Friday at Best Buy. You could save an epic $400 on the M1 Pro MacBook Pro 14-inches (it's time for the "
wow Apple gear doesn't usually get discounted during sales
" reminder). We also saw $500 off on the M1 Pro MacBook Pro 16-inch. $150 off on the MacBook Air. Hopefully you were able to score some of those deals, but if not - worry not, there's always next time. And now that you know these types of discounts are possible, you can plan ahead.
In the realm of Windows laptops, the discounts were as good if not even better. We saw the Galaxy Book 2 Pro with $500 off, HP Pavilion x360 was $330 off, and many other laptops were discounted ($200-$300 off, mind you!).
Best Buy deals on TVs: don't miss out!

TVs were also retailing at lower than ever prices at Best Buy during Black Friday. Discounts on different models and sizes of TVs were ranging between 20% to a staggering 56% off on the LG - 48" Class A2 Series OLED 4K Smart TV.
Is Best Buy going to have Black Friday deals on phones?

Yes, absolutely! Best Buy has some of the best Black Friday deals on phones every year. And as you can see above, the deals this year blew the competition out of the water. Black Friday was epic at Best Buy this year, and what's even cooler is that the majority of the phone deals that were live at Best Buy don't require activation (some did, but most didn't!).


When do the Best Buy Black Friday deals start?
Black Friday is usually the last Friday of November, just after Thanksgiving. Best Buy's deals often start around the week preceding the official start of Black Friday. The retailer started its Black Friday campaign early this year, and probably is going to do a similar thing next year. So, when November approaches it is time to start checking out Best Buy's website.

Don't miss our other Black Friday content: