Best Buy Black Friday 2021 deals: wrap up
3
We may earn a commission if you make a purchase from the links on this page.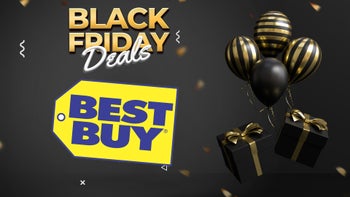 Black Friday
2021 brought many exciting and generous deals on phones, tablets, smartwatches and headphones. Black Friday is a shopping event that's arguably the biggest of the year with generous deals on almost anything you would want. On Black Friday 2021 we were able to purchase our desired tech products for likely their best, lowest price point at Best Buy.
If you're interested in learning about what happened with the 2021 Best Buy Black Friday deals and what offers we saw, you can check out this article.
Best Black Friday 2021 phone deals at Best Buy
Best Buy was among the first retailers to launch its Black Friday deals in 2021, and a week before the official event started, the retailer already had a lot of products with discounted prices. Let's talk about what we saw during the event.

The iPhone 13 series were now discounted on the three major carriers Verizon, AT&T, and T-Mobile, and each carrier had a different offer on Best Buy. First off, AT&T gave a $100 discount instantly with qualified new line activation and no trade-in required. Additionally you could save up to $1,000 on the iPhone 13 Pro and iPhone 13 Pro Max or save up to $800 on iPhone 13 or iPhone 13 mini with qualified trade-in through AT&T.
On the other hand, Verizon offered $1,000 off on the iPhone 13 Pro and Pro Max, or up to $800 off on the iPhone 13, $700 on the iPhone 13 mini with trade-in. On T-Mo, the Pro-branded models were available with a $900 discount with trade-in, while the iPhone 13 and the mini -- up to $725 with trade.

T-Mobile offered to $540 off on the iPhone 12 with trade-in during the shopping event as well.

But Best Buy didn't stop there though. It launched generous Black Friday discounts on Samsung Galaxy phones as well. Verizon had the most generous offer on premium Samsung Galaxy phones: a $1000 off with a qualified trade-in. Unlocked Z Fold 3 and Z Flip 3 were also discounted, while T-Mo was giving up to $725 off with trade-in on the S21 series, or $200 off without trade-in.
Without trade-in,
for the Galaxy Z series, Verizon had a $400 discount, T-Mo up to $400 off, and AT&T, up to $300 off,
while with trade-in
, on Verizon you could save up to $1400, on AT&T up to $1300, and on T-Mobile up to $1050.
Additionally, Verizon was offering a discount on the powerful Pixel 6 as well. Motorola and OnePlus phones were also discounted on Best Buy for Black Friday, and quite generously that is (the OnePlus 9 Pro was $270 off!).

Best Buy Black Friday 2021 tablets and iPad deals
Best Buy had some Black Friday deals on some Samsung Galaxy Tab models. Select Microsoft Surface models were also discounted during the event (and the week preceding it), as well as several models from Amazon's Fire series of budget-friendly tablets. Best Buy didn't have a lot of iPad offers, but some models like the iPad Pro and the iPad mini saw some discount.
On the other hand, Lenovo tablets were quite generously discounted at the retailer.

Best Buy Black Friday 2021 smartwatch deals
In terms of smartwatches, Best Buy had a lot going on. Models from the Galaxy Watch series, Fitbit and Garmin were getting Black Friday discounts. Entry-level Apple Watch SE and the affordable Apple Watch Series 3 were also discounted (and with them, you could also benefit from 6 months of free Apple Fitness+).

Models from the Galaxy Watch 4 and Galaxy Watch 3 series were also discounted. You could say that pretty much every good smartwatch model had some discount for Black Friday over at Best Buy. This applies to Fitbit, Fossil, and Garmin smartwatches as well. For example, Garmin smartwatches had around 40% discount, while the Galaxy Watch 3 had a 53% discount from its retail price! Quite good, if you ask us.
Best Buy Black Friday 2021 deals on headphones and earbuds
The generous Black Friday deals at Best Buy also covered earbuds and headphones. Many of the deals started ahead of the event itself, but prices changed pretty regularly and didn't stay consistent through the Black Friday weekend. Let's look at some examples of what deals were available.
The Apple AirPods Max were $70 off, while the AirPods Pro were $30 off. Similar discount was available on the regular AirPods. A $40-$50 discount was present for some Galaxy Buds models. More generous Black Friday offers were available for Beats By Dre headphones and earbuds. For example, the Beats by Dr. Dre - Beats Studio 3 were available with a $150 discount. A $100 discount was available on the Sony WH-1000XM4 over-the-ear headphones. Jabra, Sennheiser, and Bose headphones were also discounted.

Black Friday is now behind us, but fret not -- deals never go missing for too long. Check out the most recent deals we have found here below to make sure you won't miss out:
Other Black Friday content: