Best Buy drops Google Pixel 2 XL price to $200 with monthly payments (down from $850)
2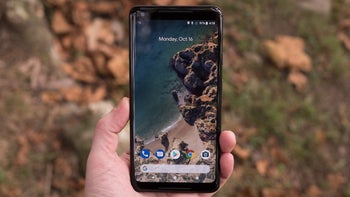 They say every ending is a new beginning, and as far as the
recently discontinued Pixel 2 XL
is concerned, that may soon apply to
Pixel 3a and 3a XL
sales, but it already does in terms of crazy deals on the 2017-released big guy. No longer available directly from Google, the
Snapdragon 835-powered 6-incher
is currently up for grabs at Best Buy for an insanely low price with Verizon device payment plans.
A measly $8.32 a month is enough to buy subscribers of the nation's largest wireless service provider a 64GB "Just Black" Google
Pixel 2 XL
, which amounts to a grand total of $199.68 after 24 installments. That's down from a list price of $850, although obviously, the stock Android-running phone got
a bunch of discounts
on the heels of the
Pixel 3
and 3 XL launch. But until today, the savings you were looking at with or without installment plans ranged from $200 to
as much as $450
. You couldn't even purchase
refurbished units
for less than $400 or so.
This time around, Best Buy offers a total markdown of $650.16, including a $450 instant discount and $8.33 monthly bill credits for the duration of your two-year Verizon commitment. Naturally, you can also choose to pay for the
Pixel 2
XL in full upfront, but in that particular case, you only stand to save 450 bucks and need to cough up $399.99.
If you don't have a problem with the terms and conditions of Best Buy's latest killer deal, it's essentially impossible to deny the appeal of a $200 handset with always smooth,
up-to-date software
, a beefy processor under the hood, a decent 4 gigs of RAM, an excellent 12MP rear-facing camera, a large and sharp P-OLED display (with no ghastly notch), a respectable 3,520 mAh battery, and dual front-firing stereo speakers. That's no longer a flagship device by current standards, but it completely crushes its competition at a new all-time low price with minimal strings attached.