Both the refurbished Pixel 2 and Pixel 2 XL are available for $390 and up today only
2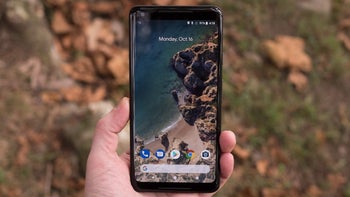 You probably didn't expect last year's
Pixel 2 and Pixel 2 XL
to age very well, but considering
all the issues
that are still
plaguing the user experience
on the
latest "pure Google" phones
, the two oldies may have become more attractive than ever for stock Android-loving bargain hunters.
With no
ghastly notch
, the same modern software as their successors, and frequent discounts, it would be foolish to ignore these Snapdragon 835 powerhouses just because they've recently turned one. After all, they're
guaranteed two more years of updates
, new Android versions included.

If you don't mind buying them refurbished (with a 90-day limited warranty), Woot is running an irresistible 24 hour-only sale on the entire Pixel 2 family. We're talking a grand total of four storage configurations, each offered at a massive discount in a couple of different colors.
Starting with the cheapest variant, the 64GB 5-incher costs a measly $389.99, which is a whopping 260 bucks off the Pixel 2's regular Google Store price in brand-new condition. Woot actually had
Pixel 2 and 2 XL refurbs on special offer
a few weeks back as well, then charging $420 for this exact same model in "Just Black" and "Clearly White."

If you need to double that digital hoarding room, you're asked to pay an extra 60 bucks, while a 128 gig Pixel 2 XL will only set you back $429.99. Wait, so the jumbo-sized phone is $20 cheaper than a "regular" Pixel 2 with the same amount of internal storage space?

That's right, and believe it or not, the 64GB Pixel 2 XL is available at the time of this writing for $389.99, just like a 64 gig Pixel 2. Meanwhile, Google still sells new 2 XL units for $699 and $799 with 64 and 128GB storage respectively.

It sounds like you may need to hurry here, and keep in mind Woot is one of the most trustworthy discount retailers out there, with parent company Amazon actually taking care of product storage, packaging, and shipments.