You can buy Chromecast devices from Amazon again, but Prime Video support is still MIA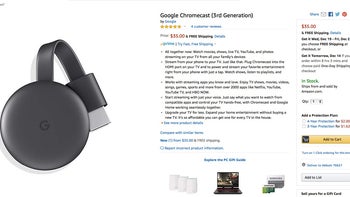 Amazon can be incredibly aggressive about the promotion of its consumer hardware products and related software platforms, with every available weapon in the e-commerce giant's arsenal often employed to stave off the competition.
While the recent addition of
Apple Music support
to Alexa-powered Echo devices could be interpreted as the beginning of a beautiful friendship between two industry rivals, another possible explanation is that Amazon was simply looking for a powerful ally to help fight a common enemy.

Chromecasts and Apple TVs were obviously also not made by Amazon, providing stiff competition for the 2014-born Fire TV family. While an official Prime Video app finally arrived for the Apple TV last year, Google's digital media players still can't connect to Amazon's video on demand service.
Thus, it's somewhat surprising to see
the third-generation Chromecast
and yet-to-be-refreshed
Chromecast Ultra
available on Amazon.com for $35 and $69 respectively. Unless, of course, this is a sign the two streaming pucks will gain official Amazon Prime Video support in the near future.
That's still not a guarantee, unfortunately, especially when you consider that Amazon did promise it would go back to carrying Chromecasts... about a year ago. Keep in mind that the ugly war between these two tech giants also caused some collateral damage to the Echo Show, which
couldn't play YouTube videos
for a while... until
figuring out a browser workaround
. Bottom line, there's no way to know what will happen next, but for the time being, you can add another major retailer to the already long list of Chromecast endorsers.
Recommended Stories