Google unveils refreshed Chromecast with refined design, lack of new features
11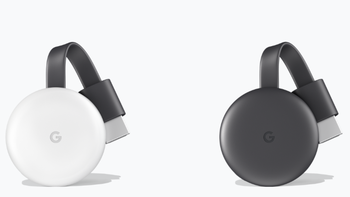 Although Google's main focuses at today's event, aside from the new Pixel phones, were
the Pixel Slate
and
the Google Home Hub
, the internet giant did also have a new Chromecast up its sleeves.
Overall, the new Chromecast doesn't bring anything major to the table. In fact, the biggest change is the design which now makes use of a simplistic matte finish complete with a small Google "G" on top, rather than the glossy plastic and Chrome logo seen on the previous model. Feature-wise, there are only a few changes. Namely, the new Chromecast is now 15 percent faster, something that allows for 1080p streaming at 60fps, rather than the 720p quality possible with the second-generation device. Also, a future update will allow the device to act just like a
Chromecast Audio
whereby it can play music in sync with other Google Home speakers. Despite rumors of Bluetooth connectivity, though, this feature is unfortunately still missing.

Just like previous generations, the new Chromecast will set consumers back $35. In order to match its range of speakers, Google has updated the colors to include Charcoal gray and Chalk white.