Facebook Portal smart displays with Alexa score $70 discounts ahead of Father's Day
1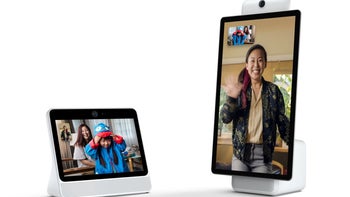 Facebook's first smart displays
(and first-ever in-house hardware products) are designed to be used by the entire family, including both mothers and fathers, so it's certainly not surprising to see big discounts offered ahead of June 16 after
a first round of sweet deals last month
.
These latest Facebook Portal and Portal+ price cuts are set to last until, you guessed it, June 16, hooking up tech-savvy dads with a smaller unit at $129 or a jumbo-sized variant in exchange for $279. That means you're looking at saving a cool 70 bucks no matter which of the two you're thinking of buying in the next few weeks, although that's actually a lower discount than the one used to celebrate Mother's Day back in April.
On the bright side, purchasing any two units from Facebook's official e-store or Best Buy will increase your savings to a grand total of $150. Two regular-sized Portals, for instance, will set you back a combined $248, with a Portal+ two-pack fetching $548 instead of $698, and a bundle comprised of a standard Portal and a Portal+ currently available for $398.
Naturally, Facebook is not competing in the same price segment as
Amazon's latest Echo Show
. But at a marked-down $129 tag, the 10.1-inch Portal matches the MSRP of the 7-inch Nest Hub (aka
Google Home Hub
). Meanwhile, the $279 Portal+ is still significantly costlier than a
second-gen 10-inch Echo Show
... with a gargantuan 15.6-inch screen in tow that can be used in both portrait and landscape orientation.
A "Smart Camera" leveraging advanced AI technology to keep everyone in the frame at all times is probably the key selling point of the Facebook Portal lineup, powering high-quality video calls. The larger variant unsurprisingly comes with superior audio capabilities, although the "entry-level" Portal is itself no pushover in that department. Oh, and don't forget Amazon's Alexa voice assistant is in charge of all the "smart" features these "smart displays" bring to the table.