Google Home Hub Review
11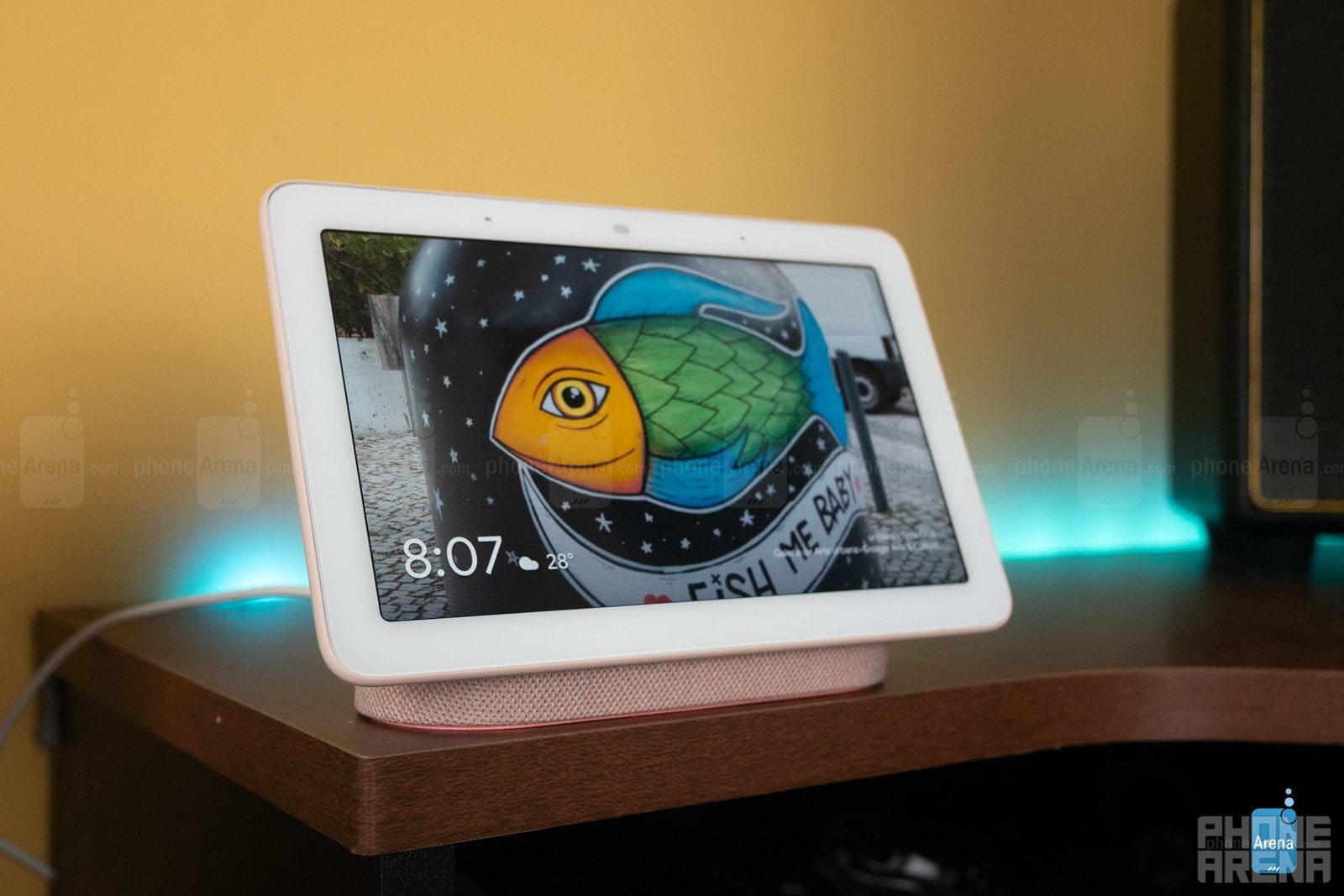 Last year, at CES 2018, we saw Google's first smart display, a competitor for Amazon's Echo Show, but there was just one quirk – it was made by Lenovo. The Google Home Hub represents the company's first first-party smart display and the soft, cute aesthetic clearly gives it away as a Google Home device. Does its software betray the fact that it's also the company's first in the smart display space?
Google Home Hub
Power Cable
Getting Started and Warranty Guides
Design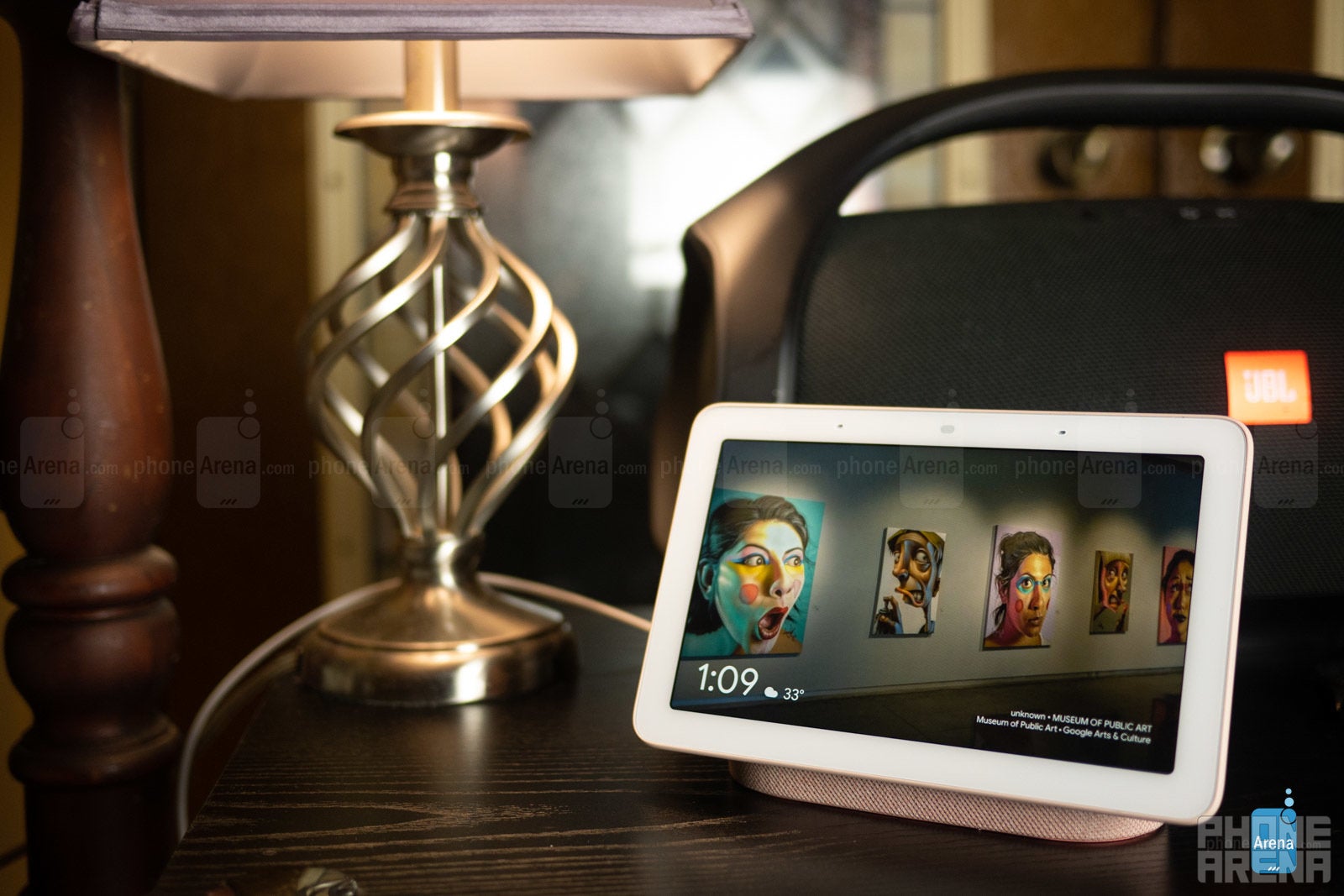 Google says the Home Hub is designed to fit seamlessly into "the most intimate spaces," which seems to specifically mean a bedroom. The Home Hub won't look too out of place in a family room or kitchen either, but the smaller screen and speaker size as well as the lack of any level of water resistance discourage us a bit from placing the Hub in one of those spaces.
The first thing you'll notice is the device's small size and soft, round aesthetic. The screen has a white face with rounded corners, while the back and woven fabric base come in pastel colors which Google calls sand, aqua, chalk, and charcoal. The diminutive footprint and soft colors combine to make this a cute device that straddles the line well between high-tech and home décor.
Continuing with the theme of blending in, the company excluded a camera and included a microphone on/off switch into this design, along with a volume rocker and ambient light sensor for automatic adjustments to display brightness and tones to further match its environment. We're not entirely sure why a sliding camera cover couldn't have been installed instead of excluding the camera entirely, as we've seen on the JBL Link View's camera implementation, but we suppose this eliminates the worry of remembering to close the shutter when the camera isn't wanted. Otherwise, a shutter cover would be preferable for those who would like the ability to use two-way video conferencing on supported devices.
Sonically, we're looking at two far-field mics along the top of the display and a single, rear-facing "full-range" speaker housed within the Home Hub's base.
Display
This 7-inch, 1024 x 600 px display is of course the main focus of this smart device and Google has achieved some impressively accurate color and brightness tuning here with the so-called Ambient EQ Light Sensor. Whether underneath a bright fluorescent lamp or at your bedside in a dimly-lit room, the Google Home Hub's display adapts quickly and accurately, making itself easily visible and the text effortlessly readable without over- or under-powering the environment's lighting.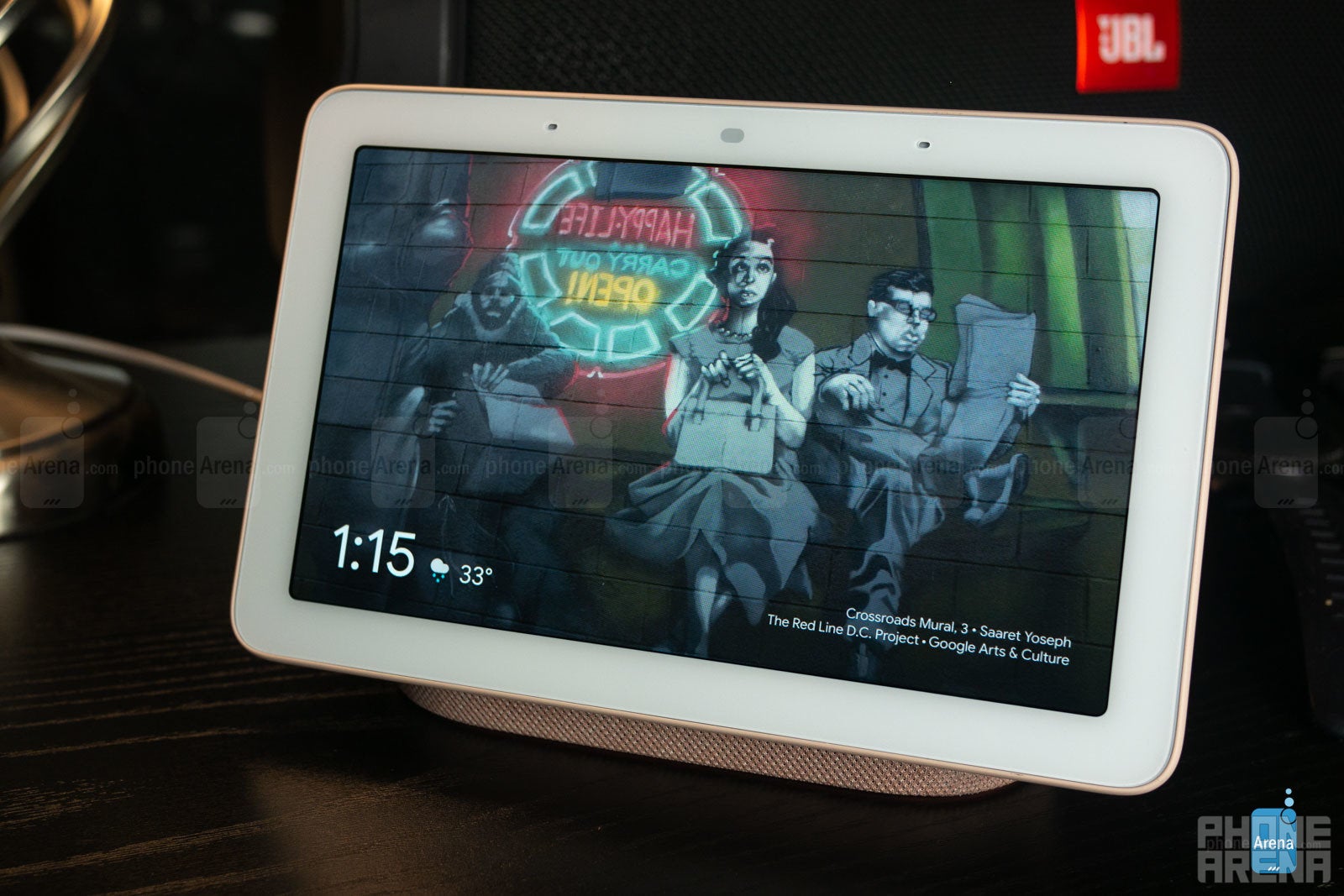 This display looks exquisite in any light, reminding us a lot of e-ink in that it looks so natural and readable, but unlike e-ink, this is the case in every lighting situation. The display's automatic adjustment of brightness and tone combine to keep the Google Home Hub looking right at home wherever it is – dimming to a near full blackout in night time darkness and rising to the occasion in the light of day.
Interface and Functionality
On the main screen, you have the option to view a slideshow of your chosen Google Photos album, images from Google's curated art gallery, or a full-screen clock. Tapping the screen from here will bring you to the Home Hub's main UI where you'll find a side-scrollable carousel of interactive cards. These include weather, upcoming calendar events, recipes, top stories, recommended Spotify playlists and YouTube videos, and a widget suggesting various functions or features, usually specific to the time of day, like playing white noise sounds at night, for example. These aren't specific to your actual habits for those times, though.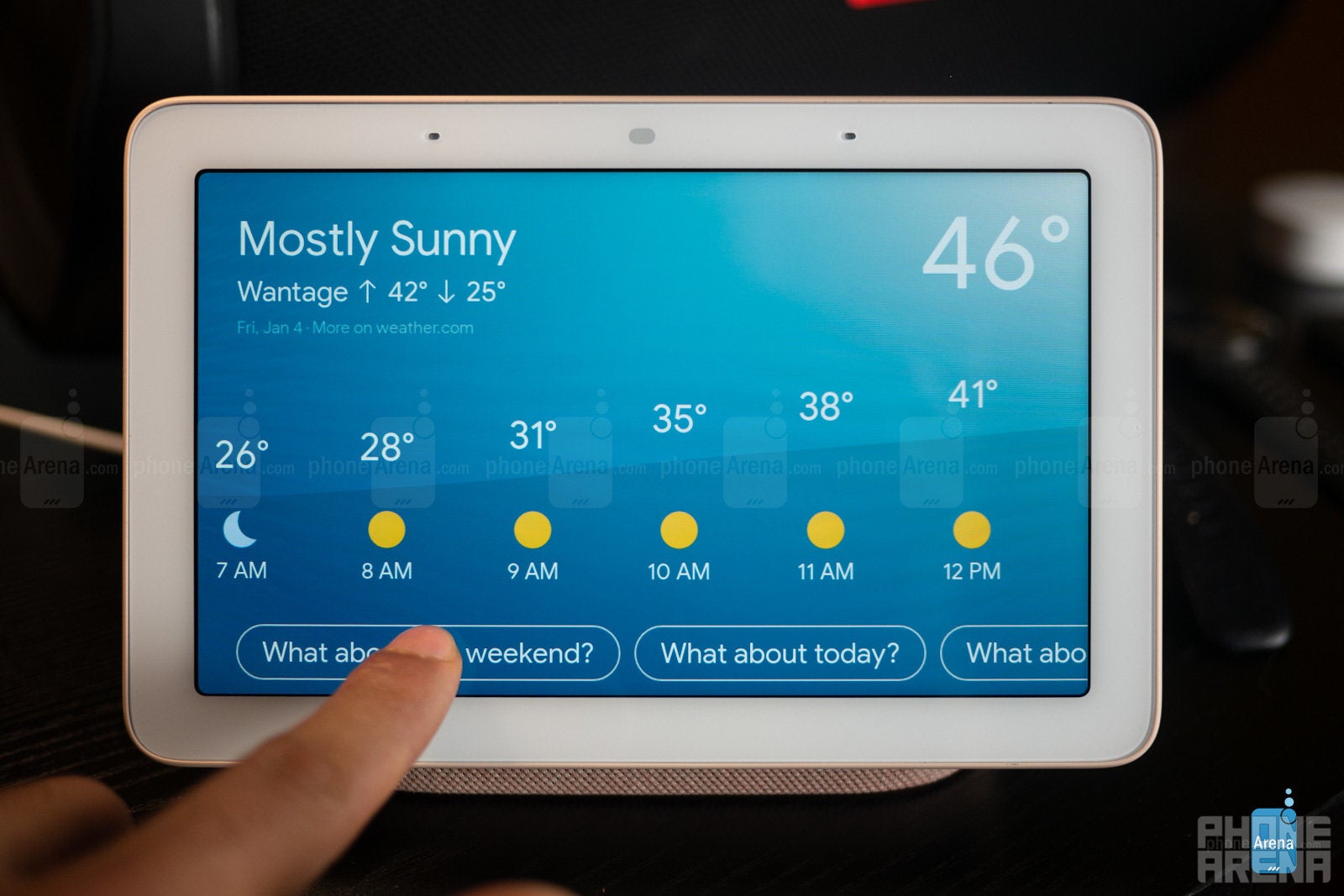 Lastly, there's an "Explore" card which, when tapped, shows you a list of things the Google Assistant can do on the Home Hub, organized in another side-scrolling set of smaller, block-shaped widgets. Tapping these will show you some sample commands you can use for whichever category you select like "find food recipes," or "have fun" for example.
It's a simple UI, and the explore tab is really as deep as things get. Swiping up from the bottom of the display offers some quick functions like controls for brightness and volume, as well as a shortcut to the alarm clock app, but tapping any of the cards on the main screen will only bring you to the piece of content you tapped. For instance, tapping a suggested YouTube video will only open and play that particular video; no app interface exists to browse YouTube, and that's the pretty much the case with every card on the main screen.
There are some small caveats to this. The recipes app can actually take you to the full web page which the recipe is from (but nowhere else on the web) in addition to presenting you the smart-display-optimized format, and YouTube videos give you a short list of related videos you can jump to, but that's the full extent of these app integrations. You can't peruse news stories on CNN or new music on Spotify through the Google Home Hub.
While offering a display for some conveniences and features, the Home Hub, above all, is still a device that operates mainly from voice-activated commands and queries. Comparing the number of things that can be controlled by voice versus on the display shows no comparison. In the future, we'd love to see some expansion here to enable some level of browsing, if not on full web pages, then at least through Spotify, YouTube, news stories, and other future app integrations, minimizing the reliance on your phone and voice for full capabilities.
Smart Home Control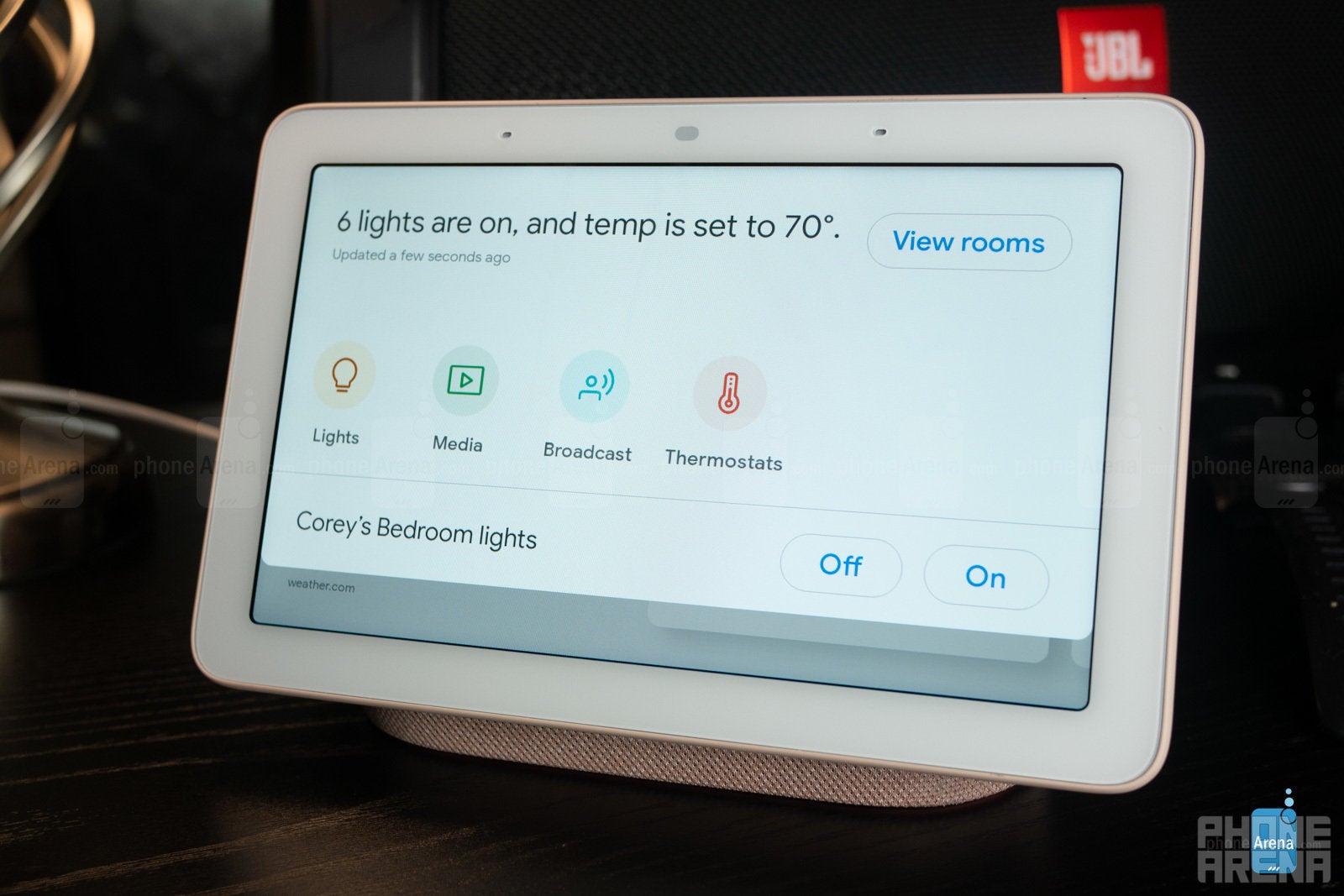 One area in which Google did expand some functionalities via the screen is within smart device control. Swiping down from the top pulls down a control panel with access to your compatible smart lights, plugs, thermostats, doorbells, Chromecast-enabled devices, and other compatible smart devices.
Functionality here is still pretty basic, but you can set your Nest Thermostat's temperature and change Philips Hue light's colors and brightness. You won't find Nest Thermostat scheduling or scenes for your Hue lights here, though.
In terms of media, you can select a Chromecast-enabled speaker to play music – unfortunately you can't yet choose groups of speakers – but you can't choose the music in any way or adjust the volume from the Google Home Hub. Instead, the Hub will simply pick up from your last played Spotify, YouTube Music, or Google Play Music list.
Integrations like those with the Dish Hopper and Logitech's Harmony Hub allow for some IR device control from the Hub such as pause/play, on/off, volume, and channel control. We expect some elaboration on functions like these in the future, as well, in an effort to truly make the Google Home Hub a central "hub" for controlling your home. Right now, that central home hub is still your phone.
Google Home App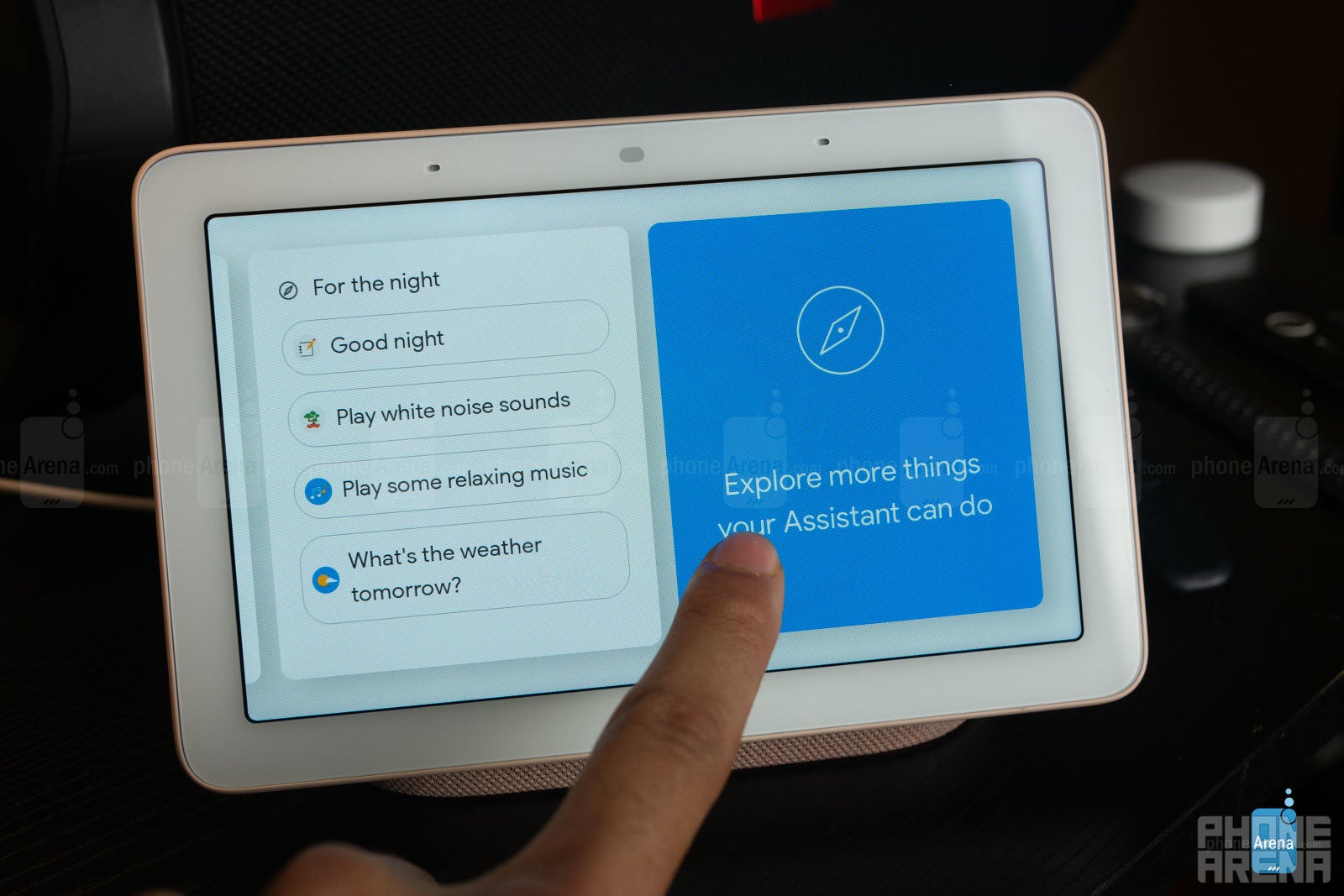 Diving into the Google Home app, you'll find the typical functions like initial device setup, media streaming options, device group setup, and settings for the Google Home Hub. As no settings appear in the Home Hub's own interface, here is where you'll change the photos displayed on the main screen, as well as access controls for digital wellbeing and downtime. These offer parental controls for material as well as an option to stop the assistant from responding and only execute alarms and timers during certain times much like the do not disturb setting which is also schedulable.
Sound Quality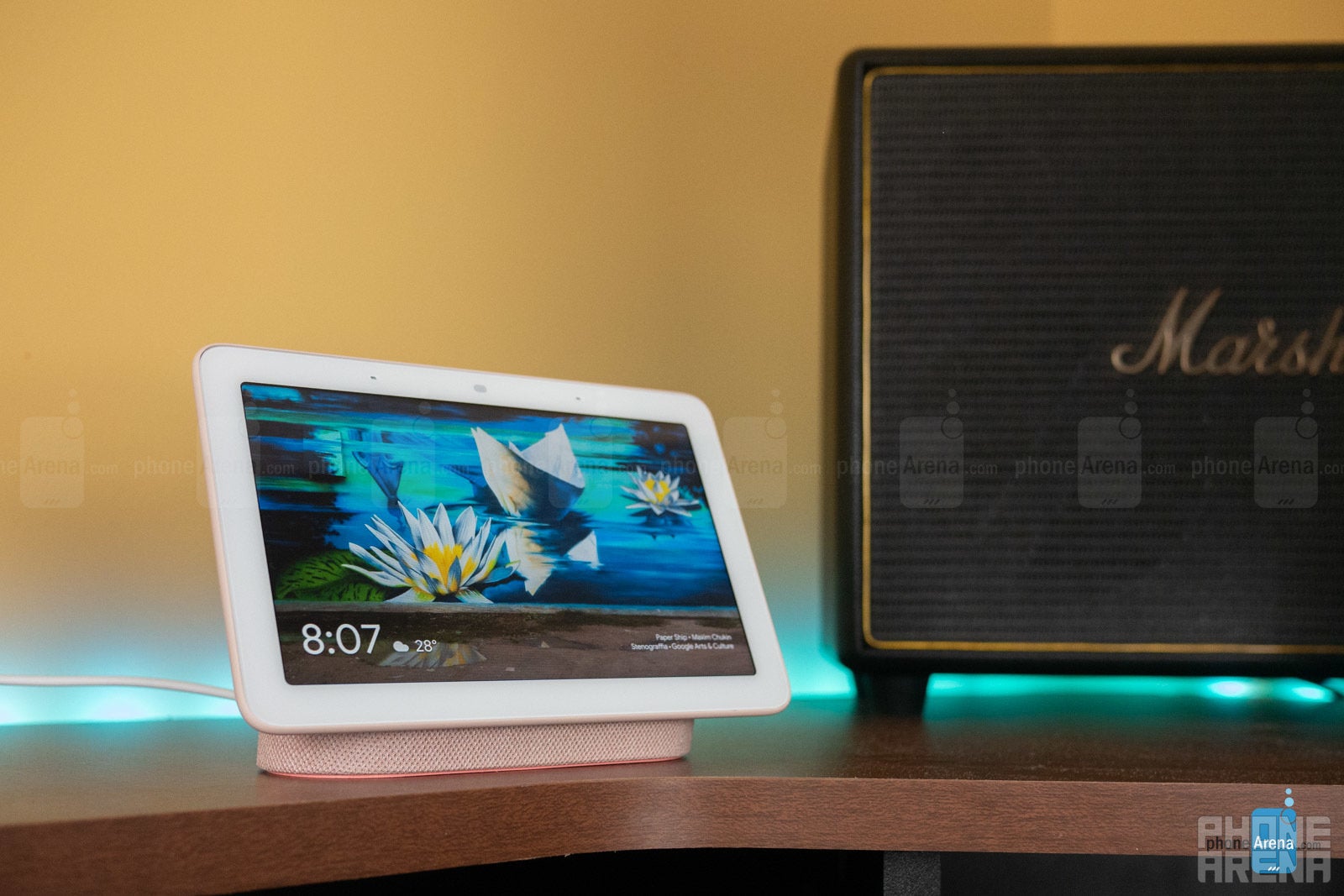 Audio on the Google Home Hub is surprisingly loud and decently balanced. Being a single, rear-facing "full-range" speaker, listening to music isn't the greatest speaker experience, but it is impressive with the composure and balance of both bass and treble, as well as overall decibel output; it'll fill a room and sound clear doing so.
Controls exist within the Google Home app to tweak bass and treble balance, but we found that pushing both of these to the max brought no distortion or other such issues, just better, fuller sound.
Connectivity
In terms of connectivity you'll find goodies like Bluetooth 5.0 and dual-band Wi-Fi for multi-room audio and Chromecast streaming. No Zigbee or Z-Wave hub lies with within for wider, direct smart device interaction as seen in the second-generation Echo Show, for instance, but paired with a Google Chromecast in your TV you'll enable a bit of TV control. This is mostly limited to on/off functions but also includes the ability to say things like "Hey Google play Stranger Things on my TV" or "Hey Google, play Young Thug on my TV." This, and whole-home audio control via Chromecast-enabled speakers are great examples of the perks of using the Google ecosystem – first-party or third.
Conclusion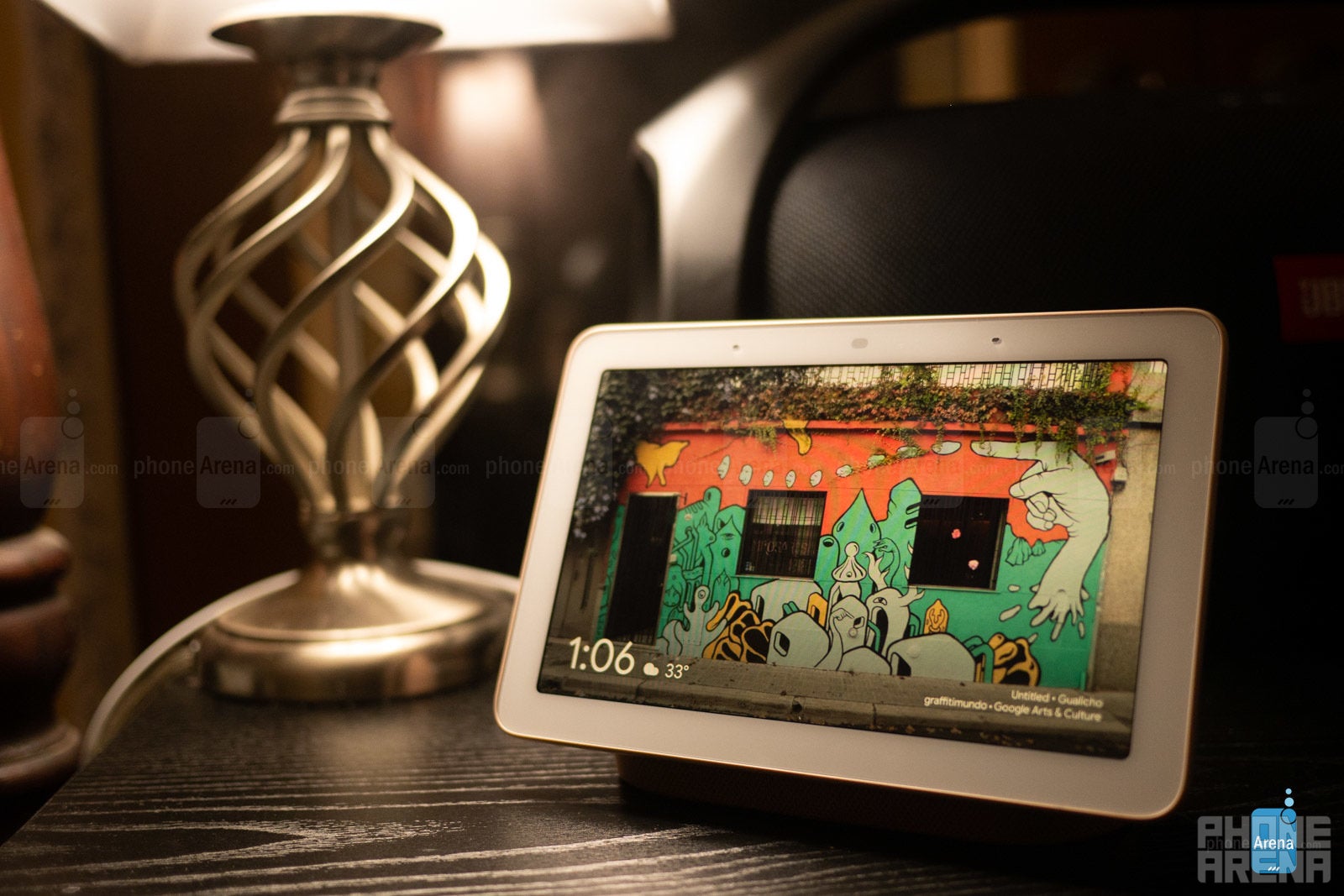 The Google Home Hub makes some appreciable inroads towards being your total "Home Hub" but it's not quite there yet. The versatile, soft aesthetic helps but the smaller size and lack of water resistance may be somewhat prohibitive for placement in the home. It is, however, perfectly suited as a bed- or desk-side companion with the Ambient Display EQ blending the Home Hub seamlessly into your background, and the useful smart home and music controls placed right at your fingertips. In fact, we almost forget that the Google Assistant is on there waiting to be beckoned – that is until we need to know more than just a 3-day forecast, or find a specific video on YouTube, for instance. Yes, having the display is quite useful at times, but we still found ourselves pulling out our true "home hub" more than we'd like – our phones. Still, the Google Home Hub looks good, and functions well, offering us a savory taste of what could soon be a Google user's total smart home hub.
Recommended Stories