Facebook Dating feature takes on Tinder in public trial run - what could go wrong?
1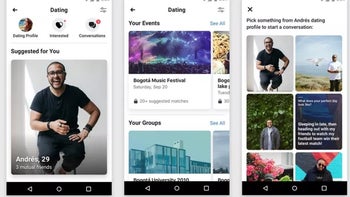 That
Facebook Dating
feature that sounded like such a hard sell after the social networking giant's
Cambridge Analytica data scandal
is here at last. By here, we mean it's only available in the country of Colombia for now as a public test run.
But if everything goes well, a global expansion could be right around the corner, and considering how many single people are (still) on Facebook, this might change the online dating landscape for good.
To its credit, Facebook didn't just try to copy Tinder,
like it repeatedly did
with
Snapchat
, relying in no way on swipes for user interaction with the new feature. By the way, Facebook Dating is not a standalone app (yet), and its functionality can only be accessed on mobile devices (for the time being) from the main app's so-called "hamburger" menu. You know, the three horizontal lines.
You can obviously still have a regular Facebook profile without adding your separate dating info, which includes your first name and age, as well as a short description of yourself and what you're interested in. No other private information
should
be included in your Dating Profile, but you know
how these things go
.

You're free to message anyone via Facebook Dating, which doesn't sound like a great idea, and the limit of people you can express your "interest" in is 100 a day. There's also a limit of nine photos you can add to your profile on iOS devices and 12 on Android, with pics and videos banned from your conversations with "interests."

Last but not least, there's obviously a search option for matches within 100 kilometers of your GPS-verified location, but don't worry, your existing friends will not show up in these searches. Why does it feel this is merely the start of another data-harvesting nightmare?