Killer eBay deal brings refurbished Fitbit Versa in 'excellent' condition down to less than $100
2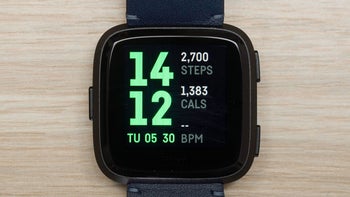 The
popular Fitbit Versa
is not exactly a prohibitively priced smartwatch, typically fetching $200, and its manufacturer has offered a number of
decent discounts
in
recent months
, making it a pretty stellar Apple Watch alternative for folks on tight budgets.
But if you can't afford to pay $170 for a brand-new unit with a standard 1-year warranty included, a top-rated eBay seller will hook you up with some crazy affordable refurbished devices. These are technically listed at $114 a pop, although simply adding one to your cart will instantly shave another 20 percent off your order. At the end of the day, that means you'll be spending a measly $91.20 on a "grade A" product inspected, cleaned, and repaired to "full working order", with absolutely no cosmetic defects, blemishes, dents, scratches, or signs of age.
VIP Outlet, which is an experienced and respected eBay seller with a 96.1 percent positive feedback score based on more than 100,000 customer ratings, even throws in a 90-day warranty to highlight its confidence in the "excellent" condition of these deeply discounted smartwatches. You also get free standard shipping nationwide and the right to return the device within 30 days in exchange for a full refund, so there's literally nothing that can go wrong here.
You also can't go wrong with a sub-$100 wearable sporting a color LCD panel for showing notifications from both Android handsets and iPhones, as well as a built-in heart rate monitor, excellent battery life, fully water-resistant design, and a whole bunch of sensors aiming to make you fitter and healthier. No, the
Fitbit Versa
doesn't come with standalone GPS connectivity, wrist payment support, or cellular capabilities, but at less than 100 bucks, it would be pretty absurd to complain about missing those decidedly high-end features.
Recommended Stories