Best Buy brings back Amazon's Prime Day deals on the Fire tablet lineup, no membership needed
1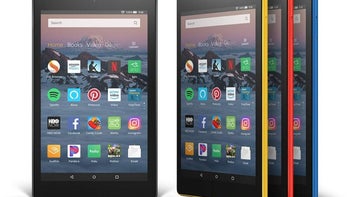 UPDATE:
Amazon Prime Day 2021 could happen in July. Here's what we expect to see this year:
Amazon makes and sells some of the world's most popular tablets at incredibly low prices, but even though it's usually a good idea to purchase a budget-friendly new Fire directly from the e-commerce giant, heftier discounts are occasionally available at major third-party retailers.
From today through Sunday, for instance, Best Buy takes up to $50 off the list price of every single Fire tablet model in circulation, essentially replicating Amazon's own killer Prime Day deals from a couple of weeks back without asking for any sort of a subscription. Anyone can therefore qualify for a $29.99 Fire 7, a Fire HD 8 fetching as little as $49.99, or a $99.99 and up Fire HD 10 sans restrictions, special requirements, or strings attached.
Keep in mind that the marked-down 7-incher saw daylight
just a couple of months ago
, alongside a super-compact kid-friendly edition that's also on sale for a limited time at a $59.99 starting price (down from $99.99). The "regular" 2019-released Fire 7 is up for grabs in a wide range of paint jobs, including black, twilight blue, plum, and sage, with an upgrade from 16 to 32 gigs of internal storage space setting you back $20 on top of the aforementioned $30.
As the name suggests, the Fire HD 8 is both larger and sharper, offering a choice from black, marine blue, punch red, and canary yellow colors, while currently fetching $79.99 instead of a $109.99 MSRP in a 32GB configuration. Meanwhile, the Fire HD 8 Kids Edition starts at $79.99 at the time of this writing after a cool $50 discount, the same one that applies to both standard and kid-friendly variants of Amazon's latest 10-inch slate.
Last but not least, bargain hunters should know they can maximize their savings by purchasing two Fire tablets of the same kind, which essentially allows you to pick up the second unit for free. The BOGO discount applies to the entire family, from the Fire 7 all the way up to the Fire HD 10 and Fire HD 10 Kids Edition.

Check out the deals here
Recommended Stories