Top Prime Day tech deals at Best Buy: Galaxy S20, Note 20, iPhone XS, and many more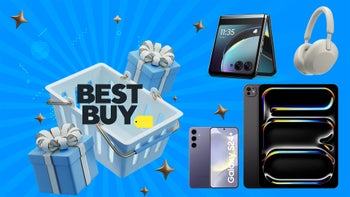 This article will be updated regularly as new Prime Day 2020 deals become available.
While Amazon Prime Day is definitely enticing, you may be interested to know that Amazon isn't the only retailer offering deals on the days of October 13 and 14. Another retail giant, Best Buy, was offering tech deals on Amazon Prime Day last year, and is doing the same this year. This means you have even more options to choose from, when looking for the perfect deal on Amazon Prime Day.
Best Buy's early Black Friday sale is now underway, and after combing through hundreds and hundreds of product listings, we think we've managed to find the top Amazon Prime Day-rivaling bargains available right now.
You may also find useful:
Best Buy tablet deals on Amazon Prime Day
Instead of following Amazon's suit with comparable discounts on the Fire family, Best Buy is slashing the prices of multiple Samsung and Microsoft options as follows:
The following Surface Pro deals conveniently include a Type Cover keyboard:
The Google Pixel 5 and Pixel 4a are on sale at Best Buy on Amazon Prime Day
The
Pixel 4
and 4 XL are out of the picture, and the 5G-enabled
Pixel 4a
is not up for grabs yet, so Android purists looking for a Best Buy bargain right now will need to settle for these modest discounts (with activation) on the hot new
Pixel 5
with 5G support and the slightly older 4G LTE-only
Pixel
4a:
Apple iPhone deals at Best Buy on Prime Day
We can't think of a better time to get an older and/or humbler iPhone at a great price than right as the tech world prepares to
welcome a hot new generation of Apple handsets
. While Best Buy seems to agree, we're definitely a little sad that
iPhone 11
series deals are nowhere to be found. On the bright side, the
iPhone XS
, XS Max, and SE are pretty much impossible to turn down:
Samsung smartphones discounted at Best Buy on Prime Day
Best Buy has everything from the latest and greatest high-end Samsung handsets to the company's slightly older ultra-high-end models and a bunch of crazy popular mid-range devices on sale at substantial discounts:
Best Buy laptops at a discount on Prime Day
Apple's early 2020-released 13.3-inch MacBook Air is marked down in multiple configurations and color options, and although the savings offered by Best Buy right now are far from earth-shattering, they certainly make this bad boy more appealing than ever before. But the deals extend beyond just Apple products, including Windows models ranging from crazy cheap to... more affordable than ever and always popular Chromebooks available at ultra-low prices:
Best Buy deals on AirPods and other headphones on Prime Day
Basically all of the world's most popular wireless
earbuds
and headphones are on sale at Best Buy right now, including multiple
AirPods
variants, a few other true wireless models, and yes, even Sony's latest premium noise-canceling cans:
Apple Watch and other smartwatch deals at Best Buy on Prime Day
Unfortunately (and unsurprisingly), the hot new
Apple Watch
Series 6 and Apple Watch SE are still stuck at their list prices, but bargain hunters might be happy to see the oldie but goodie Series 3 marked down... a little this Prime Day. Alternatively, you could buy an Android
and
iOS-compatible wearable device from a different brand (like Samsung) at a truly significant discount:
Bluetooth speaker deals at Best Buy on Prime Day
While we haven't been able to find any decent smart speaker offers at Best Buy, the retailer does have a fairly large number of ultra-affordable "dumb" options for you to choose from:
Smart TV deals at Best Buy on Prime Day
We don't cover TVs very often here at PhoneArena, but these are still the meat and potatoes of the traditional Black Friday and Cyber Monday sales organized by major US retailers like Best Buy, and the same seems to go for untraditional Black Friday-style events like the one taking place right now:
Camera deals at Best Buy on Prime Day
If your smartphone camera just isn't enough for your needs, now is a great time to get a dedicated camera through the following available deals: