Amazon unveils improved Fire 7 and Fire 7 Kids Edition tablets, prices remains the same
1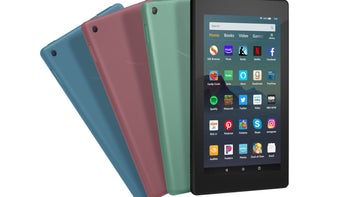 Amazon's
Fire 7
tablet and Fire 7 Kids Edition have just become better with the latest release coming from the US company. New and improved version of the two popular Android tablets have been revealed today, and even though they feature enhanced specs, Amazon has decided to keep the same price.
Both Fire 7 tablets announced today pack faster 1.3GHz quad-core processors and 16GB or 32GB storage, double the amount of storage included in the previous model. The all-new Amazon Fire 7 tablets are available for pre-order for just $50 and $70, but if you don't want ads on your lock screen, you'll have to pay $65 and $85, respectively.
Besides the faster processors and more storage, the new Amazon Fire 7 tablets come in additional colors like Sage, Plum, and Twilight Blue. It's also worth mentioning that these tablet will hit the shelves on June 7, but if you pre-order one, you'll receive a $10 credit for Amazon's app store.
Next, the all-new Fire 7 Kids Edition has been built from ground up for kids and comes with a kid-proof case and, more importantly, 2-year replacement guarantee, as well as a year of Amazon FreeTime Unlimited.

The all-new Fire 7 Kids Edition tablet
The new Fire 7 Kids Edition tablet comes with a 7-inch display, a faster processor, and 16GB of expandable internal memory. Also, the slate includes FreeTime parental controls that offer parents the ability to set educational goals and screen time limits categorized by type.
Truth be told, this one is more expensive than the all-new Fire 7 tablet, as Amazon offers its new kids-oriented slate for $100. On the bright side, if you pre-order the tablet until June 6, you'll receive a free pair of headphones featuring Forky or Bo Peep from Toy Story 4 ($20 value).