Best Buy is offering the best deals on Amazon's kid-friendly Fire tablets in quite some time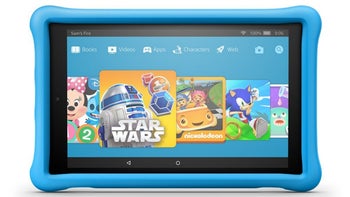 After essentially reviving Amazon's killer
Prime Day deals
on the "regular" Fire 7, Fire HD 8, and Fire HD 10 tablets
a few weeks ago
without requiring a membership or anything else of the sort, Best Buy is now offering some cool discounts for those interested in kid-friendly editions of the same Android-based slates.
Unfortunately, the
recently refreshed Fire 7 Kids Edition
is already listed as sold out, and although we obviously expect the thing to return before long, its $30 reduction from a typical $99.99 price is unlikely to stick.
As for the slightly older 8 and 10-inch Fire Kids Editions, you can currently get the two robust and colorful tablets at higher prices than back on Prime Day, but at least they're in stock. And the latest deals are naturally not available exclusively for Prime subscribers. Also, Best Buy's discounts sure beat the lack of any sort of savings available directly from Amazon over the last month or so.
Normally priced at $129.99, the Fire HD 8 Kids Edition costs $99.99 at the time of this writing with absolutely no strings attached, as well as 32 gigs of internal storage space, a mediocre screen sporting 1280 x 800 pixel resolution, a reasonably powerful quad-core processor, 1.5GB RAM, microSD card slot, headphone jack, 2MP rear-facing shooter, 0.3MP front camera, and up to 12 hours of battery life between charges.
Meanwhile, the Fire HD 10 Kids Edition can be had for $159.99 instead of a $199.99 list price in a 32GB configuration of its own equipped with a higher-res 1920 x 1200 pixel display, 2 gigs of memory, and pretty much all the same other specs and features as its little brother. The two also share a built-in "kid-proof" case available in a number of eye-catching colors, as well as a 2-year "worry-free" guarantee covering everything from standard defects to drops and cracks. That's something you don't usually get on such a tight budget. Heck, it's something you rarely get on any type of budget.
We at PhoneArena are keeping careful track of all the Prime Day Sales, both at Amazon and elsewhere. You only have to check out our deal hub for the best deals to find what you need!
Check out the deals here