These two iPhone and Android-compatible Aukey wireless chargers are insanely cheap right now
We may earn a commission if you make a purchase from the links on this page.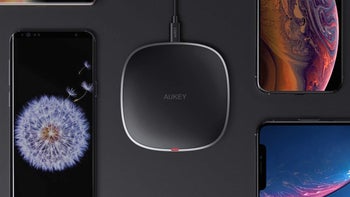 Choosing the perfect wireless charging accessory for your Qi-compatible Android handset or iPhone can be quite the hassle any day of the year, but with so many
last-minute Christmas deals
coming left and right, it may seem outright impossible to make the best-informed decision.

Then again, it doesn't take a rocket scientist to tell a $6.99 5W wireless charger and its $12.99 10W sibling are simply too cheap to turn down. Especially when dealing with such insanely affordable accessories made by a reliable company and sold by a 100 percent positively rated vendor on Amazon with orders fulfilled by none other than the e-commerce giant.

The "ultra slim" Aukey LC-C6 wireless charger and the Aukey Graphite Lite Q wireless fast charger (model number LC-C6 10W) are technically priced at $12.99 and $16.99 respectively, but applying special coupon codes will mark that down to $6.99 and $12.99, representing around 46 and 24 percent savings respectively.

Unfortunately, that only means 7.5W speeds for the aforementioned iPhones as far as the fast-charging model is concerned, which can deliver full 10W wireless power to "compatible" Samsung Galaxy devices.
Elegant and lightweight, the two wireless chargers on sale today come with a slew of safety features, including temperature control, foreign object detection, and power input monitoring, as well as extended 24-month product replacement warranties and 45-day money back promises.

Considering all that, you really can't go any cheaper than 7 or 13 bucks, but you'll have to remember to use the XMASAK06 coupon code before checking out for the 5W variant and XMASAK04 if you want the 10-watt model. You also get free shipping with no minimum purchase amount and deliveries before Christmas.