Apple and Amazon drive surprising Q3 2019 tablet market growth
1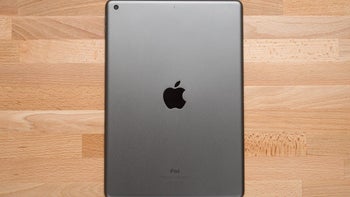 Just like the
smartphone market
, global tablet shipments returned to (modest) growth during Q3 2019 after many poor quarterly results, even though the industry is still unlikely to report an overall increase in demand at the end of the year. That's because Strategy Analytics estimated tablet sales were down 5 percent between January and March compared to the same period of 2018, followed by
another 5 percent year-on-year decline
documented by the International Data Corporation (IDC) for Q2 2019.
The latter research firm believes the market grew from 36.9 to
37.6 million unit shipments in the July - September timeframe
, representing a somewhat surprising but also largely inconsequential 1.9 percent surge. In totally predictable fashion, Apple dominated the vendor ranks yet again, with a commanding 31.4 percent market share, up from "only" 26.3 percentage points back in Q3 2018.
The PhoneArena team is working hard to stay on top of the Best Prime Day Sales on Amazon, as well as other retailer deals. Check our deal hub often to see which ones you'll like!
As far as actual sales are concerned, iPads jumped from 9.7 all the way up to 11.8 million units, buoyed by the introduction of
a new 10.2-inch model
that was apparently able to make an impact in just a few days of commercial availability. It will surely be interesting to see now how the company's Q4 numbers might be affected by
the lack of upgraded iPad Pro variants
, although
Apple's lineup
is probably extensive and diverse enough to offset that "omission."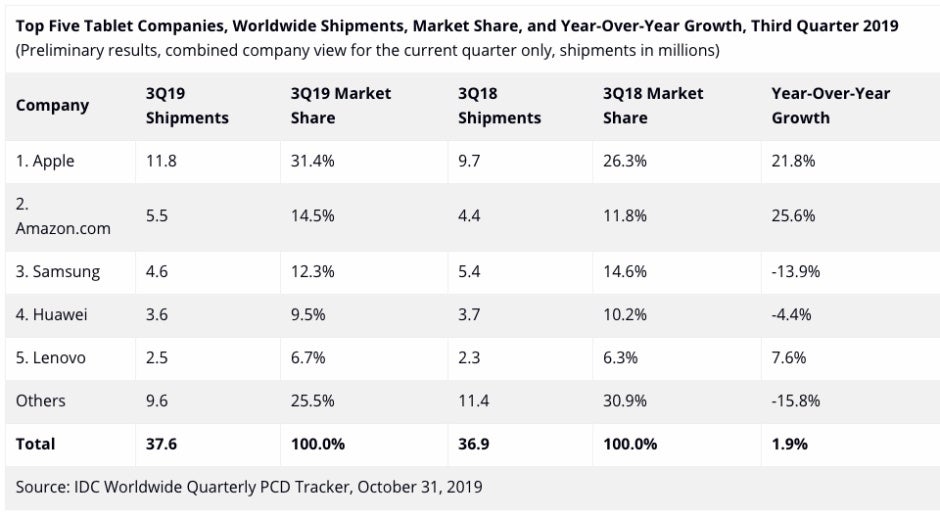 Obviously, the Cupertino-based tech giant has no reason to fear being overthrown anytime soon, as its closest rival sits at a distance of nearly 17 percentage points behind the industry leader. Surprisingly enough, we're not talking about Samsung this time around, but rather Amazon, which managed to gain almost 3 percent in market share and more than a million unit sales thanks to the launch of a
refreshed Fire 7
and attractive Prime Day deals.
Meanwhile, Samsung slipped to third place and 12.3 percent share (down from 14.6 percent), despite raising its "profile as a premium Android tablet vendor" with the
Galaxy Tab S6
announcement. Just like its Android arch-rival, Huawei posted another decline of its own in Q3 2019, while Lenovo grew a little without making many waves stateside.