Lenovo aims to entertain the whole family with two affordable new Android tablets
5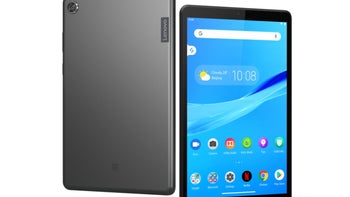 The Lenovo Tab M8 is pretty sleek for a budget-friendly Android slate
In addition to
Smart Displays
,
Smart Clocks
, and
Smart Tabs
, aka 2-in-1 tablet/smart display hybrids, Lenovo still sells good old fashioned Android slates as well. In fact, the company is the world's fifth-largest tablet vendor,
according to the latest market report
, although those sales numbers probably also include the aforementioned "Smart Tabs" and various convertible Windows 10 models too.
But
the newest members of Lenovo's extensive and very diverse tablet family
are as conventional as they come, lacking support for keyboard attachments, digital pens, hands-free Alexa assistance, or any other seamless form of expansion of their humdrum features. As such, the Tab M7 and Tab M8 seem to go after Amazon's ultra-affordable Fire slates, including among others a built-in Kid's Mode 3.0 functionality.
That's an "independent account that offers rich and customized kids' content for children under 12 years of age", but even with parental controls also on deck, the Lenovo Tab M7 and M8 are not exactly direct rivals and challengers for the
kid-friendly editions of the Fire 7 and Fire HD 8
. They're also unlikely to be quite as cheap as the regular 7 and 8-inch Fires, starting at €99 and €139 respectively in Europe.
For the time being, there are no words on US availability, but assuming an expansion beyond the old continent is indeed in the cards, we expect the Lenovo Tab M7 to cost around 100 bucks and the Tab M8 to go for $140 with an HD screen and roughly $160 in a Full HD variant. The smaller model will come with your choice of 1 or 2GB RAM, Android Pie Go Edition or standard 9.0 software, and anywhere between 8 and 32 gigs of internal storage space.
The Lenovo Tab M8, meanwhile, starts at 16GB local digital hoarding room and 2 gigs of memory, going as high as 3GB RAM, as well as promising up to 12 hours of battery life in continuous video playback time, compared to a maximum endurance of 10 hours for the Tab M7. Made from robust metal, the two new slates look pretty sleek for their price points, with relatively thin profiles and not-too-chunky bezels, but otherwise, they're largely forgettable.