Amazon's Fire HD 8 tablet is cheaper than ever before, no Prime subscription needed
1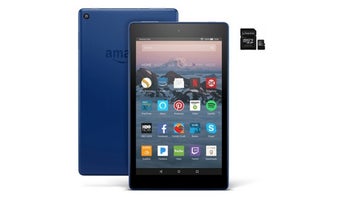 As expected, Amazon unveiled a lot of stuff at a special event in Seattle yesterday, ranging from
a mainstream rival to Apple's AirPods
, a couple of very interesting
all-new Echo devices
, and a revised version of
the company's "standard" smart speaker
to a bunch of niche-oriented or outright experimental products like a smart oven, smart lamp, smart ring, and Alexa-powered glasses.
Typically priced at $79.99 and up, the 2018-refreshed Fire HD 8 was
available for as little as $49.99
very recently with an Amazon Prime subscription, but believe it or not, the 8-inch tablet can be had even cheaper right now from QVC. The home shopping TV network technically sells the 16GB variant for the same aforementioned $49.99 price on its website at the time of this writing, but new customers can get an extra $10 discount by applying the "TAKE10" promo code to their order before checking out.
In addition to the slate itself, QVC will throw in a 32GB SD card and special "app pack" at no extra charge, so you'll actually be saving even more than 40 bucks when taking the value of those freebies into consideration. That app pack, in case you're wondering, includes one year of OfficeSuite Personal service, a 3-month America's Test Kitchen Digital All Access subscription, 3-month Curious service, and 1-year SplashID Pro service. If you're not familiar with any of those services, well, they're free, so you might as well try them out.
Besides, the Fire HD 8 is an excellent bargain even by itself at a substantially reduced price of $39.98, packing a decent quad-core processor and 1.5GB RAM, as well as dual stereo speakers, while being able to last a whopping 10 hours between charges in "mixed" use.