Alexa comes to your wrist on a cheap and incredibly feature-packed smartwatch
1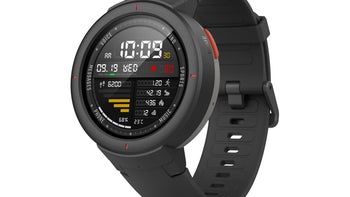 Alexa is
pretty much everywhere nowadays
, controlling smart speakers, smart displays, digital media players, wall clocks, kitchen appliances, tablets, and countless other products, but unlike Siri and
Google Assistant
, Amazon's impressive AI only works with a few obscure smartwatches.
While the
Amazfit Verge
is hardly a household name of the
thriving wearable industry
, the affordable and remarkably feature-packed device is arguably the best smartwatch to ever offer official Alexa support. That was actually supposed to happen late last year, according to Huami's initial announcement, but for some reason, the company needed more time to polish its voice assistant integration.
All's well that ends well, of course, and
Amazfit Verge users can now speak directly into the watch
to ask Alexa for
a "flash briefing"
, the latest sports scores, calendar updates, to-do list management, translation help, reminder and alarm setting, as well as answers from around the web to the most diverse questions. Basically, the intelligent timepiece can mimic the essential functionality of an
Echo
, no special accessories or add-ons required.
But that's not the only new feature coming to the Verge today, with voice calls enabled for iOS users after an Android-exclusive launch. We're obviously not talking about standalone calling capabilities, as the smartwatch needs to connect to an Android handset or iPhone via Bluetooth to allow you to make and receive phone calls on your wrist.
For those unfamiliar with the $159 wearable device available in the US on Amazon in blue, gray, and white paint jobs, we should highlight the Huami-made Amazfit Verge has no connection whatsoever with Huawei, Amazon, or The Verge. But Huami is technically the "second largest wearables company globally", handling the production of those immensely popular
Xiaomi Mi Bands
. So, no, this doesn't really qualify as an obscure smartwatch, not to mention how great the quality/price ratio looks on paper.
Although cheaper than the likes of the
Samsung Galaxy Watch Active
, the Amazfit Verge includes everything from a sharp
1.3
-inch AMOLED display to a built-in GPS chip, optical heart rate sensor, and up to a mind-blowing 5 days of battery life.