Apple remains the undisputed leader of a fast-growing global wearables market
12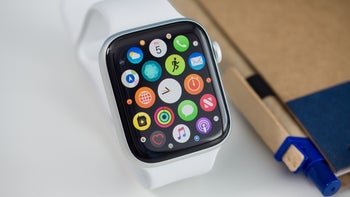 2018 was
not a great year for smartphones
, despite the strong individual performance of companies like
Huawei
or
Xiaomi
. But for the past few quarters, smartwatches have managed to make pretty great progress in terms of mainstream adoption
both stateside
and
around the world
. As it turns out, lower-cost fitness bands are also doing rather well, contributing to an impressive recent growth rate for the overall wearables market.
According to the
latest research conducted by the International Data Corporation
(IDC), global shipments of wearable devices reached a new all-time quarterly high of 59.3 million units during the final three months of 2018, as well as 172.2 million for the entire year. Those figures are up a whopping 31.4 and 27.5 percent respectively from only 45.1 and 135 million units in Q4 2017 and 2017 as a whole.
Before moving on to the part of the IDC's new report that we know you're most interested in, it's important to highlight all the above numbers include a class of ear-worn devices that were previously considered a part of a different industry. We're talking about "wireless headphones capable of enabling smart assistants at the touch of a button or through hot-word detection." Even more specifically, think products like Apple's AirPods, Google's Pixel Buds, or the Bose QuietComfort 35 II.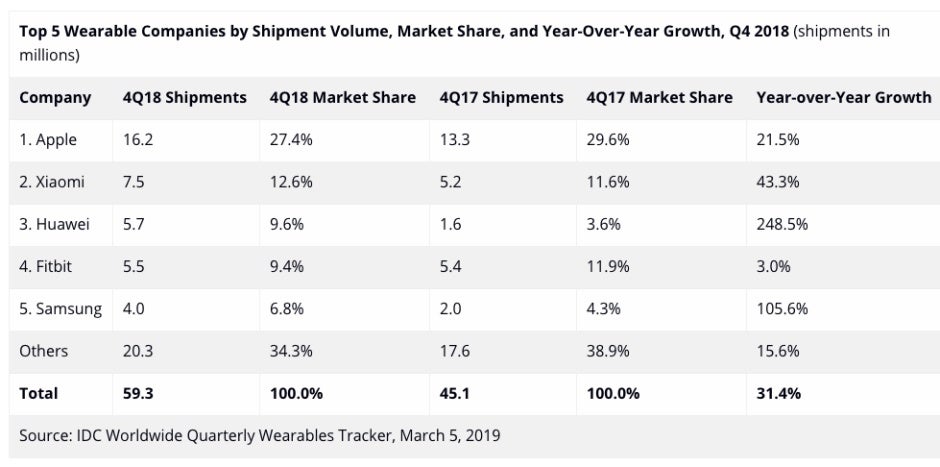 These ear-worn devices actually outpaced both smartwatches and activity trackers in terms of Q4 growth, boosting their worldwide shipments by a staggering 66.4 percent, compared to "only" 55.2 percent progress for smartwatches. Still, there were more smartwatches sold between October and December 2018 than both wrist bands and "smart" headphones.
As far as vendors go, Apple unsurprisingly ruled the wearable chart for both the entire year and the final calendar quarter, with 46.2 and 16.2 million units respectively. Interestingly, while the company's market share surged when taking into account the full 12 months tracked by the IDC, its Q4 slice of the pie actually took a little bit of a hit. Another interesting tidbit is the 4.8 million shipment estimate for AirPods and Siri-supporting Beats headphones during Q4 2018.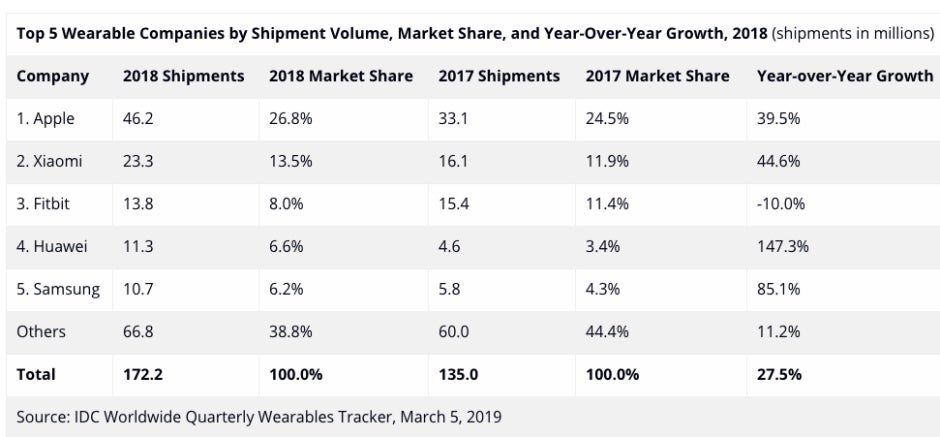 Meanwhile, Xiaomi can certainly be happy about the performance of its ultra-affordable Mi Band lineup, which helped the company retain its second place among the world's top five vendors, ahead of Huawei, Fitbit, and Samsung in Q4, and Fitbit, Huawei, and Samsung overall in 2018. Huawei actually posted the industry's biggest growth this past year, while Fitbit returned to modest growth over the holidays, boosted by the
Charge 3
and
Versa
.