Alcatel 3T 8 tablet comes to T-Mobile with 600 MHz LTE support and a crazy low price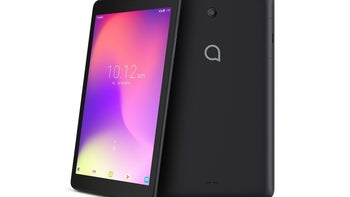 T-Mobile is launching a new ultra-affordable tablet, and even though there's no mention of Google's clean, fast, and efficient
Android Oreo (Go edition)
software stateside, the Alcatel 3T 8 still stands out in a number of ways.

First, the price. It's almost impossible to argue with the value proposition of a $150 8-incher. Especially when you can get it for as little as $6 down with $6 monthly payments on a T-Mo Equipment Installment Plan.

Also, let's not forget the "Un-carrier" has offered Alcatel slates free of charge in the past. Black Friday is right around the corner, so you may want to keep an eye on this bad boy.

Second, the network. Not only does the Alcatel 3T 8 provide high-speed LTE connectivity on a major (and majorly beloved) carrier, but believe it or not, this is the very first 600 MHz capable tablet.
A short list of phones can
tap into "Extended Range LTE" technology
for stronger signal in buildings and rural areas, including the iPhone XS and XS Max, half a dozen Samsung Galaxy models, a number of LGs, and a pair of Motorolas. Well, the Alcatel 3T 8 is now part of that select group.

Finally, the specifications. Far from impressive, these should be enough to meet the expectations of families looking for a respectable multimedia device. Android 8.1 Oreo runs the software show, a 4,080 mAh battery promises around 7 hours of endurance in "constant" LTE video streaming, with 5MP front and rear cameras also in tow, and things like screen resolution, processing power, and memory unspecified, which doesn't sound very encouraging.

Still, a built-in Kids Mode aims to give parents peace of mind, which beats high-end specs, while Eye Care functionality reduces blue light to help relieve visual fatigue. And did we mention this thing is, like, ridiculously cheap?