YouTube for Android TV gets more Google Assistant commands, better video playback
1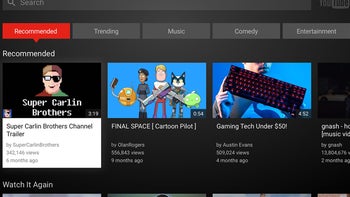 While
Google is rolling out picture-in-picture feature
to YouTube users who are not subscribed to its premium services, the YouTube app on Android TV is getting a small but important update that adds a handful of new features and improvements.
If you're using
Google Assistant
within the
YouTube app
on your Android TV, you'll be pleased to know that you have a new set of command at your disposal that allows you to skip ahead for a certain amount of seconds. Basically, the new feature enables users to seek using Google Assistant.
Furthermore, the update introduces personalized channels to the Android Oreo home screen. Unfortunately, it appears that these channels aren't added to the home screen as soon as you update to the latest version.
AndroidPolice
reports that they will only show up after YouTube enables them remotely and even then they don't seem to be available for everyone.
Last but not least, the update should make it easier for a user to resume where they left off when switching apps. It's a nifty improvement that allows you to switch to another app without having to fear that your video will start over when you switch back to YouTube.