Xperia Z2 and Note 3 screens get compared on video, guess which one looks more vivid
99+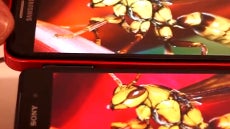 The
Xperia Z2
is unlike the other Zs in Sony's flagship lineup, as it sports an IPS-LCD display, instead of the subpar twisted nematic (TN) LCD tech of its predecessors. Bad viewing angles, and washed out colors, are the most common complaints in the
Xperia Z
and
Z1
reviews, and Sony has remedied the situation with the excellent panel on the Z2.
We say excellent not because Sony lists posh-sounding display technologies used for it, like Triluminos,
Live Color LED
, or X-Reality for mobile, for example. After all, Triluminos, X-Reality, and Mobile BRAVIA Engine, are cited for the screen of the Z1, too, and it still remains a poor mobile screen, despite the 1080p resolution.
The Xperia Z2 display, however,
got briefly tested at the MWC expo
, and turned out to sport accurately rendered colors. Just as promised with the
Triluminos
technology, it also covers a color gamut that is larger than the standard RGB, approaching the levels achieved with Samsung's Super AMOLED displays. As you can see in the video below, the screen of the Xperia Z2 actually looks more vivid than the OLED display of the
Note 3
. The video narration is not in English, though, so we can't tell which screen mode is used on the Note 3 here, as these range from the flashy Dynamic regime, to the more toned-down Movie mode.