Sony Xperia Z2 Review
99+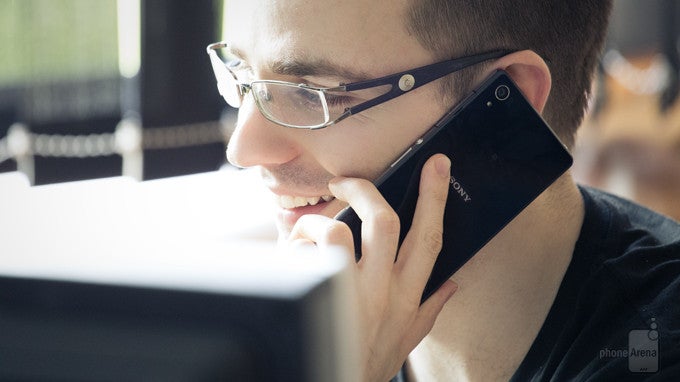 Introduction
Sony the underdog. That's not Sony's official nickname in the mobile industry, buy it might have as well been, given that the company has long struggled to return to prominence in a market dominated by... well, Samsung and Apple. Ever since current CEO Kazuo Hirai took the helm at the company, though, Sony has been slowly but surely clawing its way up the food-chain. It all started with a solid foundation in the
Xperia Z
. However, Sony's new boss didn't just direct the company to craft a solid piece of machinery – he was well aware that the short-term success that comes with a single smartphone model won't be enough to resurrect the company.
Behind the scenes, Sony was instructed to adopt healthy design principles that would allow it to build upon the success of the strong foundation. With uniformity and simplicity in mind, Sony's engineering team went on to improve the Z's formula with the
Z1
; however, the new model didn't came a full year later, as it was customary for the industry, but rather – just half a year later. The shortened upgrade period allowed Sony to flexibly evolve its top smartphone offering – reacting to market feedback and keeping up with technology in a quick and timely manner. Still, while the Xperia Z1 managed to further solidify the company's new image, it wasn't quite the breakthrough success it needed it to be. Another half a year later, though, and it seems that Sony has finally positioned itself at a vantage point. At MWC 2014, the
Xperia Z2
was announced to substantial critical and consumer acclaim. With a design that builds upon the Z1's fancy glass-and-metal body, as well as a top-notch specs sheet that leaves little to no room for criticism (in its stricter form), the Xperia Z2 turned out to be a surprisingly formidable challenger for the
Samsung Galaxy S5
– a phone which many thought would be the juggernaut of 2014. Needless to say, the Galaxy S5 is already available and it's said to be selling very well; however, after some short delays, the Sony Xperia Z2 has now joined the fray as well, as it's becoming available to customers in an increasing number of countries.
The time has come to see if Sony has gained enough momentum to challenge Samsung for the top. 5.2 inches of IPS screen, Snapdragon 801 processor, 20.7 MP camera, 3200 mAh battery, microSD card slot – it seems next to impossible to find a weak spot in the Xperia Z2's armor (which is water-proof, by the way). Well, let's see if it's really so unyielding then!
Design
Solid build and exquisite looks – these are the virtues of the Xperia Z2's design.
Staying true to Sony's successful design language, the Xperia Z2's exterior is mostly made of glass, with a nice metal frame adding contrast and integrity to the body. It's not really exactly the same design, though. While the contrasting, gray metal elements covered the Xperia Z1's edges, in the Xperia Z2, the metal area is the central part of the frame. This creates a more iPhone 4-like appearance, and it's actually quite likable. It does make the Z2 look cooler than the Z1, so it's a job well done by Sony in this department.
In terms of size, the Xperia Z2 is a rather big phone, just like its predecessor. Once again, there has been some small tweaking of the design, as the Z2 is slightly higher than the Z1, but also ever so slightly narrower and thinner. Having a very long phone (5.78" / 146.8 mm) isn't so cool, but having a very wide phone (2.89" / 73.3 mm) is even worse, as it makes it more difficult to hold, so we don't mind these latest tweaks to the dimensions of the Sony flagship. Still, it's a very big and relatively heavy phone, with all the practical annoyances that this brings. Thankfully, the Sony Xperia Z2 isn't a large handset just for the sake of it, as it comes with a rather large display. But more on that in a while.
The metal frame is also where some key elements lie. First and probably most important is the power/lock key, which is protruding from the surface and is very easy to find by touch. Right next to it is the smallish volume rocker, and near the bottom edge of the right hand side is the two-step camera shutter. Sadly, none of the physical buttons, except for the camera shutter, function very well. They are all somewhat shallow and not clicky. The two-step camera key isn't particularly great either, but it's decent and gets the job done. On the opposite side is where you'll see the proprietary dock connector, sitting completely exposed there, as if some part that's used to cover it is missing. Thankfully, at least the parts used to cover the microSIM card slot, microUSB and microSD card slot are there, providing a uniform look and enabling water- and dust-resistance for the handset.
Speaking of ruggedness, the Sony Xperia Z2 is IP 58-certified. This means it's considered completely water-proof and very dust-resistant. Well, it's mostly not a good idea to just leave it in a glass of water for the night, or to go to the beach and put the phone on the sand, but generally, you should have the peace of mind that you can only have with a truly rugged device, such as the Xperia Z2.
Other design elements of note in the Z2 are its front-facing stereo speakers – always a much-appreciated affair, as well as the 20.7 MP G lens camera with LED flash on the back. There's a hole for a lanyard in the bottom-left corner, while the top edge opposite to it houses the 3.5 mm headphone jack.
All in all, it's a decent experience to hold and work with the Sony Xperia Z2. Due to its size, the handset is definitely clunky, but the quality materials and stylish exterior kind of make up for it.
Display
Larger-than-life display with LCD IPS technology – exactly what Sony fans wanted.
A massive upgrade – that's how we'd describe the Xperia Z2's screen, after comparing it with last year's Z1. Finally, Sony's finest has embraced the beloved IPS (in-plane switching) technology, in order to deliver a superb viewing experience, with eye-catching color reproduction and viewing angles that are on par with most of the competition.
The 5.2" panel has a standard high-end resolution of 1080 x 1920 pixels. The resulting pixel density is 424 ppi – more than enough to guarantee an extremely clean picture quality. An interesting detail that Sony touts is the company's Triluminos display tech featuring the so-called Live Colour LEDs. What it does is that it uses blue LEDs in combination with red and green phosphor and color filters in order to display better red and green colors, all of which supposedly working towards achieving a brighter, deeper, and truer-to-life image, with a wide range of displayable colors.
The display has a tolerable maximum brightness of about 460 nits, resulting in a decent outdoor experience. We wouldn't advise you to read a book on your phone while having some relax-time in the park, but it's good enough for a quick email check or a web look-up. Sadly, minimum brightness is a bit high, at 16 nits, so viewing in the dark may not be as comfortable as with some other phones like the iPhone 5s (5 nits) or the Galaxy S5 (2 nits).
Color temperature of the Sony Xperia Z2's 5.2" screen is about 6900 K, which is pretty close to the reference point of 6500 K. This means that colors, as a whole, will appear just a bit colder (bluer) than what's said to be the standard, but the deviation won't be that big. In comparison, the Samsung Galaxy S5 has a color temperature of 8100 K (when using Standard display mode), the iPhone 5s' one is 7150 K, and the One (M8)'s one is also about 7150 K.
The average gamma of the Z2 screen is 2.59 (reference value is 2.2). This makes this aspect of the screen somewhat inaccurate, as the brightest areas (highlights) of the content you're viewing won't appear as bright as they should be, but slightly darker. High gamma usually makes for a slightly more contrasty image, and we mean slightly more contrasty than normal, so that's probably what Sony was looking for. As we can see from the CIE chart, which is accessible through the 'Display measurements and quality' data below, it really wasn't Sony's goal to go after a realistic and standard-conforming image. Instead, it has boosted the colors of its flagship, achieving a more vibrant and saturated color reproduction than what's outlined by the globally-accepted sRGB standard. That's all well and good if you just want to enjoy your content, but one should still keep in mind that this screen will not be able to reproduce colors exactly the way they were meant to be seen, since you can't just color-calibrate the display of your phone the same way you can calibrate your PC's monitor, for example. Anyway, the Delta E (grayscale) of the Z2 proudly stands at 2.95, suggesting a rather good balance between the three primary colors: red, green, and blue.
Needless to say, the Sony Xperia Z2 also features the so-called X-Reality image enhancement engine, which makes sure to add some oomph to images and videos you're viewing on the phone, in the form of sharpness, contrast and color tweaks. X-Reality does make the photo and video content you're viewing on the phone look more vibrant, but most of it as at the expense of color accuracy.
At the end of the day, what you should take away from all this data is that the Triluminos-powered screen of the Xperia Z2 is definitely a very high-quality one, though not exactly as accurate as we'd have liked it to be (of course, it's way more accurate than Samsung's AMOLED displays). There's still some room for improvement ahead of Sony!
Display measurements and quality