Sony Xperia Z Ultra's Triluminos display gets a side-by-side comparison with the LCD3 display on the HTC One
74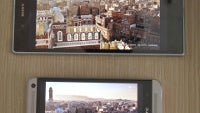 It has certainly been a while sincewe first brought up the topic of Sony's Xperia Z Ultra on PhoneArena,and alot has been said about the mega phablet since. Naturally, thesheer size of the Xperia Z Ultra has received the most coverage, butnot enough has been said about Sony's previously TV-exclusiveTriluminos tech making its way into its next generation ofsmartphone devices.
While Sony's TFT screens have beenlargely lagging behind the competition with washed out colors andpoor viewing angles, the addition of Triluminos tech is supposed toclose the gap between the company's displays and those of rivals.Vietnamese SECafehas brought to us a visual comparison of how Sony's latest technologyfares against one of the best currently available displays out there,in the form of the HTC One. We'll let you judge the result foryourself, but we have to say we're happy to see Sony making tangibleprogress in a department
Самият department няма как да lag-ва. -->whereit has been forced to play catch-up.
But what exactlylies underneath the surface, or, in other words – what's the secretsauce behind Sony's improved displays? Well, a combination of things,really,and the videos at the end of the slideshow below should prove instructional enough. In anutshell, its proprietary Triluminos tech features a wider range ofcolors to pick from, making images more vivid and realistic. This is achieved bythe use of the so called "quantum dots", or extremely smallparticles that emit light at a preset wavelength based on which wethen perceive a different color. Taking a step away from thehardware, the successor of the Bravia Engine 2 for mobile, theso-called X-Reality Engine, is supposed to analyze information sentto the display, break it down and improve it in areas such assharpness, saturation, contrast and noisereduction.
source: SECafe