Viewsonic Viewpad 7 falls just short of the Samsung Galaxy Tab's specs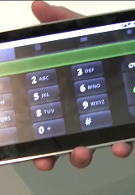 As we
reported
, this past week Samsung introduced the Galaxy Tab at the IFA show in Berlin. But Samsung wasn't the only company with a 7 inch tablet to introduce at IFA. Viewsonic also spent time showing off its tablet. And while both models use cellular radios under the hood, as opposed to Wi-Fi only models, the Galaxy Tab seems to have the upper hand in specs.
While the Samsung unit will sport a 1GHz Hummingbird processor under the hood, the Viewsonic model will be powered by an 600MHz CPU. The resolution on the Viewpad 7 weighs in at 800 x 480 while the Galaxy Tab display logs in at 1024 x 600. But wait...there's more! Internal storage on the Viewsonic device is 512MB while the Samsung model comes in at 16/32GB. And if all of those numbers don't give the
Galaxy Tab a
big advantage, the Viewpad 7 will not support the Adobe Flash Player 10.1 while Samsung's tablet will.
For some reason, the stock Android QWERTY was not on the device. It offered a T9 keypad in portrait mode and you had to switch to landscape for a traditional QWERTY keyboard. The unit was said to be very heavy while the software was buggy and the accelerometer was off by 90 degrees. All in all, while Viewsonic probably sees the Viewpad 7 as competition for the Galaxy Tab, lining up the specs between the two tablets suggests otherwise.
Samsung Galaxy Tab Preview
source:
AndroidandMe