Samsung Galaxy Tab officially unveiled, we have a preview!
12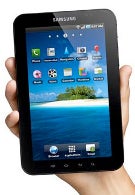 Samsung announced its
worst-kept secret
that has been floating around since
June
- a 7" tablet running Froyo, called the Galaxy Tab. All the Googleservices are onboard, with a few of Samsung's own improvements, takingadvantage of the big screen. The same snappy Hummingbird chipset thatpowers the
Galaxy S and its US carrier versions
, is planted inside the Galaxy Tab, and TouchWiz 3.0 with Samsung's Social Hub is layered on top of Android 2.2's UI.
The tablet is destined to be compared with the
iPad
,but it is a different animal altogether, due to its smaller 7"capacitive LCD display with 1024x600 pixels WSVGA resolution, and thefact that it is running Android 2.2. It feels more like the missinglink between a smartphone and large tablets, like the 9.7" iPad. Whenwe add the cell phone capabilities, complete with front camera forvideo calling, the built-in memory, expandable up to 64GB (for the 32GBversion), and the fact that it is both Adobe Flash and HTML5 capable,it becomes a very enticing offering, ready to give the iPad a run forits money. It is a much lighter and thinner device at0.47" (11.98mm) thickness and 13.4 ounces (380 grams) weight. Not toforget it also has a 3MP camera with LED flash on the back.
Samsunghas tailored the Galaxy Tab experience to take advantage of the largescreen. The default Froyo calendar, for example, has undergoneoptimization for the fact that more things at once can be shown on a 7"screen, than on a typical smartphone display. Numerous suchimprovements have taken place, and Samsung has thrown onto the tablet afew multimedia Hubs to make sure your time with it is well spent. TheReaders Hub gives you access to millions of books and thousands ofmagazines for reading on the go, and the upcoming
Media Hub
and Music Hub will be giving you the option to buy or rent tunes,movies and TV shows. Of course, video can also be sideloaded, givenSamsung's devices traditionally rich codec support, and the full HDvideo playback capabilities of the Hummingbird chipset. The 4000mAhbattery is rated for 7 hours of movie playback.
Tocap it off, the full Google services suite is present on the GalaxyTab, unlike some half-baked solutions on other Android tablets orsmartphones we've encountered. Google Maps Navigation beta makes it a7" voice-guided navigational device (in countries where turn-by-turn issupported), and the tablet has full access to Android Market andSamsung Apps, where we are positive applications will soon beproliferating for that exact same resolution.
Recently we had the chance to play with a Galaxy Tab prototype, so head over to our
preview
,complete with pictures and video samples from the 3MP camera. TheSamsung GALAXY Tab will be available in Europe in mid September, and inother markets, including Korea, the
US
,and Asia, in the coming months. In a Q&A session Samsung officialshave confirmed that there will be a variety of tablets coming from thecompany next year, including one running
Android 3.x (Honeycomb)
. A full list of the Galaxy Tab specs can be found below, there is no official confirmation on the price range yet.
Samsung Galaxy Tab Preview
source:
Samsung