Samsung Galaxy Tab Preview
19

Introduction:
Ever since Apple introduced and launched its
iPad
(a revolutionary and magical device that can even get girls interested in you), we've seen quite a few other manufacturers, including LG, RIM, Motorola, Acer and HP, announce their plans (or let them slip) to enter this newly-formed tablet business. Hm, wait a sec, someone's suspiciously missing from the list. Oh, of course! It's Samsung, which has already confirmed its Android 2.2-powered Galaxy Tab tablet for a Q3 launch. And it is exactly the Tab that will be the focus of this preview. We are just as impatient as you are, so let us not waste time in introductory blabbing and get right to the point.
Design:
The Samsung Galaxy Tab is more compact than the Apple iPad (we'll be often comparing the Galaxy Tab to the iPad, as we consider it the standard for the moment). This is due to the fact that the Galaxy Tab is housing a 7-inch screen, as opposed to the iPad's near 10 inches. While we are not really into losing screen real estate, we can go with it here, as it makes the tablet somewhat more "pocketable". Anyway, the device feels pretty solid in the hands, thanks partly to its significant weight. Its back and sides are made of light gray-colored plastic, which at one point almost led us to believe it is actually aluminum. Holding the Samsung Galaxy Tab with only one hand, while reading something, for example, will quickly tire your wrist and you'd want to hold it with two hands or place it on a surface/dock. Unfortunately, we still don't know if a dock would be present in the box.
The
7" screen
is using LCD TFT tech, and not Samsung's vaunted Super AMOLED. As a whole, we like the image quality very much – viewing angles are decent, colors are still quite good and the resolution is high enough at 600x1024 pixels. The screen is of course capacitive and features multi-touch. Another good thing is that it is viewable under bright sunlight, though not in its full beauty. By the looks of it, 7 inches are still quite good for a tablet, though you might find yourselves switching to horizontal mode when viewing the web quite often.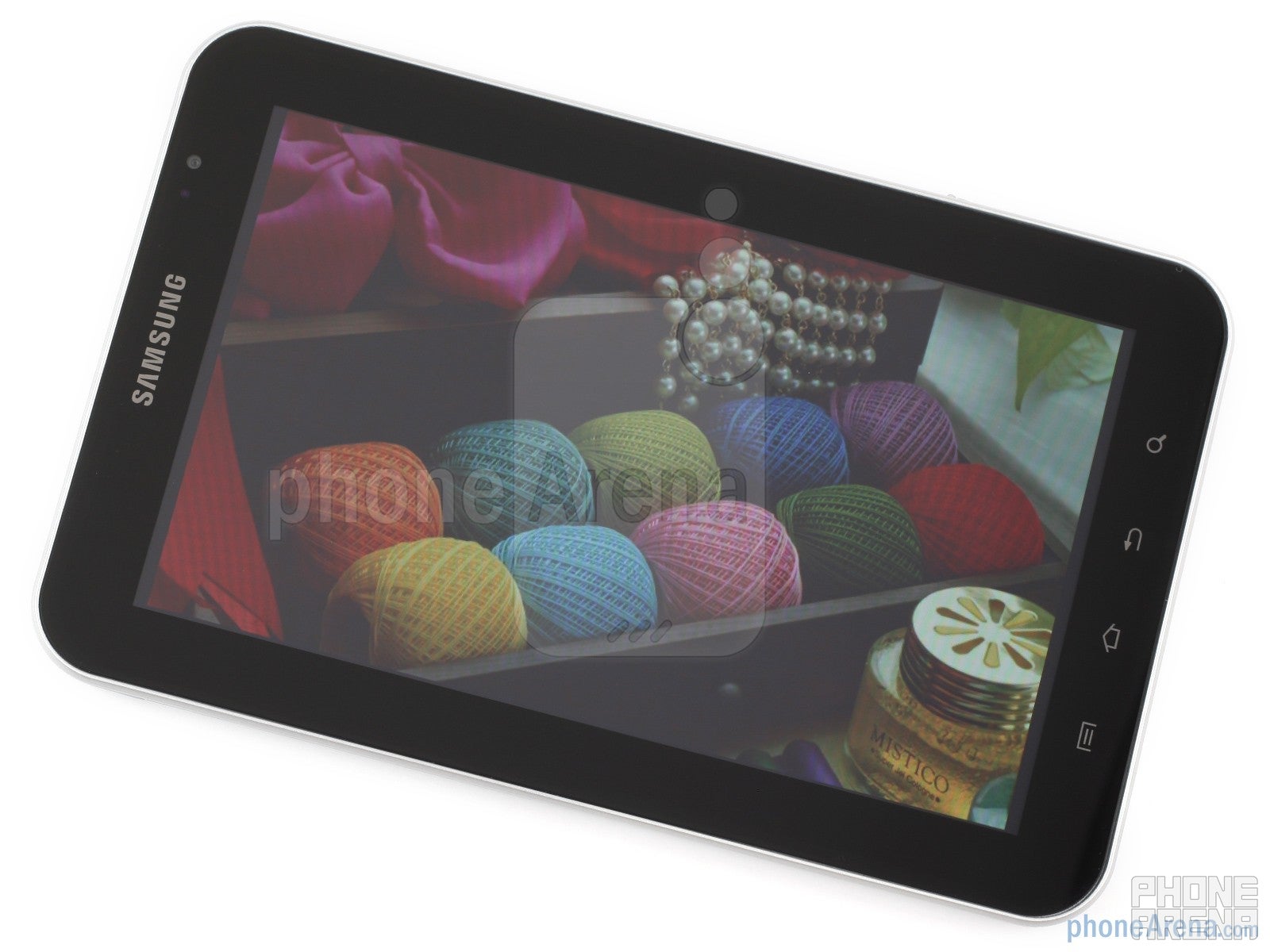 Above the display you'd like to know that there are a 1.3MP video chat camera and light sensor, while at the bottom portion of the front you get four capacitive buttons: Menu, Home, Back, Search, which may sometimes annoy you due to accidental presses. On the top is a 3.5mm jack, on the right you'll find the power/lock key, volume rocker, microSD and SIM card slots, while on the bottom are the speakers and proprietary charging port, which reminds of Apple's proprietary port (it is actually a 30-pin connector). The back owns a 3MP autofocus camera with an LED flash.
So let's recap here, at the end of the design part of our Samsung Galaxy Tab preview. The Galaxy Tab is a smaller tablet than the iPad, although it is pretty close to Apple's product in terms of appearance. It has a smaller, 7-inch screen, which has a wider aspect ratio and pretty good image quality on the whole. While not feeling as high-end as the Apple iPad, the Samsung Galaxy Tab still hides some tricks up its sleeve, by packing a 3MP camera, as well as front-facing one for video chats.
Recommended Stories