Update to Verizon's LG G6 adds Super Bright Camera mode from the LG G7 ThinQ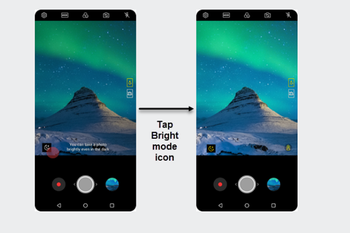 The Verizon version of LG's 2017 flagship phone, the
LG G6
, is receiving an update. Containing software version VS98820c, the new files includes the July Android security update and also add the Bright Camera mode feature that is being taken from the new
LG G7 ThinQ
. According to Big Red, this feature will allow you to "Capture clear and beautiful scenery even in the dark."
Once the update is installed on your phone (more on that later), in a low-light environment (measuring 3-10 Lux) the Super Bright Camera icon will appear and blink for three seconds. Tapping the icon will turn on the Super Bright Camera mode. The mode can also be turned on or off in the camera settings, and by default the feature is enabled. You can employ Super Bright Camera mode when taking photographs or filming video, except when using UHD, 60fps and HDR modes. It also won't work in situations where you start recording under a bright light and move to a low-light environment.
When your Verizon branded
LG G6
receives the notification stating that the update has arrived, you need to make sure that you do a couple of things before you begin the updating process. One, make sure that your phone is connected to a strong Verizon signal or a Wi-Fi network, and two, make sure that your battery has been fully recharged. Do those two simple things, and you can then go ahead and start downloading and installing the update.