Verizon Holilday lineup leak reappears, confirms Samsung Nexus Prime for Big Red
57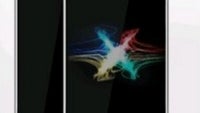 Yesterday, a curious little document representing a possible Verizon Holiday season lineup leaked out, but it was so full of typos, we doubted it was the real deal. Today though, a very similar one, this time correctly spelled and sent to a Verizon employee, confirmed the first one for probably the most interesting part - the Samsung Prime is set to replace the Samsung Droid Charge this Holiday season.
And you know why that's interesting, don't you - the Droid Charge is an LTE-enabled device, which might mean the
Samsung
Nexus Prime
will support LTE as well. The Prime is expected to be the first device sporting the upcoming Android Ice Cream Sandwich, but it's also pin-pointed to be Verizon's main Android competitor to the upcoming iPhone 5 and to different flavors of the Galaxy S II across US carriers. Previously, rumors have claimed that the Nexus Prime will come exclusive on Big Red. If we listen closely to what the rumor mill churns, we'd be able to discern the
release date of the Nexus Prime
, expected to be somewhere between November 17th to November 24th.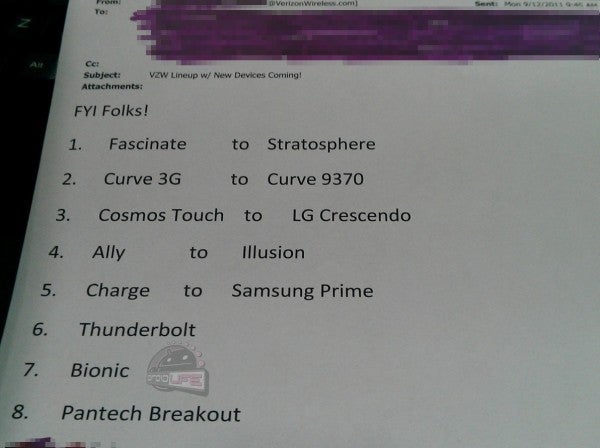 The other juicy part of yesterday's leak, was the
HTC ThunderBolt 2
, aka the HTC Vigor, coming to succeed the original ThunderBolt. Sadly, it's nowhere to be seen in this now document, but that doesn't necessarily mean that it won't arrive on Big Red eventually.
The rest of the mentioned devices include the full QWERTY Samsung Stratosphere, which is taking the baton from the Samsung Fascinate. The all-new BlackBerry Curve 9370 succeeds the Curve 3G, but you already knew that if you looked at the initial
Verizon roadmap leak coming from a Best Buy employee
.