HTC Rezound Review
99+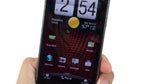 HTC has been one of the more profound vigilant figures in the mobile industry that always has a knack in producing quality smartphones. When it comes to the Android landscape, they were there right from the beginning showing their commitment in tastefully complementing Google's mobile platform with something as equally compelling on the hardware side. With memorable devices like the T-Mobile G1, Nexus One, and HTC EVO 4G under its belt, all eyes are on them to see what they can do to continue that trend in the face of never-ending competition.
Out of all the carriers out there, most people can wholeheartedly agree that Verizon has gotten its fair share of top-notch HTC smartphones – like the HTC Droid Incredible and HTC ThunderBolt. However, we can most certainly say that the HTC EVO 4G is still the benchmark device that HTC lives by to this day – mainly because it brought along a lot of 'firsts' that haven't been seen before during its time. For all of us out there salivating for the next big thing, Big Red is being blessed with something so deliciously high spec'd on paper that it begs for some warranted recognition.
HTC helped Verizon launch itself into the 4G LTE era with the ThunderBolt, a device widely panned as being a fitting candidate, but besides its 4G LTE support, it wasn't all that cutting-edge. Continuing the trend of packing some 'firsts', mainly because it's the first handset to release on US soil with a 720p display and Beats Audio support, the
HTC Rezound
is gunning to make its presence widely known as being HTC's second-generation 4G LTE device. Unlike the underpowered ThunderBolt, the Rezound is outfitted with only the best of the best in order to survive the volatile high-end market, but it'll need to make some glaring noise if it wants to take the thunder out of the recently launched Motorola DROID RAZR.
HTC Rezound
microUSB cable
Wall Charger
iBeats Headphones
Traveling Pouch
Quick Start Guide
Product Safety & Warranty Information
When you really want to stand out from the crowd, you should opt for a design that's dramatically different. Well, that's not the case with the HTC Rezound, as it clearly has its ties to the HTC Droid Incredible 2 – thus, lacking that crucial differentiating appeal to reel us in. Yes, it's still
one solid feeling handset
, though it's not quite on the same level as some of HTC's uni-body designed handsets. Featuring a gunmetal like bezel, rounded corners, and its distinctive soft touch tiered back cover, we're able to gently grasp the handset with no problems at all – and it helps that it doesn't attract much dirt or debris! Even though the handset appears to be primarily constructed out of plastic, it still
packs a noticeable amount of weight
. With a 0.54" (13.7mm) waistline, it is almost twice the thickness of the slim body of the DROID RAZR. Above all, there's nothing extravagant with its all too generic design style, and in the end, it doesn't deliver something that should complement its underlying aura.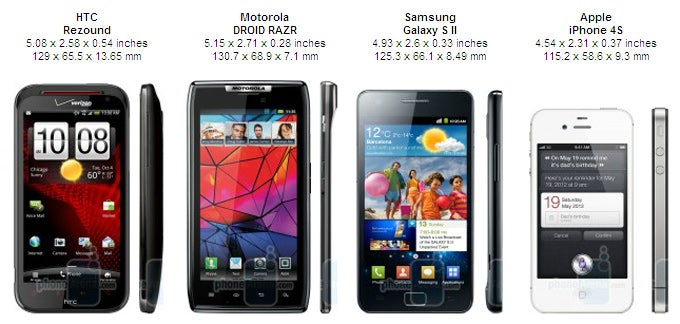 You can compare the HTC Rezound with many other phones using our Size Visualization Tool.
We've been teased by it for many months now, but a
720p display
is finally for real with a handset – and the HTC Rezound is the first one to market with it in the States!
The 720x1280 pixel resolution is an incremental leap forward, following after other popular resolutions like WVGA 480x800 and qHD 540x960. When you do the calculation, the Rezound's 4.3" display is the most detailed out there with
pixel density of 341 ppi
. In contrast, the iPhone 4S Retina display boasts a pixel density of 326 ppi – so finally, the Rezound is the first phone to beat it in this aspect.
Even though we're convinced on paper at how it's superior in resolution, it's ultimately our eyes that are going to concretely confirm those allegations. The visual detail is most profoundly evident when we look at the display up close and personal– or when looking at tiny details, like text when we're in a zoomed out view in the web browser. At that point, yes, we
behold the majestic detail that the 720p display
has to offer – making even the faintest of lines and curves pop with plenty of clarity. As you can see in the photos, detail is so much better than a standard screen, which results in beautifully looking icons, menu details and so on. Nevertheless, its Super LCD (S-LCD) panel continues to deliver the characteristic traits that the display type is known to exhibit – like some
deep and vibrant color tones
. However, it does
suffer from poor viewing angles and outdoor visibility
.
Spacing themselves away from the bottom edge of the handset, we gladly accept the minimal accidental presses we find when touching its
capacitive Android button
s, which sport a deep red glow (reminding of the Beats Audio element).
We've made it clear that we're not blown away by the Rezound's design, but what irks us most about the handset, is that
its physical buttons are notoriously difficult to feel out
. Both the power button and volume rocker are completely flush – thus, offering very little feel. Additionally, it doesn't help that their response is subtle to the touch.
Above the display, we're presented with the typical narrow looking earpiece that has been the staple of nearly all HTC smartphones of late – plus, the handset's
front-facing 2-megapixel camera
is perched nearby.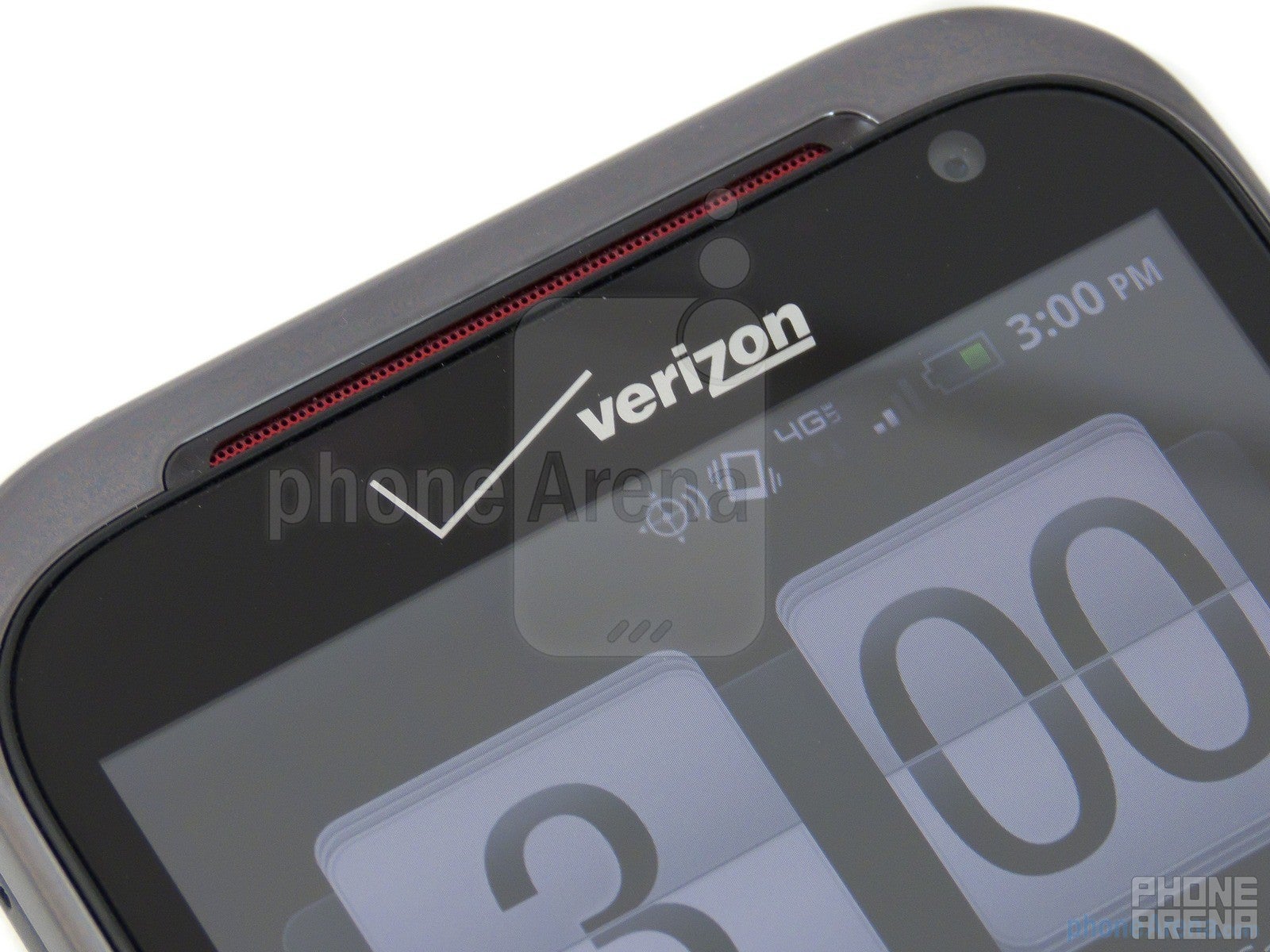 The 2-megapixel front-facing camera
Much like other recent HTC smartphones, the
microUSB port
on the HTC Rezound offers video-out functionality, but it requires the use of an optional MHL adapter that you'll need to supply yourself.
Rounding its high-spec'd hardware, the Rezound is packing a sizable
8-megapixel auto-focus camera with dual-LED flash
in the rear, which isn't all that surprising at the very least . Meanwhile, prying off its rear cover grants us access to it 1,620 mAh battery, SIM card slot, microSD slot, and speakerphone grill.
HTC Rezound 360-degrees View:
Recommended Stories